---
Chapter 7
Making The Right Connections
Plugs and Wires
Making Ends Meet
Plugs and wires, cables and connectors are an essential part of every video system. This chapter will help you understand why there are so many different kinds and what each one is supposed to do. We will progress from the simplest cable connections to the more complex wiring schematics. F eel free to use whatever information your needs dictate.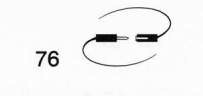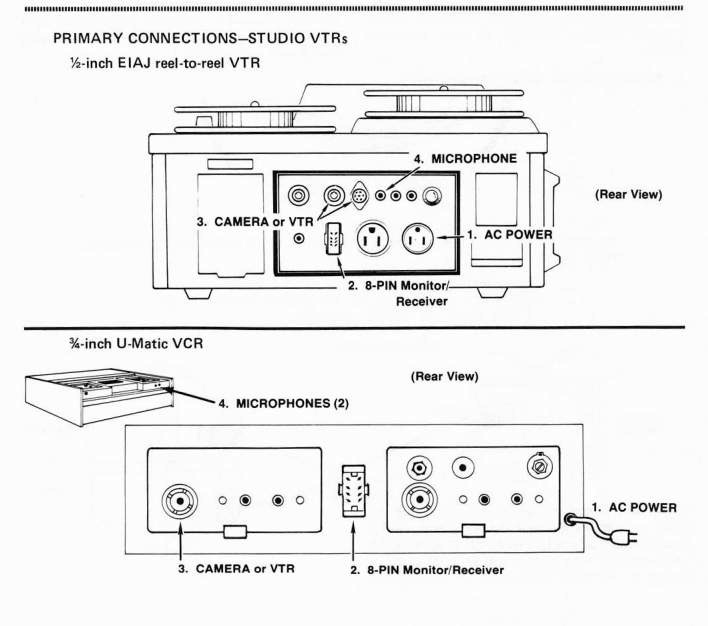 ---
The POWER CABLE supplies 117-120 volts AC only to the VTR. It may be connected to any grounded 117-120 Volts AC, 60 Hz wall socket. Older 2-prong wall sockets will necessitate a 3- to 2-prong adaptor, available at most hardware stores.
NOTE: If any interference is present in the picture (wavy lines) or in the audio (hum or buzz), make sure the GROUND wire (green wire) on the 3- to 2-prong adaptor is grounded (connected) to a metal pipe or to the screw that fastens the plug to the wall socket plate.
Use the 8-Pin to 8-Pin connector and cable to join the VTR to the monitor/receiver. The 8-Pin carries:
Picture and sound from the VTR to the monitor.

Picture and sound from the TV monitor/receiver to the VTR during an "off-air" recording.
CAUTION: Since the wires and pins inside the 8-Pin connectors are delicate and break easily, treat this plug carefully. Remember to squeeze the release clips on the sides of the 8-Pin plug before trying to unplug it from the VTR or monitor.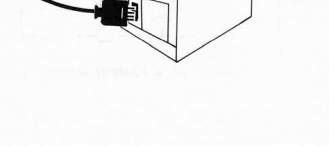 ---
There are many different kinds of camera cables, but the most basic and universal is called the COAX or COAXIAL cable. This cable is a 2-connector type that uses a simple metal male-type connector on each end. The cable may use either a screw-on UHF (Ultra-High Frequency) plug or a BNC (bayonet) type connector.
UHF connectors are generally found on most nonbroadcast VTR s, cameras and monitors, while the BNC connectors are used exclusively with broadcast video equipment. The BNC connector permits faster connection and a sure locking grip.
If making up your own cables, be sure to specify RG-59U cable. This is the standard size used in all video systems. The UHF and BNC plugs will fit easily on the RG-59U cable. This cable is very rugged and so are the connectors. It carries only picture information—no sound.
The coax cable is used for:
-VTR to VTR
Monitor to VTR and return
-Camera to SEG (Special Effects Generator) •Camera to Monitor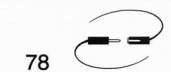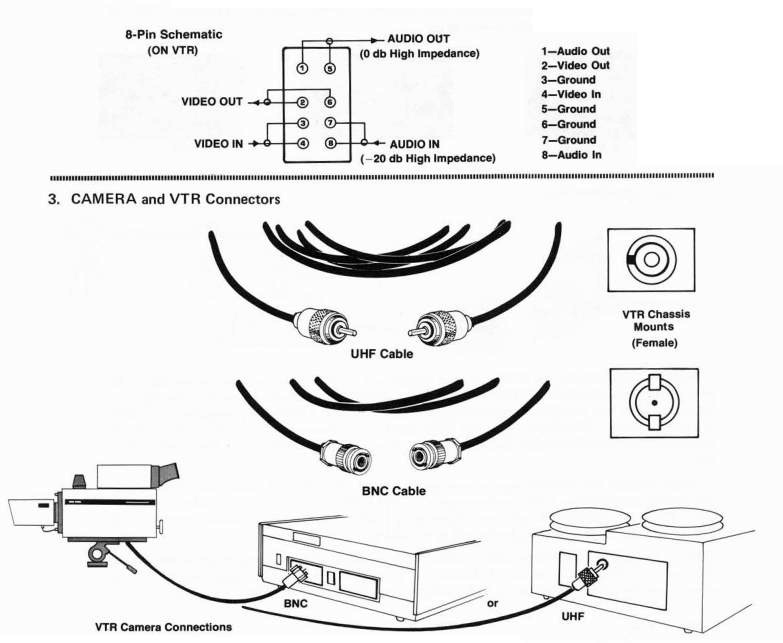 ---
A BAR REL CONNECTOR is used to connect 2 cables together, and the T-CONNECTOR will allow 2 cables to be connected to one plug.
Many 1/2-inch reel-to-reel VTRs have a special 6-PIN DIN (German part reference) plug which was originally intended for use with the basic b&w Sony studio cameras. This plug is a hold-over from the pre-1971 Sony cameras which required the VTR to generate its own sync pulses and "drive" the camera. Also, the 6-Pin connector allows use of the CMA-2 and CMA-4 Sony portapak camera adaptor. See Chapter 12—How to Take it With You—The Video Portapak.
Most cameras will operate just as well without the 6-Pin cable. Instead, use the stronger and simpler camera coax (UHF) cable which does the same job. Both the 6-Pin cable and UHF cable generally transfer picture only from the camera to the VTR. However, because it is plastic, the 6-Pin plug breaks easily and is a nuisance to repair.
NOTE: If using b&w cameras with a video mixer or SEG (Special Effects Generator), you may need the 6-Pin plug to supply horizontal and vertical sync pulses from the SEG to the camera and to take the picture from the camera (VIDEO OUT receptacle) to the SEG.
4. Microphone Connections
There are two popular types of microphone plugs in common use, the Sony MINI-PLUG, used with nearly all %-inch and %-inch Sony VTRs, and the 14-inch PHONE PLUG which is used with many non-Sony VTRs. The V4-inch phone plug should not be confused with the 1/4-inch Akai video systems. Adaptors can be purchased from audio or electronic stores to adapt one kind of plug to another.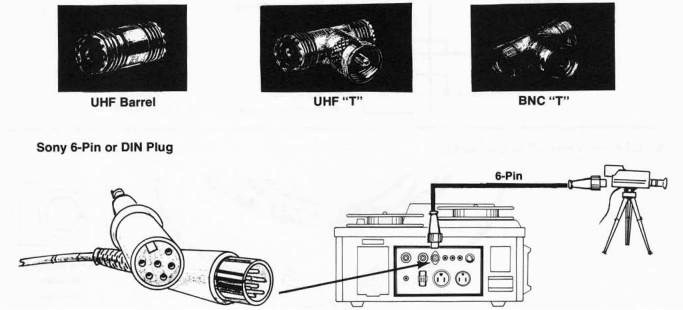 ---
Use any good quality LOW IMPEDANCE (measure of resistance) microphone. Low Impedance microphones are usually the more expensive types—priced from $15 up. The supercheapie $5 to $10 HIGH IMPEDANCE microphones just aren't very good. It's well worth the investment to spend $25 to $40 for a good CONDENSER type microphone. Condenser microphones are very sensitive, use batteries and are really great for voice and low-volume music. You will probably need both a UN I -D I R ECT IONA L microphone which has a narrow field of sound pickup for interviews and hand held applications, and an OMN I-DIRECTIONAL microphone (lavelier type) with a wide field of pickup for sit-down discussion applications.
Plug the microphone (or microphones) into the M IC INPUT in the back panel of the 1/2- inch reel-to-reel VTR s or the front panel of the %-inch and Betamax videocassette units. The sound should be clean and strong and without distortion.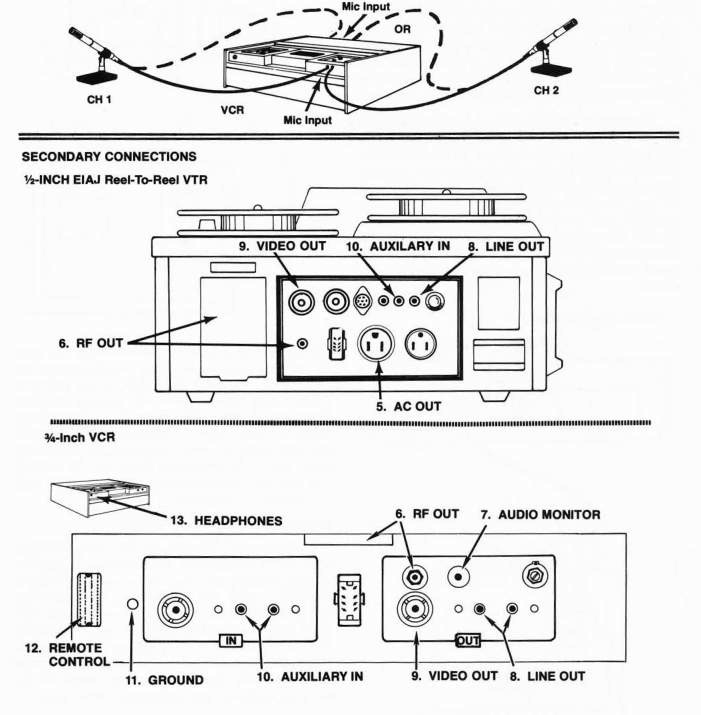 ---
AC OUT AC OUT is an extra AC outlet for camera or monitor power plugs.
CAUTION: DO NOT connect any lights to this plug as its power rating of 500 watts could easily be exceeded and the fuse in the VTR would blow out.
RF OUT
RF OUT (Radio Frequency) is used to play back BOTH picture and sound through an ordinary TV set. To activate the RF OUT connector, the VTR must contain an RF ADAPTOR, which is usually optional. Most early model Sony and Panasonic %-inch U-MATICS, and Panasonic and H itachi-Shibaden 1/2-inch E I AJ Cartridge machines (Omnivision) contain built-in RF units.
The optional RF module costs about $80 for b&w and $120 for color and must be plugged into the appropriate slot in the back of the VTR. The RF cable and TV antenna connector are then attached to the VHF TERMINALS of any ordinary TV set. The TV set is tuned to the same channel as the RF unit—usually Channels 3, 4 or 5. Check the RF module or the back of the VTR for the channel number. Usually, the TV set must be fine tuned to the specific channel for best picture and sound.
NOTE: RF units and TV sets often do not work as well for play back as monitor/receivers do. Sometimes, RF units (especially those in'/2-inch EIAJ VTRs) do not work with certain pre-1975 American TV sets. Always try to use Sony Trinitrons or other quality Japanese TV sets when using RF units, especially when playing back color programs. A standard Sony Trinitron TV receiver will give you the best color playback—other than a Trinitron TV monitor.
Interchangeability of RF UNITS
Only certain VTRs can use RF units. All EIAJ b&w VT Rs of the same manufacturer can use an interchangeable RF unit. For example, the Sony AV-3400, 3600 and 3650 all use the same b&w RF unit, but only the out of production AV-8600 and AV-8400 can use the color RF units. The AV-8650 WILL NOT accept any RF units. Most Sony Type II Videocassette units can accept color RF units, but some cannot. Check for the RF plug outlet on the back panel of the unit.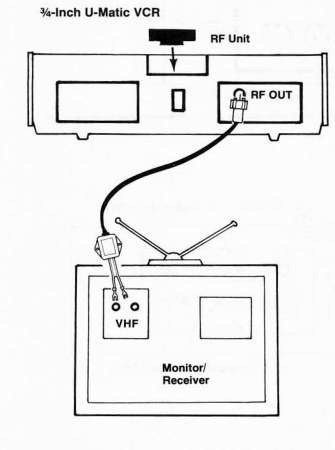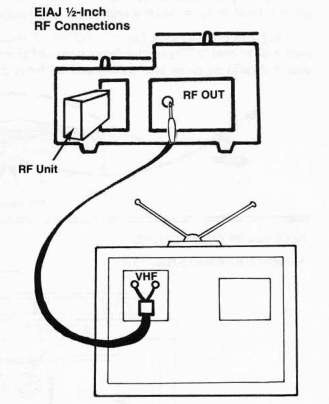 ---
Assembling RF Connectors
No soldering is required with RF connectors. They are called TYPE "F" or CABLE TV connectors. Be sure to use RG-59U cable.
Step 1 Strip cable, and expose center wire.
Step 2 Insert connector.
Step 3 Crimp ring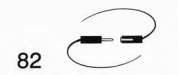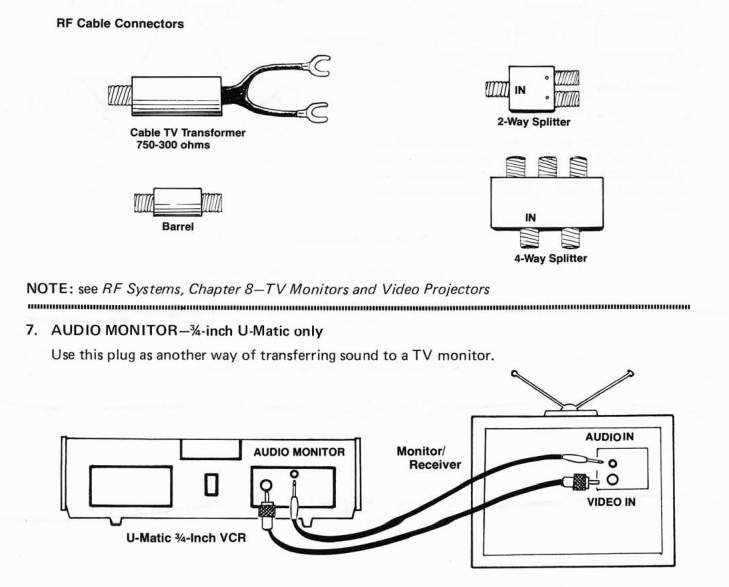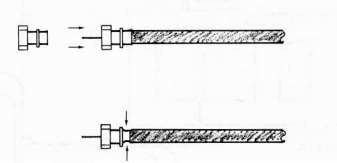 ---
8. LINE OUT
LINE OUT is used as an output for taking sound only out of the VTR and transferring it to another VTR, monitor, or for amplification through a sound system. Use standard RCA/ phono plugs. AUX OUT is usually used in conjunction with VIDEO OUT to transfer the sound along with the video to a monitor or a second VTR.
Audio Adaptors
The wise video person will jealously guard his cache of audio adaptors. A considerable amount of time is required to develop a prize collection of adaptors. A stock of basic adaptors would include: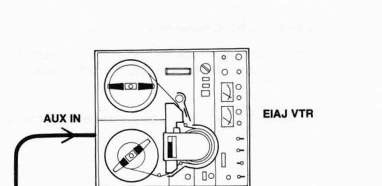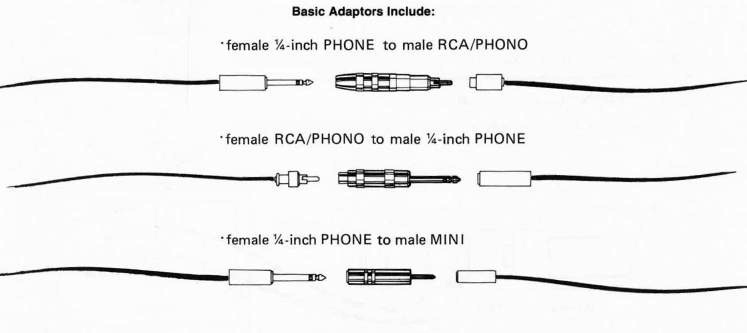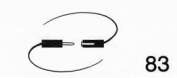 ---
9. VIDEO OUT
Use a UHF cable to connect one VTR to another, or to a TV monitor. VIDEO only is transferred OUT of the VTR and into a second VTR by means of this plug and cable.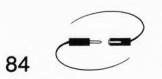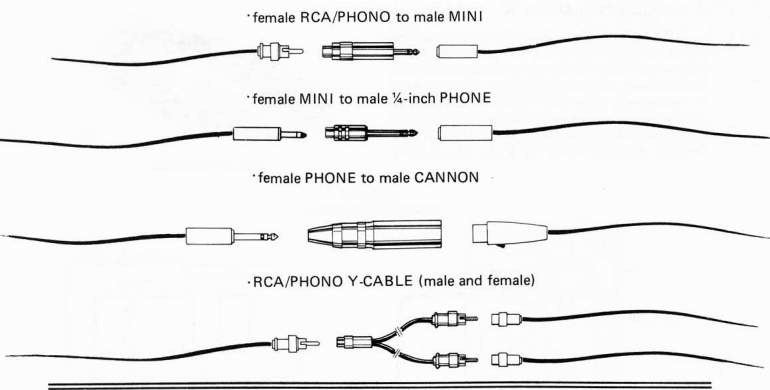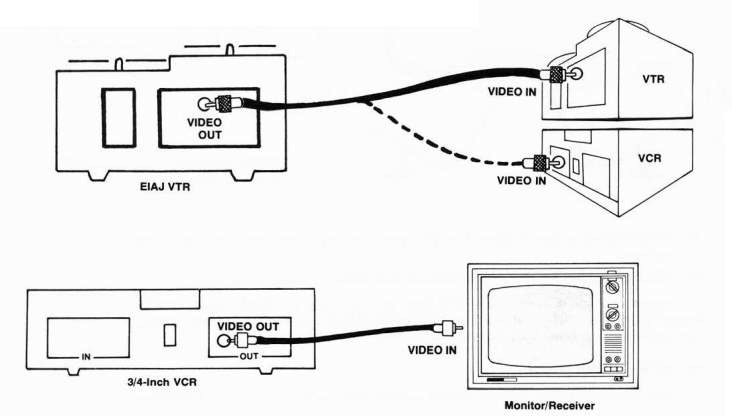 ---
10. AUXiliary IN or AUDIO IN
AUX IN is used as an input for nonmicrophone sound sources only. Use it to transfer the sound from external sound sources such as other VTRs, sound mixers, stereo amplifiers, or audio cassette or reel-to-reel player/recorders. A microphone will not work in this input because the impedance (resistance) of the input is different. Use an RCA/ PHONO plug and cable for sound connections.
GROUND—If a hum is present in the audio, connect a wire from here to a metal surface.

REMOTE CONTROL CONNECTOR—%-inch U-Matic models only
Use with RM-410 REMOTE CONTROL unit (all Sony VO-2000 Type II models) or with R M-400 AUTOMATIC EDITING PROGRAMMER (Sony VO-2850). See Chapter 11—Understanding Basic Videocassette Recorders.
HEADPHONE INPUT Use standard 8-ohm headset. Select correct level with level switch if available.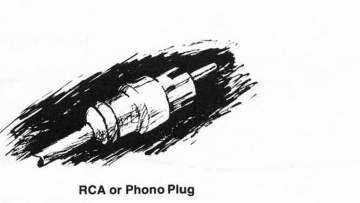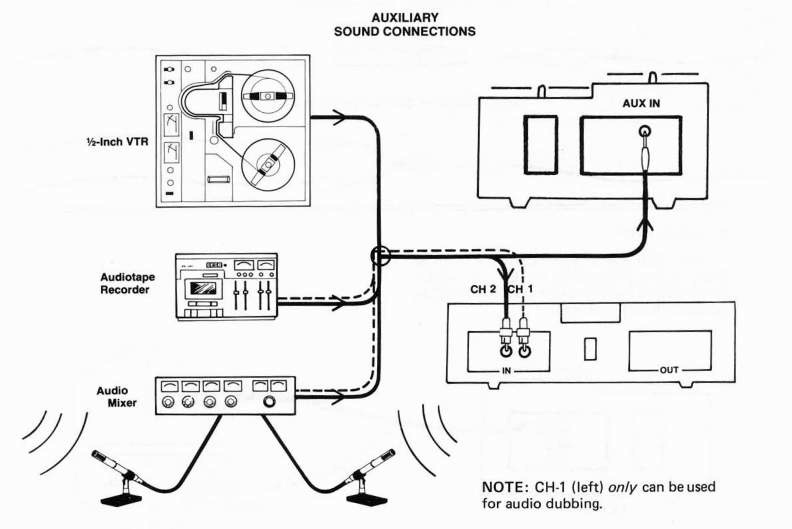 ---
The 10-Pin plug is used primarily to connect portable b&w cameras to the appropriate portable b&w VTR. It also is used to connect a color camera (such as the Sony DXC1600) to its Camera Control Unit (CCU). Other manufacturers such as Hitachi-Shibaden, JVC and AKA I also use the 10-Pin cable to connect their color cameras to a portable VTR or CCU. Notice that the 10-Pin plug is notched so it will only fit into the plug on the VTR in one specific way. Be sure to carefully and properly line up the plug with the
NOTE: The 10-Pin plug is very delicate and should be treated with extreme care. The soft aluminum casing can be bent easily, making it difficult to plug into the VTR; or worse, pins can be broken externally or internally, thereby shutting down the camera or making the VTR useless. Due to their small size and densely packed internal wiring, you should not attempt to modify or repair a 10-Pin plug unless you have the hand of a surgeon, the' eye of a jeweler and the experience of an electronic technician. The plugs are also expensive—about $10 each!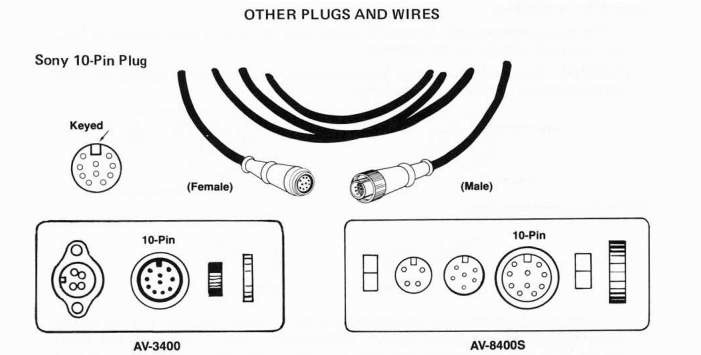 ---
Sony 4-Pin or DIN Plug
This plug is used to supply 12 Volts DC power from either an external battery or from the AC power adaptor to the portapak.
CAUTION: Improper polarity (+ or -) connections will burn out the VTR. Also DO NOT apply more than 12 volts DC to the VTR.
The XLR or CANNON plug is the standard of the Broadcast industry. It is the strongest and most dependable audio plug made. All broadcast %-inch, 1-inch and 2-inch VTRs use the XLR plug for all audio applications. It has 3 pins inside it, but you will only need to use 2 for simple applications with small-format equipment. Some video users replace the microphone mini-plug on the front of the portapak with an XLR CHASSIS MOUNT (flush mount) type plug and adapt their microphone cables to XLR male and female connectors.
The VTR modification requires careful cutting and drilling to fit the plug into the portapak. XLR plugs enable you to use most standard microphone cables and also to avoid pulling cables apart and out of the VTR while shooting, since the plugs lock in place.
The OCTOPUS Cable or Dubbing Cable is an all-purpose connector cable that can be either home-made or purchased. It is invaluable for editing with 1/2-inch portapaks, the old Sony CV-series VTRs or the VO-3800 %-inch portapaks which lack the full assortment of video and audio input and output connectors.
Plug Strips
Use multiple-output socket AC plug strips for your lights, VTRs, monitors and cameras.
Iwo NOTE: It's best to get the ones with the 3-prong
plugs, interchangeable fuses, and ON/OF F switches with lights in them. These deluxe strips are a little more expensive, but well worth it.




---
CARE OF CABLES AND CONNECTORS—DO'S AND DON'TS DO'S
DO keep connections clean and free from dirt.
DO color code or mark all cables that belong to a system and perhaps attach a list of accessory equipment items. This prevents loss.
DO keep a good stock of extension cables for power cords, microphone cables and video cameras.
DO keep a sufficient stock of adaptors handy for audio and video connections.
DO use the most expensive and best metal jacks and plugs you can buy when making your own plugs—i.e., AMPHENOL or SWITCHCRAFT.
DON'TS
DO NOT break a prong on a plug—the equipment will not work.
DO NOT bend the cables excessively. This will weaken the cable and tear the wires from the plug. Coil all wires in a 12 to 15-inch loop.
DO NOT drop a plug end on the floor, or step on the plugs. This will weaken and eventually break them.
DO NOT lose cables. Replacement cables are expensive and sometimes impossible to locate on short notice.
Replacement of Parts and Connectors
Occasionally a well-stocked TV-Radio store like Lafayette or Radio Shack will have some replacement video and audio connectors, but first try the local video distributor. Another option is to go directly to the video manufacturer's warehouse if there happens to be one nearby. You could also send for the part from the factory, but it may take weeks or months.
When you do attempt to replace a connector or a cable, be sure to take the item to be replaced with you or know the plug number or technical name, but even technical names are not specific enough sometimes due to the enormous variety. Verbally describing parts accurately is almost futile—"Well, you see, it has a little bulge about this big on the end that fits over this silver sleeve here..."
OR send for the catalog of "anything to anything" video and audio connectors, adaptors and accessories from:
They have a broad listing of connectors, plugs, cleaning kits, batteries, maintenance equipment, script forms, releases, microphone mixers, TV receiver-to-monitor conversion kits, tripods, lights, ARPs, "tweakers," etc. They have everything!
Another source for video equipment, supplies and accessories is WI D L VIDEO, 5325 North Lincoln Avenue, Chicago, Illinois 60625. They also distribute a catalog.


---