THE INFLUENCE OF CONSERVATION TREATMENTS AND ENVIRONMENTAL STORAGE FACTORS ON CORROSION OF COPPER ALLOYS IN THE ANCIENT ATHENIAN AGORA
ALICE BOCCIA PATERAKIS
5 OTHER CONSERVATION COATINGS AND SOLUBILITY
Re-examination of conservation materials is particularly valuable for assessing the current state of solu-bility of coatings on copper alloy objects, some of which were applied as early as 1931. Many of the coatings on copper alloys in the Agora collections have remained soluble, and those that have been identifed proved soluble in a range of solvents.
Incralac, containing Paraloid (formerly Acryloid) B-44 and benzotriazole, has been used in the Agora since 1979. In 1982 Incralac was used to lacquer four copper alloy coins (N10763 corrosion sample 5, N11308, N11172, and N10746), which had been electrochemically or electrolytically cleaned in a sodium hydroxide solution, followed by stabilization with benzotriazole. These coins have developed the blue corrosion product described above, and represent the youngest examples of this form of corrosion in the collection. It would seem that the Incralac did not provide a barrier to the acetic acid emissions from the wooden storage cabinets. Thickett noted the
Fig. 8. FTIR scan of coating samples 3 and 4 (hydrocarbon waxes) compared to scans of paraffin wax and Cosmolloid 80 Hard microcrystalline wax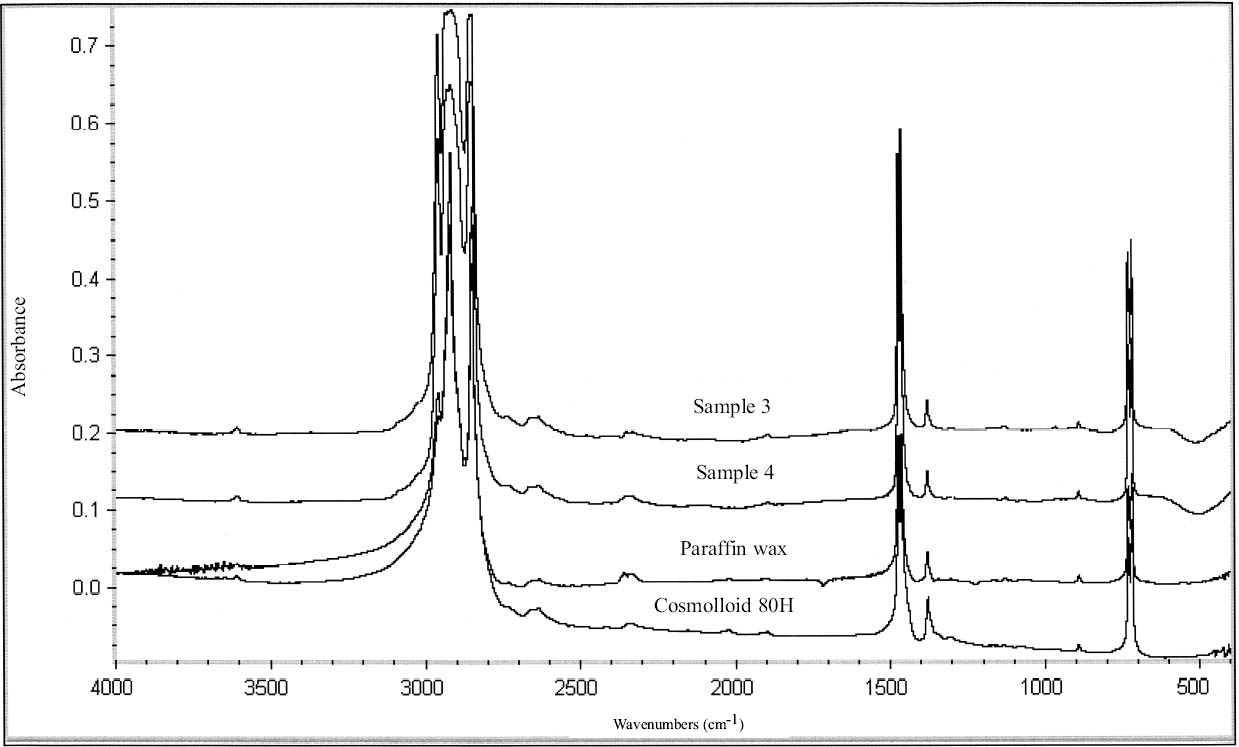 presence of sodium copper carbonate acetate in 1998 on Egyptian objects that had been lacquered with Incralac in the 1970s (Thickett 1998). The Incralac is still readily soluble.

Of the conservation materials used to coat Agora copper alloy objects in the 1950s and 1960s, two were found to have become insoluble. Soluble nylon, marketed under the trade names Maranyl and Calaton, was used to coat copper alloy artifacts at the Agora in the 1950s and 1960s. Since then it has become gummy, attractive to dust, and insoluble. It may be softened in ethanol and then removed mechanically. Shellac, used as an adhesive at the Agora from the 1930s to 1970s, has become insoluble. It may be softened by exposure to acetone: ethanol vapors (1:1) and then removed mechanically.