THE FIRE AT THE ROYAL SASKATCHEWAN MUSEUM, PART 2: REMOVAL OF SOOT FROM ARTIFACTS AND RECOVERY OF THE BUILDING
SARAH SPAFFORD-RICCI, & FIONA GRAHAM
1 1. INTRODUCTION
The fire at the Royal Saskatchewan Museum (RSM) on February 16, 1990, was a disaster of massive proportions (fig. 1). The recovery involved not only the collection but also the rehabilitation of the museum's building and furnishings, its educational programs, and its public image. The museum had no disaster plan and was completely unprepared. In the days immediately following the fire, the initial response phase, priorities were established and decisions made that charted the entire course for collection recovery. These factors and the first two weeks of disaster response after the RSM fire are analyzed in a companion article in this issue (Spafford-Ricci and Graham 2000).
Fig. 1. Remnants of the replica rock wall in the gutted exhibit area at the fire site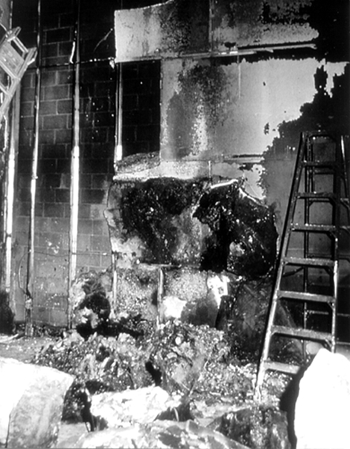 Following the RSM fire, the entire building and contents required a tremendous amount of cleaning and restoration. The recovery progressed in two interdependent and sometimes conflicting recovery paths—that of the building and administrative furnishings and that of the museum-owned collection and noncollection material. The building restoration was fueled by insurance money and supervised by persons experienced in disaster recovery; on the other hand, the recovery of the collection and the museum's property was primarily reactive and slowed by delays in obtaining funding and technical assistance. The construction manager oversaw the building construction and cleaning trades, and the senior conservator scheduled the recovery of the museum collection. The staff conservators were made responsible for cleaning all collection and noncollection museum material.
The museum cleanup committee, under some pressure from the government department in charge of the museum, decided that the most urgent requirement was to open the facility as quickly as possible to restore public programs and a public "face." The building restoration group wished to complete its work as quickly as possible and had the mandate to do so under the building's insurance coverage. The building and its contents would therefore receive priority. The galleries that could be opened earliest, and the artifacts on display in these galleries, were to be salvaged and cleaned first. Next in order of importance were educational and research material so that the museum education programs could be restarted. The artifacts removed from damaged galleries that were slated for renovation and the remainder of the collection in storage were scheduled last for cleaning, since there was no "urgent need" for these materials in the museum's programs.