Volume 1, Number 5-6
Dec 1994
Literature
[Note: The classification number that follows each entry is an aid to indexing by subject in the yearly index.]

"Air Pollution Effects on Materials, 1970-Oct. 1985." A bibliography of publications found during a computer search by the National Technical Information Service (5285 Port Royal Rd., Springfield, VA 22161, tel. 703/487-4600) and listed in its free catalog, NTIS Published Searches. In 1987, all titles cost $45. Current prices are not known.
NTIS's mission is to make the results of government-supported research available to the public. It receives 60,000 reports a year, the references for which go into their database. Whenever they do a literature search in their own or another database, they also make it available to other people.(2C1.1)

"A pH Study of an Acidic Textblock," by Nick Hindhaugh. Paper Conservator 14, 1990, p. 17-22. The introduction says, "This paper presents a procedure for mapping, by means of a grid system of readings, the varying pH levels within a badly degraded text block in order to detect any pattern of distribution that might help interpret the origins and causes of the degradation."
The book he did this mapping on was a folio volume printed in Venice in 1508. Although the paper was of good quality linen fiber, its condition varied considerably by location, being brittle and acidic at the edges and in better condition toward the middle of the page and the bottom of the book. The edge of the textblock was sooty and dirty, and there was water damage. Surface pH readings were taken at 63 points of each of ten pages, then averaged for each sheet and each point. The pages with lowest pH were in the front, the next lowest in the back, of the book. The author hopes that knowledge of acid distribution will help test theories of acid attack. His diagram, greatly reduced, looks like this: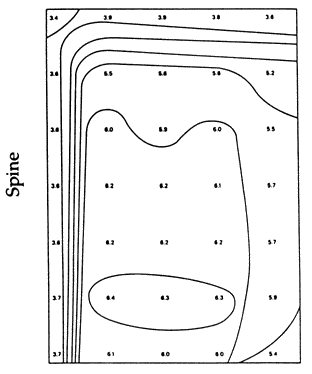 (2C2.5)

"Development of Microbiological Guidelines for Food-grade Paperboard: A Historical Perspective," by Oscar May. Tappi Journal, Dec. 1994, p. 41-43. With increasing use of postconsumer waste in paperboard, and the resultant inevitable rise in microorganisms, the spores and toxins in food packaging are expected to rise. The author suggests that it is time to take a really close look at the 50-year-old standard that is still being used (TAPPI Test method T 449 OM-90). Questions that need answering are: Does a total bacteria count really measure the sanitary quality of paperboard? Is it necessary to keep the total count to an arbitrary figure, such as 250 colonies per gram? Should new test methods be developed for assessing the microbiological quality of food board? What effect will recycled fiber have on meeting the present standard and on the types of organisms that might be found in the finished paperboard?(2H1.1)

ISO standard 5630-3: 1986, "Paper and Board ñ Accelerated Ageing ñ Part 3: Moist Heat Treatment at 80°C and 65% Relative Humidity," is undergoing revision. Copies may be circulated, according to a notice on the front page of the draft standard, for the purpose of review and comment related to the preparation of a U.S. position. After revision is complete and ISO approves the final version, it can be purchased through ANSI. Rolland Aubey is the chair of ISO Technical Committee 6, Subcommittee 2, which is responsible for ISO 5630-3.
The current draft makes only one significant change: to allow RH fluctuations of ±2°C during the test instead of ±1°C.
The aging conditions called for in this standard are those recommended by H. Bansa & H.-H. Hofer in 1984 in "Die Aussagekraft einer künstlichen Alterung von Papier für Prognosen über seine Benützbarkeit," Restaurator (Copenhagen) 6 (1-2), p. 21-60, and in a paper in Das Papier. An English translation of the Restaurator paper is available from the Abbey Publications office for $5.00. Its English title is "Artificial Aging as a Predictor of Paper's Future Useful Life."(3B1.21)

Methodologies for Predicting the Service Lives of Coating Systems, by Jonathan W. Martin et al.(NIST Building Science Series 172) National Institute of Standards and Technology, Oct. 1994. 76 pp. For sale by the Superintendent of Documents, U.S. Government Printing Office, Washington, DC 20402-9325.
This booklet has a more general scope than its title implies. Author Martin says, ". . . The methodology is generic and has direct and immediate application to all materials, components, and systems including paper products." The Executive Summary gives the impression that its proposed approach to accelerated aging would be useful for the ISR research project now being planned, because of its emphases on prediction of service life and correlation of natural and accelerated aging results. "The failure of the current methodology has generally been ascribed to inadequacies in laboratory-based aging tests, specifically, the inability to simulate weathering conditions in the laboratory. However, we suggest that the failure of the current methodology can be attributed to its being based on faulty premises, inadequacies in experimental design, and the lack of reproducibility of the weather over any time scale. An alternative, reliability-based methodology is reviewed and assessed. This methodology has a strong theoretical basis plus a history of successful applications in the electronics, medical, aeronautical, and nuclear industries. . . ." (3B1.21)

"Alterungsbeständigheit gestrichener Papiere (Aging Resistance of Coated Papers)," by A. Proksch, H.-H. Hofer, P.C. Le, and W. Knapp. Paper presented at the 16th PTS Coating Symposium in Munich, September 1993, and planned for publication in Wochenblatt für Papierfabrikation in February 1995.
Their findings agree with those of the scant previous research on this topic, namely, that coatings do help a little. They found this to be particularly true for mechanical base papers manufactured in an acid process. They tested papers made from mechanical and chemical pulps; both alkaline and acidic papers; papers filled with kaolin, calcium carbonate or other pigments; and papers coated with kaolin, calcium carbonate, talcum, titanium dioxide or other substances; with different binders, additives and coating weights. Most of the coatings were alkaline.
The papers were aged according to ISO 5630-3 (1986), and their permanence was estimated using DIN 6738. (3B1.8)

"Alkyl Ketene Dimer Sizing Efficiency and Reversion in Calcium Carbonate Filled Papers," by William J. Bartz, Michael E. Darroch and Frederick L. Kurrle. Tappi Journal Dec. 1994, p. 139-148.
This is a remarkable paper. The authors attacked a significant problem in alkaline papermaking (the destructive, often delayed, effect of precipitated calcium carbonate on AKD sizing); they reviewed earlier explanations and remedies; did their own study; and came up with an unexpected, almost incredible, explanation that seems to account for all of the observed effects. They call it the pore penetration hypothesis. It has to do with the size and porosity of PCC particles, and the melting point of the waxy AKD, rather than the nature of the bonds formed between the AKD and the fiber. In effect, the authors found a physical solution to a problem everyone thought was essentially chemical.
The trend has been to use smaller and smaller particles of scalenohedral PCC in papermaking. Unfortunately, this study showed size reversion to be most severe with the smallest PCC particle size, especially at high drying temperatures. Higher temperatures reduce the viscosity of the AKD and allow it to spread more thinly and enter smaller pores of the filler particles, where the AKD is unavailable for sizing of the cellulose. With larger particles, sizing did not decrease until they got up to 22% filler loading. Ground calcium carbonate does not cause size reversion, because it does not have pores.(3B3.44)

"Alum Chemistry: Friend or Foe?" by Pat Crowe. PIMA Magazine, Nov. 1994, p. 56-57. The author says that there is real debate about alum addition, "especially in fine paper mills already converted to alkaline. Some insist that up to five pounds of alum per ton is beneficial." However, he recommends a more efficient source of the aluminum ion, poly aluminum hydroxy chloride (PAHC), which does much of what alum does but works in both acid and alkaline ranges.(3B3.45)

"Printing-Writing Grades and Executive Order 12873," Recycled Paper News Dec. 1994, p. 3. This is an "RPN Reference Table," listing the characteristics, synonyms and end uses of the seven kinds of printing and writing papers named in the October 1983 executive order on recycling in the Executive Branch. First it lists five high volume, general use papers, as in Section 504(a) of the Executive Order: Reprographic papers, Offset papers, Tablet papers, Forms bond papers and Envelope papers. Then there are two premium specialty papers, as in Section 504(b): Text and cover papers and Cotton-fiber papers. The information comes from the American Forest and Paper Association and the U.S. Environmental Protection Agency.(3B3.71)

This is a period of rapid technical change in pulp bleaching, a fact that was hard to miss at the 1994 International Pulp Bleaching Conference in June in Vancouver, to judge by lively reports in the November Tappi Journal (p. 227-231) and the September Pulp & Paper Canada (p. 21-27). Totally chlorine free (TCF) and elemental chlorine free (ECF) pulps were discussed, as was elimination of effluent altogether by "closing up the mill." When chlorine is replaced by oxygen and hydrogen peroxide bleaching, however, transition metals (present in the wood, in different combinations according to tree species and location) become a problem by interfering with the oxidizing bleach, darkening the pulp and making compounds that form deposits in the machine. The metals can be removed by chelation or by acid treatment. Acid treatment is cheaper and is reported not to affect viscosity.
Matters of cellulose degradation and preservation were considered in several other contexts. D. Dimmel of IPST reported making amorphous and crystalline cellulose samples, treating them with sodium borohydride to prevent peeling, and studying their reaction in oxygen-alkali and hydrogen peroxide environments. In reactions with peroxide, the viscosity of the amorphous sample was preserved only when magnesium sulphate and sodium silicate were present. As might be expected, the crystalline cellulose was relatively unaffected.
One paper explored the question whether it was the hydroxyl radicals, or the ozone itself that caused cellulose degradation during ozone bleaching. Conclusion: it was the ozone. This was partly because the condition of the cellulose improved only marginally when hydroxyl radicals were suppressed.
One question from the floor was about whether kappa number tests of ozone-treated pulps are valid. The report in the Tappi Journal does not record the answer.(3B3.83)

"The 1993 British Association of Paper Historians Conference," reported by Sandra Grantham. Paper Conservation News, #68, Dec. 1993, p. 6. The meeting was held at Oxford (where the Wolvercote Mill, now owned by Sappi Specialties, is located), September 17-19, 1993. Five of the papers concerned straw: how it was used in the past (two papers), how it is used now, the problems in removing strawboard backing from watercolors, and (in a more general paper on the effect of fiber characteristics on the resulting paper) how straw acts like a filler in an otherwise long-fiber paper. (3B4)