Volume 1, Number 2
Jul 1994
Printing and Writing Paper: 1992-93 Production
The American Forest and Paper Association (AFPA) gathers and publishes authoritative statistics on the paper industry, among its other functions. Recently it reviewed its entire statistical program to improve its accuracy, utility and efficiency. This led to a revision of its figures for printing and writing paper shipments for the period January 1992 to May 1993, which it published in the October Papermaker on p. 13. These figures are presented below in graphic form, to give readers an idea of what this category includes, and the relative importance of the different subcategories.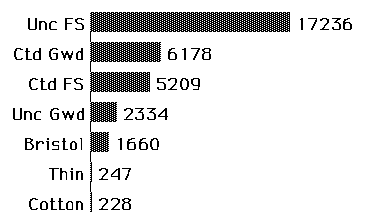 Although newsprint is a kind of printing paper, it is not included in the printing and writing category. It makes up a category of its own, on a par with printing and writing papers.
Uncoated freesheet makes up almost half of all printing and writing papers. ("Freesheet" is paper made with little or no mechanical--groundwood--pulp.) It goes into hard cover books, envelopes and photocopy papers, among other things.
Coated groundwood goes into mass market magazines and advertising material. Coated freesheet is often found in annual reports and in publications with good photographic illustrations. Uncoated groundwood, which is a better quality paper than newsprint, according to William H. Bureau (Graphic Arts Monthly, Jan. 1989), goes into telephone directories, paperbacks and catalogs, as well as magazines and newspaper inserts.
Bristol is used for tickets, index and filing cards, menus, greeting cards, and directory covers. Thin papers include Bible and cigarette papers. Cotton paper probably covers cotton content bond, at least. (Since AFPA did not not spell out its definitions for these categories, it is hard to be sure what they include.)