Volume 3, Number 2
May 1990
Company News
GK Carbonate, in a joint venture with Boise Cascade, has built a precipitated calcium carbonate plant onsite at B-C's St. Helens, Oregon, paper mill. The 60,000 tpy plant will supply both that mill (fine paper capacity something less than 700 tons/day) and B-C's 290 ton/day mill in Vancouver, Washington,
Pfizer and Weyerhaeuser Paper have broken ground for an onsite PCC plant in Plymouth, N.C., which should be in production by August.
International Paper of Purchase, New York, has acquired Dixon Paper Co. of Denver, a wholesaler and retailer of fine papers, graphic art supplies and industrial paper products.
Willamette Industries will buy Penntech Papers, according to the American Papermaker for May, and plans to operate Penntech as a separate subsidiary. Last July Penntech had converted 20%. of its total output to alkaline product, and was planning to increase that percentage. Both of Willamette's fine paper mills (Hawesville, Ky. and the one under construction in Bennetsville, So. Carol.) are slated for conversion to alkaline production.
A preliminary report of the 1987 of manufactures is now available. (For ordering information on the section covering pulp, paper, and board mills, see Literature section.) In its five pages of statistics, there is data going back to 1972 on number of mills and companies, employees, value added, cost of materials, value of inventory and so on. The figures on number of mills and of large mills give an overview of the tendency to centralization in the paper industry, especially in the period 1977-82, when a lot of smaller mills either closed down or were bought up by larger companies.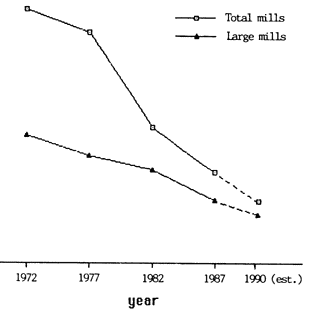 Figure 1. U.S. paper mills. "Large mills" are those with 20 or more employees.