Volume 2, Number 1
Apr 1989
Canadian Pulp & Paper Association Meeting: Report
There were two sessions on alkaline papermaking at the Canadian Pulp and Paper Association meeting in Montreal, January 31-Feb. 2. Both of them were described in a daily conference newspaper, the Reporter, published by Southam Communications for CPPA. Excerpts from two articles by Cindy Turriff follow.
One speaker called alkaline papermaking "radical new technology" and a "a trend." Whatever you call it, it sure is popular. Delegates filled the seats and lined the walls to hear the Alkaline Papermaking I session an Wednesday morning-
About 100 people attended the seminar sponsored by the Fine, Kraft and Specialty Papers Committee. Alkaline sizing was discussed from both the customer and the supplier viewpoints.
One client's opinion of alkaline sizing was presented by G. Treier, Xerox Corp., from his paper How a Customer Looks at Alkaline Sizing. He told papermakers, "Customers care how you make a product." They care because changes in the paper may affect their end product, Treier said. He encouraged a close relationship between papers and customers.
Treier mentioned a few drawbacks that occur in some alkaline papers, but he added, "We see no reason why properly designed alkaline sheets cannot work as well as acid sheets for our end use applications."
End use applications of alkaline papers were also covered by S.A. Walkden in his presentation, An Overview of Current and Future Market Conditions and Applications of AKD Sizes. Walkden, product manager [alkaline sizing] for Hercules Inc., told papermakers they had to consider the end use of their product. "You have to be able to take it to the end customer and run it on his machine and meet his end factional characteristics."
Megatrend was the term used by Walkden to describe the increasing number of mills choosing alkaline sizing. He predicts that alkaline paper will capture 507 of the uncoated freesheet market by 1992. By the end of this year Walkden expects this figure to reach 40%.
Both Walkden and Treier were optimistic about the future of high-yield pulps combined with alkaline sizing.
D. Trudel, Albright and Wilson Americas, and B.H. Wortley, General Chemical Corp., discussed Coping with Carbonate--Neutral pH Rosin Sizing. Mill trials have shown this system to be effective in combatting upsets and swings in pH level which can be caused by the presence of calcium carbonate in the recycled fiber used as furnish.
Alkaline papers were a hot topic again Wednesday afternoon. Alkaline Papermaking II was filled to capacity, as part one had been in the morning. Both sessions were sponsored by the Fine, Kraft and Specialty Papers Committee.
The popularity of the sessions may reflect the rapid expansion of the alkaline papermaking field and the recent surge in popularity of on-site precipitated calcium carbonate plants. One session addressed the qualities of synthesized precipitated calcium carbonate and limestone fillers.
D.C. Almond led off the proceedings with his paper Retention in Alkaline Systems. He contends that the retention system plays a crucial role in any alkaline conversion.
Almond suggests that the filler level, retention, drainage, formation, cost, size cure, control and pH flexibility should be examined before a retention system is chosen. "In certain instances," he said, "objectives can be met by the use of a single component PAM, but there are substantial benefits to be gained from new microparticle technology."
The benefits of PCC fillers was discussed by R.A. Gill, a research chemist with Pfizer Inc., a company that has built several on-site PCC plants in the last few years. Gill's topic was The Retention, Drainage and Optical Performance of On-site Synthesized PCC Fillers.
Gill concluded that synthesized PCCs were superior to limestone and chalk when considering optical properties. He also found that PCCs offer improved first-pass filler retention. "It is evident that on-site synthesized PCC fillers provide improved optical properties in paper over other forms of calcium carbonate due predominantly to their average particle size, narrow size distribution, and morphology," Gill concluded.
The following speaker, M.D. Strutz, Omya Inc., came to a very different conclusion from Gill. His paper, Calcium Carbonate Filler Optimization for Alkaline Paper, compared ultrafine ground limestone (UFGL) and scalenohedral precipitated calcium carbonate (S-PCC) at equal opacity.
He concluded that UFGL can achieve the same opacity, burst and tensile Strength as S-PCC by using about 507 higher filler level. Thus significant savings are possible by using UFGL as a filler to replace fiber.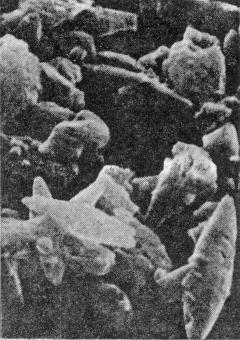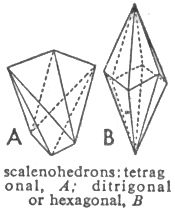 Scalenohedral Calcium Carbonate (10,000 X)