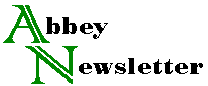 Volume 26, Number 6
Oct 2003
People
John Bogaard's address has changed to Carnegie Mellon University, Artist's Materials Center, 700 Technology Center, Pittsburgh, PA 15219-3124.
Elizabeth Ferguson is the new Field Services Officer in the Preservation & Access Services at SOLINET. She has worked for the New England Conservatory of Music and the Boston Architectural Center.
Hilary Seo has taken the position of Head of the Preservation Department at Iowa State University. She previously was the Preservation Librarian at the Georgetown University Law Center.
Christine Wiseman, formerly with SOLINET, started work in the Georgia Archives about ten months ago. Her contact information is Preservation Services Manager, Georgia Archives, 5800 Jonesboro Rd., Morrow, GA 30260. Phone: 678-364-3761, fax: 678-364-3860, e-mail: cwiseman@sos.state.ga.us; web site: http://www.georgiaarchives.org.