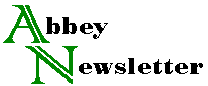 Volume 26, Number 5
Jul 2003
People
Hedi Kyle has retired from the American Philosophical Library, where she worked as Head of Conservation for 16 years.
Connie Brooks of Stanford University was selected for participation in the 2003 Frye Leadership Institute held June 1-13 at Emory University in Atlanta.
Marilyn Kemp Weidner has contributed much to the field of conservation. Recently, a fund was established in her honor through the Conservation Center for Art and Historic Artifacts. The Marilyn Kemp Weidner Professional Endowment Fund will be dedicated to supporting educational opportunities for staff and interns at the Conservation Center.
Jan Merrill-Oldham was honored by the Association of Research Libraries for her 15 years of service as a consultant to ARL's Preservation of Research Libraries Materials Committee. While building excellent preservation programs at the University of Connecticut and now at Harvard, she helped to shape a preservation agenda for ARL and guided the development of standards for mature preservation programs in ARL libraries.
Hugo Peller, master binder and founding member of Cnetro del Bel Libro in Switzerland, passed away on March 4, 2003. He taught several workshops in the United States for the Guild of Book Workers and profoundly influenced some of this country's best binders.
Kendra Deerenee Lovette, book and paper conservator, died on March 6, 2003 in Glen Burnie, Maryland. She began her career in book and paper conservation at the age of seventeen at the Missouri Botanical Garden, where she worked for nearly 30 years. She moved to Washington, DC, to work for the Library of Congress, where she was the conservator in charge of treatment for the architectural drawings for the United States Capital. Subsequently she accepted the position of paper conservator at the Baltimore Museum of Art. She moved into private practice when she retired in the mid 1990s. A Memorial Fund for Kendra will be set up through the AIC.