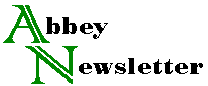 Volume 26, Number 4
Feb 2003
Abbey Newsletter Needs New Home
Next August, the editor of the Abbey Newsletter (E. McCrady) will step down in order to give more attention to the Mold Reporter, and to begin semi-retirement. Since a large number of subscribers have prepaid for up to two years in advance, and since many readers value the information they receive from the newsletter, there is a strong need for it to continue.
The Abbey Publications office will coordinate the transition to the new editor, who may assume ownership of the publication. Legal and financial aspects of the transfer can be discussed later.
Editing the Abbey Newsletter has been close to a full-time job, and has made it possible to pay a modest salary to the editor. The job could be made less time-consuming by narrowing the scope or by increasing the number of editors contributing material. It could be made more valuable to the reader (especially for the Events column and other time-sensitive material) by publishing more often. These decisions will be up to the new editor.
Anyone who wants to get a closer look behind the scenes before making a big commitment can serve as a guest editor for a month, or visit us in Austin, or simply ask questions.
Interested parties can e-mail abbeypub@grandecom.net, or call 512/929-3992.