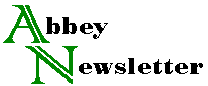 Volume 26, Number 4
Feb 2003
People
Jonathan Ashley-Smith has moved to the Research Department of the V&A after nearly twenty-five years as Head of the Conservation Department.
Anthony Cains retired as Technical Director of Conservation at Trinity College Library, Dublin on September 30, 2002. Tony came to Trinity in 1972 to design and establish the present conservation workshop and is now in the process of setting up another workshop in his home. He plans to take on book repair and conservation projects for a number of Irish Collections and hopes to continue teaching in Italy and America.
Jo Ann Martinez-Kilgore of Cariño Conservation of Books and Paper has taken on the task of reviving the moribund New Mexico Preservation Alliance. The first reorganizational meeting was held on July 24, 2002 in Socorro, New Mexico and at New Mexico Tech.
Linda A. Blaser has been hired as the new National Preservation Program Officer for Regional Records at the National Archives and Records Administration (NARA). Ms. Blaser will join NARA Preservation Programs on February 24, 2003. Her primary duties will be to address the broad range of regional records preservation concerns, including preventive preservation, emergency preparedness, and condition assessment. For the last 10 years, Ms. Blaser has held the post of Senior Book Conservator at the Folger Shakespeare Library in Washington, DC. She can be reached by email at linda.blaser@nara.gov.
Eleanor Quandt, paper conservator at the Library of Congress for 17 years until she retired in 1990, passed away on September 12, 2002. Ms. Quandt was the wife of the late Russell Quandt, paintings conservator, and the mother of Abigail Quandt, head of book and paper conservation at the Walters Art Gallery.
In January, the Etherington Conservation Center Inc. (ECC) in Greensboro, NC, will celebrate 18 months since its acquisition by Don Etherington and its establishment as a sole proprietorship. ECC's capabilities now include library conservation services, rare book conservation, design and fine binding, digital imaging services, document reproduction, and conservation of photographs and works of art on paper, in addition to field service and outreach.
The Reverend Dr. Richard L. Darling, dean emeritus of the School of Library Service at Columbia University and priest of the Episcopal Diocese of Bethlehem, PA, died January 26 at the age of 78. In 1970, he became the dean of the world's first library school at Columbia University. While there, he raised the money to establish programs for conservators and preservation administrators. An obituary will be published in the next issue of this newsletter.
James Dorsey died February 3, 2003, at the age of 73. When the Academy Book Bindery closed in the late 1970s, he started publishing the Binders' Guild Newsletter, to help the Tuesday night bookbinding students stay in touch with each other. He edited it for years, with color photographs and excellent first-hand reports of Guild of Book Workers Standards of Excellence meetings. When his health gave way, he turned the editorship to Susan Lunas, who continued in the tradition he established. He is survived by his wife, Dietlinde ("Didi") and family.
William K. Wilson, paper chemist and pioneer in the formation of standards for permanent paper at the international as well as the national level, died February 7, 2003. He was 89 years old. (See obituary elsewhere in this issue.)