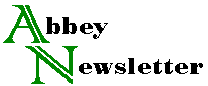 Volume 26, Number 3
Nov 2002
Preservation Instruction, Education, and Outreach DG
At ALA Annual, Atlanta, June 16, 2002
This is not a complete record of the Discussion Group's program or of every topic discussed, but it looks useful and inspiring, especially for preservation officers and their allies who are looking for new approaches. Some of the attendees were: Marcia Barrett, Sue Baughman, Sue Koutsky, Christine McCarthy, Julie Page, and Patricia Ratkovich.
List of ideas and issues generated through presentations and discussion:
One does not need a preservation department or program in place to undertake preservation training, especially for care and handling. Julie Page began her staff education efforts before her department was fully operational or even staffed.
It is critical to tie the information presented and the goals of preservation awareness training, to staff job descriptions and responsibility, if the training effort is to be successful. All of the speakers mentioned this as important to buy-in. Staff should come away from training with a sense that what they do is important to preservation efforts.
Tailored or targeted approaches offer opportunities to concentrate preservation education on the needs of specific staff and their responsibilities.
Buy-in from staff supervisors is important for success. In many instances, supervisors must carry this information forward and/or pass it on to student assistants.
Institutional culture may be an obstacle or a benefit to training. Learning curriculums and other types of staff development programs may encourage and support preservation efforts. Competing constraints on staff time can cripple efforts—it is important to change the perception that staff does not have the time to attend even short programs.
Highlighting the value of the collection may help to make preservation education seem more like a necessity and less like a luxury item. Preservation education is part of successfully managing the investment portfolio known as the library's collection.
All staff at every level should receive basic preservation information.
Show-and-tell is well-received. Use samples to illustrate concepts. Both Julie Page and Sue Koutsky reported success using hands-on demonstrations, such as letting staff test brittle papers using double fold tests.
Giveaways and takeaways create a positive atmosphere for training. Julie Page offered book snakes and an opportunity to decorate them to staff as part of her preservation outreach.
Many activities can serve as "training" and support training efforts—an open house, exhibits, make-your-own book snake, etc.
Use initial training sessions for feedback—as pilot groups that are asked to critique the first sessions.
Layers of training documentation facilitate training diverse staff groups—Internet-based manuals, detailed procedures with accompanying checklist or abridged version for refresher instruction or referral. Manuals and quick reference allow staff to find their own answers following training.
Sell the message! Use anything and everything to get the message across. This can be fun. Use any opportunity to remind or encourage participation in training.
Some preservation instruction does not lend itself to written instructions, even with accompanying illustrations. Shelving and proper removal of books from a shelf is best demonstrated.