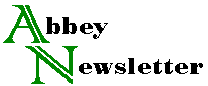 Volume 26, Number 3
Nov 2002
People
Preservation Staff Changes at the National Archives
Preservation Programs at NARA
Nancy J. Davis has joined NARA staff as the new National Preservation Program Officer for the Presidential Libraries (NWT-L) to address the broad range of Presidential Library preservation concerns, including collection assessment, exhibition, emergency preparedness, and preventive conservation. Ms. Davis holds an MS with a certificate in conservation from the University of Delaware/Winterthur Museum, where she majored in objects.
Miranda Martin, formerly National Preservation Program Officer for Regional Records Services (NWT-R), retired July 3, 2002.
Mary Lynn Ritzenthaler is the new Chief of the Document Conservation Laboratory. A graduate of Wayne State University with a BA in English and an MSLS with concentration in archival administration, she studied bookbinding and conservation at the Newberry Library with Bill Anthony and Paul Banks. Before coming to NARA in 1985, she worked as Assistant Manuscript Librarian/Associate Professor at the University of Chicago at Chicago Circle and later as Director, Basic Archival Conservation Program, at the Society of American Archivists.
Hilary Kaplan has joined the Document Conservation Laboratory staff, having previously served as Conservator and Preservation Services Manager for the Georgia Department of Archives and History, and as Head of Conservation for Emory University Libraries. A 1987 graduate of Columbia University's Conservation Education Program, she is currently serving her second term as Secretary on the Board of the American Institute for Conservation (AIC).
Before joining NARA, Susan Peckham worked on the preservation and treatment of works of art on paper at the National Anthropological Archives of the Smithsonian's National Museum of Natural History. She holds a Master's degree in art conservation from Buffalo State College.
Previously at the U.S. Holocaust Memorial Museum, Allison Olson joins NARA as a paper conservator. Her latest project was the conservation and installation of "The Art and Politics of Arthur Szyk," an exhibition exploring the Holocaust through Szyk's political cartoons. Allison received her master's degree in conservation from Queen's University in Ontario, Canada.
NARA Special Media Preservation Laboratory
Digital Imaging Specialist Jeffrey Reed comes to NARA from Rieger Communications and has a background in photography and digital imaging.
Digital Imaging Specialist Erin Rhodes comes to NARA from the University of Chicago and has a background in digital library projects and library/archives preservation.
News of Other Professionals
At the end of 2002 Hedi Kyle will retire from the American Philosophical Library, where she has served with distinction for sixteen years as the Head of Conservation. The Library is seeking a successor.
Jo Anne Martinez-Kilgore of Cariño Conservation of Books and Paper is working to revive the moribund New Mexico Preservation Alliance. The first re-organizational meeting was held July 24 in Socorro at New Mexico Tech.
Robert E. Schnare Jr. received the Society of American Archivists' 2002 Preservation Publication Award for his Bibliography of Preservation Literature, 1983-1996 at the SAA's annual meeting in Birmingham, August 2002. This is the bibliography that was left unfinished at Susan Swartzburg's death in 1996.
Dianne van der Reyden has been appointed Chief of the Conservation Division at the Library of Congress.
Ann Seibert has been named Head of the Preventive Conservation Section of the Conservation Division, in the Library of Congress's Preservation Directorate.
Hal Erickson led the AIC's three-day July 2002 workshop in Washington, DC, on enzymes and their use in conservation. The 28 conservators attending included Thea Burns, Claire Dekle, Kathy Ludwig, Melanie Martin, Catherine Nicholson, Susan Page, and Christine Smith. The workshop was funded in part by proceeds from the FAIC endowment for professional development.
Robert Harriman has been chosen program director for OCLC's Digital and Preservation Cooperative in Dublin, Ohio.
Obituary Notices
Christa M. Gaehde, born in Dresden in 1922, studied conservation of art on paper beginning in 1943. After the war she moved with her husband to Munich and set up her own practice in their one-room apartment. In 1949 they moved to the U.S., and settled in Boston in 1958, where her practice flourished. Irene Brückle, who wrote the long English-language obituary that appears in PapierRestaurierung v.3 #3, says of her: "She was keenly interested in the long-term effect of conservation treatments and was one of the first conservators to consider the dangers of local aqueous treatment, which can lead to latent damage of the paper, resulting in future tideline formation. She was also one of the first conservators to use light bleaching in the 1970s. In 2000, Mrs. Gaehde received the Sheldon and Caroline Keck Award from the American Institute for Conservation in recognition of her dedication to the education of conservators."
Clare Hampson, secretary of the Institute of Paper Conservation, took care of the organization as if it were her "fifth child." She died peacefully at the Pirton Grange Nursing Home, near her home, September 5 at 3:20 am. Her family was with her. The IPC has opened a Memorial Book of condolences, and will also be holding a Celebration of Clare's life in the future. Notices will be sent out. [This information is from Tina Boyle at Leigh Lodge in Worcester, posted Sept. 5 on the Conservation DistList.]
Walter C. McCrone, Jr. (1916-2002), the father of modern microscopy, died in Chicago on July 10, 2002 at the age of 86. Craig Deller contributed a long obituary to the Conservation DistList July 18, and the Chicago Tribune's story of his life was reprinted by permission in the AIC News for September. Until last year, McCrone worked 15-hour days, 365 days a year, and walked to work, sometimes as early as 3 am. He published over 600 technical papers and 16 books and chapters. The Particle Atlas, his best known publication, written with other staff members, appeared as a six-volume second edition in 1973, and today is available as a CD-ROM useful for materials analysis. He received many honors and awards, including the American Chemical Society's National Award in Analytical Chemistry for his demonstration that the Turin Shroud is a medieval painting, a conclusion confirmed by carbon-14 dating in 1988. He is survived by his wife Lucy, who is also an accomplished microscopist. [More at <http://www.mcri.org/WalterMcCrone.html>.]
Eleanor S. Quandt, former staff member of the Corcoran Gallery of Art and the Library of Congress and Fellow of A.I.C., died on September 12, 2002. A memorial service in her honor was held October 27. In lieu of flowers, contributions may be made in Eleanor's name to the Professional Development Fund of the Foundation of the American Institute for Conservation of Historic and Artistic Works, 1717 K St. NW, Suite 200, Washington, DC 20006.
Carolyn Rose, former chair of the Department of Anthropology at the National Museum of Natural History, passed away peacefully at The Washington Home at midnight, Thursday August 29, 2002. Her husband David Von Endt, her daughter Elizabeth and several friends were at her bedside. [Ross Simons, who provided this information to Sally Shelton for the Conservation DistList, said "Carolyn's dedication to the Museum and her department were unmatched. We as her friends and colleagues will miss her positive presence dearly."] Vera Espinola, one of Carolyn's first students, had not seen Carolyn in 14 years, but wanted to record her tribute on the DistList, saying (in part) "I know that she will be enormously missed by those students she had taught and those who knew her." There was no funeral, but there was a church service in early October, followed by a reception. The Smithsonian Institution planned a memorial event and reception in her honor on Thursday November 7, 1:30-3:30 pm in the Baird Auditorium, NMNH.