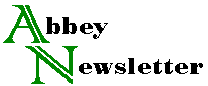 Volume 26, Number 1
Jun 2002
Products & Services
Scanner for Large-Format Documents
A German company, Scan Color Leipzig GmbH, has developed the first and only large-format scanner in Germany. It can produce scanned images as large as 1.5 x 2.5 meters in one step, without digitizing the images.
Contact Ralf Lenk, Stephenstr. 8, 04103 Leipzig (tel. 03 41/4 67 08 0, Fax 4 67 08-0, http://www.scan-color.de/).
Test for Water-Soluble Iron in Ink
A paper strip that turns red when moistened and brought into contact with inks containing Fe(II) ions is available from Preservation Equipment Ltd., Vinces Rd., Diss, Norfolk, IP22 4HQ, England (fax: (00 44) 1379 65 05 82; e-mail: info@preservation-equipment.com). For technical information, e-mail han.neevel@icn.nl or birgit reissland@icn.nl.
The Fe(II) ion is responsible for the destructive effect of iron gall ink on paper and parchment. It also turns up in other inks.
Software Scans Whole Newspaper Pages
At ALA Midwinter, Pat Selinger attended the OCLC seminar, "All the News That's Fit to Scan: Increasing Access to Historic Newspapers." She reported on the PADG list that Olive Software's program was demonstrated there. It can scan entire pages of newspapers so they can be browsed; it also has great search capabilities.
More information at http://www.olivesoftware.com/; or contact OCLC, which distributes the software.
Conservation by Design's Book Boxes
Last May, Nicholas Hadgraft posted some information on the Conservation DistList about where the Morgan Library could get a large number of made-to-order book boxes to protect its collection during a major upcoming move.
On the basis of his own experience, he recommended contacting Conservation by Design in Bedford, England, which laminates its own boxboard and uses a Kasemake Machine to form it into boxes. He says the boxes are "very cost-conscious" and the company is willing to ship abroad, if you supply the book dimensions.
Tool for Drawing Thin Wet Lines
Nelly Balloffet wrote recently that she had had no luck finding empty felt tip pens that could be used for water tearing Japanese paper, but that she did try a Japanese water brush called Niji that she liked. It is made by Yasumoto and is available in various sizes.
She says, "The smallest (and cheapest) is 9 mm and works very well. It has a plastic water reservoir and soft, pointed bristles. It's about $7 at Dick Blick and I'm sure also available elsewhere."