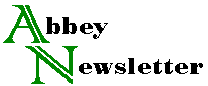 Volume 25, Number 6
Apr 2002
People
Barclay Ogden returned to preservation full time in February 2001. He is Head of the Preservation Department at Berkeley, and his e-mail address is <bogden@library.berkeley.edu>.
Last year, Bob Futernick directed a project in which six computers were installed for an exhibition entitled Artists' Books in the Modern Era at the Legion of Honor, to show all the illustrations in the books on view—nearly 5,000 digitized images in all.
Bernadette Callery, who co-curated the 1979 exhibition, "The Tradition of Fine Binding in the 20h Century" at the Hunt Botanical Library in Pittsburgh, has been a special collections librarian/archivist for most of her working life. In 1995, however, she became intrigued by institutional archives, and is now working towards a Ph.D. at the University of Pittsburgh's School of Information Sciences. Her research topic is changes in recordkeeping systems in natural history museums.