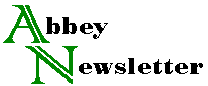 Volume 25, Number 6
Apr 2002
Positions
U.S. Jobs Announced in Other Publications
Within the last four months
| | | |
| --- | --- | --- |
| Job | Employer | Month |
| Preservation Field Service Officer | Amigos Library Services, Dallas | February |
| Brittle Books Coordinator | Univ. of Illinois Lib. at Urbana-Champaign | February |
| Summer Internship | Smithsonian Institution Archives | February |
| Chief Scientist | Getty Conservation Institute | February |
| Book & Paper Conservation.. Internship | New York Academy of Medicine | March |
| Paper Conservator | Queen's University, Ontario | March |
| Dean, School of Info. Science & Policy | SUNY Albany | March |
| Getty Undergraduate Multicultural Summer Internship in Preservation. | Henry E. Huntington Library, San Marino | March |
| Chinese Painting Conservation. Internship | Freer Gallery | March |
| Moving Image Preservation Specialist | New York University | March |
| W. Digital & Preservation. Resource Ctr. Mgr. | Online Computer Library Center, Inc. | March |
| Conservator | University of Utah | March |
| Collections Care Tech. (6 vacancies) | Library of Congress | April |
| Mellon Conservation Fellowship | Cleveland Museum of Art | April |
| Analytical Chemist | Smithsonian Ctr. for Materials Research & Education | April |
| Electronic Resources Librarian | SUNY Albany | April |
| Collections Assessment Librarian | Duke University Libraries | May |
| Tech. Info. Specialist/Systems Librarian. | National. Library of Medicine, Bethesda | May |
Positions
British Library
Head of Conservation
The British Library's collections have developed over 250 years and contain more than 150 million items, representing every age of written civilization and every aspect of human thought. Three million items enter our collections of manuscripts, printed materials, sound recordings and digital materials each year.
The British Library is undergoing a far-reaching and fundamental restructuring, which includes the creation of a Collection Care portfolio, embracing Preservation, Conservation, Collection Storage and Security, and Surrogacy. The area is responsible for the care of both traditional and digital collections and comprises some 200 staff and £9m budget.
The new Head of Conservation post being created within Collection Care will be based at St. Pancras in London. Half the Conservation studios are already in the new BL building at St. Pancras. The other half are currently still on the British Museum site about one mile away. There is a major project to build a new center of book conservation on the St. Pancras site, to open in 2005. The building is being designed to incorporate public access to the studios and to accommodate book conservation training. This post represents the opportunity to shape the Conservation Department in preparation for that move.
The postholder will manage all the studios, which cover the whole spectrum of work reflecting the BL's world class collections – from refurbishment and box-making to printed book, manuscript, photographic and paper conservation, both oriental and occidental. The postholder will help to develop the British Library's role as a national and international center of advice, expertise, research and good practice for all aspects of conservation, and to exercise a personal leadership role in the conservation community.
He/she will manage a staff of approximately 70 conservation personnel, and non-staff budgets assigned to conservation. He/she will have responsibility for managing, reviewing and developing the full range of conservation treatments undertaken. The successful candidate will have approximately ten years' employment experience in a relevant professional conservation context, at least part of which will have been in a managerial capacity. He/she will possess a relevant vocational or professional qualification and have a deep knowledge of, and proven expertise in, a wide range of practical conservation techniques, with particular skills in book conservation. An extensive knowledge of interventive and minimal intervention approaches to conservation ranging from treatments applicable to oriental and occidental collections (manuscripts, printed books, maps, etc.) to a phased approach is required, together with a broad knowledge of allied conservation disciplines; mechanisms of deterioration; the interaction between materials, use and the environment; and a knowledge of library and archive preservation activities.
The postholder will need to be personable and pragmatic and have proven competence in managing numbers of staff and the ability to implement changes in conservation treatments through personal authority and expertise. Professional accreditation is highly desirable, as is membership of, and active involvement in, appropriate national professional conservation bodies, together with contributions to relevant professional publications and events.
For an informal discussion, please contact Helen Shenton, Head of Collection Care, +44 (0) 7412 7594,e-mail helen.shenton@bl.uk.
For further information and an application pack please telephone +44 (0)20 7412 7314 between the hours of 09.00 and 17.00 or email bl-personnel@bl.uk quoting reference number P02–04–2002.
The closing date for the receipt of completed applications is 10 June 2002.
Further details on the work of the British Library can be found at http://www.bl.uk
The British Library
Committed to equal opportunities
Paper Conservator
Harvard College Library
The Harvard College Library Paper Conservator works in the Harvard University Library Weissman Preservation Center treating rare and unique materials, including drawings, prints, maps, and manuscripts. Examines and develops treatment specifications for, and treats (largely) unbound objects of paper, vellum and other substrates as well as three dimensional paper objects in the HCL. Prepares condition and treatment reports including photo documentation. Conducts condition surveys and analyzes results. Assists in the development of action plans and consults on the provision of protective enclosures for special collections. Contributes to maintenance of vendor files, inventories of supplies and equipment, and selection of materials for the Center's resource library.
Qualifications: Graduate degree in paper conservation required. Must have a minimum of two to four years of professional conservation experience in a recognized facility. Demonstrated excellence performing complex conservation treatments and in- depth knowledge of the history of paper and papermaking, drawing, writing, printing and printmaking materials and techniques. Working knowledge of chemistry and materials science. Strong organizational skills, including the ability to establish priorities and achieve goals. Must have the ability to initiate and adapt to change, to analyze and solve problems, to be flexible, and work collaboratively. Excellent oral and written communication skills, including demonstrated ability to write specifications, document treatments, and prepare reports. Experience working in a research library is preferred.
Note: Candidates interviewed will be asked to submit a portfolio representative of recent conservation treatments.
Compensation: Harvard University offers a competitive program of benefits. Appointment salary is dependent on qualifications and experience.
Available: Immediately. The review of applications will begin immediately and continue until the position is filled. Interested parties are invited to submit a letter of application addressing position qualifications with a resume and with the names, addresses, telephone and fax numbers of three references to:
Resume Processing Center
Harvard University Requisition #12960
11 Holyoke Street
Cambridge, MA 02138
Or apply online to http://hiresjobs.harvard.edu:80/pls/jobs/search.req
Preservation Officer
Emory University Libraries
Emory University seeks a creative, forward-looking Preservation Officer to lead, manage and develop a mature, nationally known preservation program. The program provides a full spectrum of preservation services to insure long-term access to and retention of materials in all formats, from rare books and manuscripts to a rapidly expanding network of electronic resources.
Qualifications: ALA-accredited MLS with advanced training in preservation administration and 5 or more years relevant experience, or other equivalent combinations of education and experience. The successful candidate will have demonstrated knowledge of the applications and issues involved in digital technology and the preservation of non-print media. Experience in grant-writing and evidence of initiative, collaboration, and outreach are important. Knowledge of preservation and collection management practices and issues; involvement with regional and national preservation programs; demonstrated managerial and organizational ability with strong interpersonal skills; excellent oral and written communication skills; and demonstrated interest in professional activities are essential qualifications.
Salary and Benefits: Salary and appointment rank dependent upon qualifications and experience. Emory University offers a comprehensive benefits package, including tuition benefits. Several retirement plan options are available, including TIAA/CREF. Attractive moving allowance provided.
For more information about this position, please visit http://info.library.emory.edu/jobs/.
For more information about the Emory University Libraries Preservation Office, please visit http://info.library.emory.edu/preservation/.
Emory University is an Equal Opportunity/Affirmative Action Employer and encourages women and minority candidates.