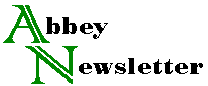 Volume 25, Number 2
Aug 2001
Positions
Assistant Conservator
The New York Botanical Garden, Bronx, NY
NYC cultural institution seeks an Assistant Conservator to perform a variety of book and paper conservation treatments on the library's collections, including sewing, binding, rebacking, endband construction, disinfestation, aqueous and non-aqueous treatments; flattening, humidifying and lining; tape/adhesive removal, stain reduction; hinging and matting; and the construction of protective enclosures. Ideal candidate will have a graduate degree in conservation of books and/or archival library materials; accredited MLS degree preferred. Excellent benefits including 4 wks vacation. Send resume with salary requirements to: H.R. Representative-AC, the New York Botanical Garden, 200th Street & Kazimiroff Blvd., Bronx, New York 10458-5126. E-mail: hr2@nybg.org AA/EOE/M/F/D/V.
Kress Internship in Paper Conservation
The New York Botanical Garden, Bronx, NY
The New York Botanical Garden Library offers a six-month internship in paper conservation beginning January, 2002. This position, the Kress Foundation Internships in Paper Conservation, will provide experience working with the Library's Lord & Burnham Architectural Drawings Collection. Working under the supervision of the Garden's Conservation Librarian, the intern will assist with a conservation survey of the collection, stabilization, preservation, and rehousing procedures, carry out an independent research project, and prepare a final report on the project.
Candidates must be currently enrolled in, or a graduate of, a recognized program in paper, art, or book conservation. This six-month, full-time position (35 hours per week) offers a stipend of $447.00 per week. There are no fringe benefits, but there will be an allowance of $250.00 to be used during the period of the internship for appropriate outside professional development. On-site interview preferred. They should send a detailed letter of application, a current resume, and three letters of recommendation to: Judith Reed, Conservation Librarian, the LuEsther T. Mertz Library, the New York Botanical Garden, Bronx, NY 10458-5126.
A Visa may be possible for a qualified foreign national for the length of the internship. The New York Botanical Garden is an Affirmative Action/Equal Opportunity Employer.
Deadline for receipt of a complete application is being extended to Monday, October 8, 2001. Notification of the successful applicant will be sent by October 31, 2001.
Book and Paper Conservator
The Ohio State University Libraries, Columbus OH
The Ohio State University Libraries Preservation Office seeks a Book and Paper Conservator for the Libraries' large and growing special collections. The Conservator reports to the Preservation Officer, with primary duties focusing on all aspects of book and paper conservation. The Conservator works closely with librarians and curators of special collections, principally the Cartoon Research Library, the Charvat American Fiction Collection, the Hilandar Research Library, Rare Books & Manuscripts, the Library of the Lawrence & Lee Theatre Research Institute, the Byrd Polar Research Center Archival Program, the John Glenn Archives, and the University Archives, on a wide variety of single-item conservation treatments and physical care for those collections.
Under the direction of the Preservation Officer, librarians, and curators, the Conservator will establish preservation and conservation priorities and treatment strategies; carry out condition surveys and needs assessments; develop and manage treatment projects of rare book, manuscript, art on paper, and visual materials collections; participate in the conservation components of exhibit preparation; advise curators on the care of film, video, artifacts, textiles, and other non-book/paper materials; train and teach skills to other staff; and monitor environments of rare materials storage areas. The overall ratio of bench work to other related responsibilities is expected to be approximately 80/20.
The Conservator will prioritize treatments, plan work flow, and maintain high standards of productivity and quality. S/he will generate written and photographic documentation of items brought into the studio, and keep treatment records in established databases and computer files. Work will be done in accordance with the Code of Ethics and Guidelines of Practice of the American Institute for Conservation of Artistic and Historic Work (AIC). The Conservator will manage daily operations of the studio (maintain equipment, order supplies, etc.) and prepare statistics and reports.
Skills required: Must have demonstrated ability to carry out complex conservation treatments on rare and unique artifacts. Must be able to create photographic documentation and to write coherent condition and treatment reports. (Candidates will be required to present and discuss a portfolio of past treatments during the interview.) Must have excellent decision-making and problem-solving skills; strong organizational skills; the ability to create, analyze, and follow efficient work flow routines and to establish procedures that maximize efficiency; ability to work independently; strong interpersonal skills; and excellent oral and written communication skills.
Qualifications Required: the position requires a bachelor's degree and a minimum of five years professional experience in solving conservation problems for rare books, manuscripts, works of art on paper, and archival collections. Training should include knowledge of conservation principles and practices, and of the physical and chemical nature of paper, books, and conservation materials; and a full understanding of principles of book conservation, history of book structure, binding techniques, and materials science. Demonstrated ability to work on wide range of rare book and paper collections in a complex organization and to communicate effectively about their treatment needs. Working knowledge of safety and handling procedures for materials such as aerosols and organic solvents. Ability to work independently and to structure one's time.
Portfolio: Applicants chosen for interview must present a portfolio of conservation treatments of rare books and works of art on paper, including documentation materials. Desirable: AIC Fellow status; training experience.
Salary: Salary dependent upon experience and qualifications. the position is classified as Administrative and Professional staff.
Benefits: Vacation, sick leave, and 10 holidays. Hospitalization, major medical, surgical-medical, dental, vision, and long-term disability insurance; life insurance at 2.5 times one's annual salary. State and alternative retirement system available.
Application: Applications will be accepted until the position is filled. Preference will be given to applications received by October 1, 2001. Send letter of interest with a current resume and name, address, phone, and e-mail address of three references to Toni Morrison-Smith, Personnel Officer (see address above), phone (614)292-5917, FAX (614)292-7859, e-mail morrison-smith.1@osu.edu.
The Ohio State University is an Equal Opportunity/ Affirmative Action employer. Women, minorities, veterans, and individuals with disabilities are encouraged to apply.
U.S. Jobs Announced in Other Publications
Within the last four months
| | | |
| --- | --- | --- |
| Job | Employer | Month |
| Preservation Technician | NEDCC | June |
| Conservation Technician | Collection & Resrch. Svcs/Presn, NYU Libs | June |
| Field Service Rep/Pres. Information Specialist | NEDCC | June |
| Conservator for Special Collections | Texas Tech University Libraries | July |
| Assistant Project Conservator | Huntington Library, Los Angeles CA | July |
| CAP Program Assistant | Heritage Preservation, Washington D.C. | July |
| Pres. Reformatting Librarian | University of Kentucky Libraries | July |
| Photographic Conservator | NARA, College Park, MD | July |
| Manager of Digital Services | OCLC, Bethlehem PA | July |
| Preservation Technician | UCSF Library & Ctr. for Knowl. Mgmt | July |
| Conservation Technician | New York Botanical Garden | July |
| Senior Staff Assistant | Buffalo State College | July |
| Paper Conservator | Northern States Cons. Ctr, Mpls, MN | August |
| Head of Preservation | Indiana University Libraries | August |
| Imaging & Presn Services Manager | Amigos Library Services | August |
| Project Conservator | Newberry Library | August |
| Project Assistant | Henry Ford Museum & Greenfield Village | August |
| Head of Preservationf | Northwestern University Library | August |
| Preservation Library Assistant IV | University of Iowa | August |
| Paper Conservation Technician | Peebles Island, Waterford NY | August |
| Photograph Conservator | Metropolitan Museum of Art1 | August |