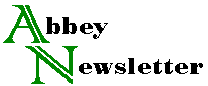 Volume 24, Number 3
2000
Positions
Conservator
Missouri State Archives, St. Louis, MO
The Missouri State Archives (MSA) is establishing a conservation studio in St. Louis to treat civil court records from the 1790s through 1830. Initially, work will focus on a one-year project funded by the "Save America's Treasures" grant program. The collection is comprised chiefly of unbound case files, most with iron gall ink, and a few bound index volumes.
Operation of the St. Louis conservation studio will require a high degree of independence and ability to work with minimal supervision. The Conservator reports to the Senior Conservator and operates in consultation with three other Conservators at the MSA conservation lab in Jefferson City. The Conservator will also provide some holdings maintenance training and monitor the holdings maintenance work carried out by MSA Field Archivists and student workers in the St. Louis facility. The Conservator may be involved in communications with contracted conservators providing treatment for selected items.
In consultation with the Senior Conservator, the Conservator will prioritize treatments, plan workflow, and maintain high standards of productivity and quality. S/he will specify and carry out a variety of treatments, with focus on surface-cleaning, humidification, flattening, washing, and mending. Some ultrasonic encapsulation and box-making may be done in the MSA lab. S/he will generate written and photographic documentation of items brought into the studio, and keep treatment records in established databases and computer files. Work will be done in accordance with the AIC Code of Ethics and Standards of Practice. The Conservator will manage daily operations of the studio (maintain equipment, order supplies, etc.) and prepare statistics and reports.
Skills:
Must have demonstrated ability to carry out surface-cleaning, humidification, flattening, washing, and mending. Must be able to create photographic documentation and to write coherent condition and treatment reports. Candidates may be required to present and discuss a portfolio of past treatments during the interview.
Must have excellent decision-making and problem-solving skills; strong organizational skills; the ability to create, analyze, and follow efficient workflow routines and to establish procedures that maximize efficiency; ability to work independently; strong interpersonal skills; and excellent oral and written communication skills.
Must be able to type 30 words per minute, access files and databases on a PC using Microsoft Office, and be willing to take additional computer-related training as needed.
Qualifications:
The position requires a bachelor's degree and one to three years experience in solving conservation problems for books, manuscripts, and/or archival collections. A master's degree is preferred in paper/book conservation or library science (with a conservation emphasis). Training should include knowledge of archival conservation principles and practices, and of the physical and chemical nature of paper, books, and conservation materials. Desirable, but not required: training experience; working knowledge of safety and handling procedures for materials such as aerosols and organic solvents.
Manual dexterity is required to separate, handle, and perform treatments on paper records. Must have the physical ability to stand, bend, squat, or kneel, reach shelves above eye level, and lift and carry 40 pounds. Must not be colorblind. Must be able to work in conditions that contain dust, mold, and/or dampness. Must be able to communicate verbally with staff and vendors.
Must have a valid driver's license and be willing to do occasional travel (at employer expense) including some overnight or multi-night trips, primarily in-state.
Starting salary, $2,565/month; $30,780 annual
Posting Period and Application Procedures:
Position posted August 24, 2000 for a minimum posting period of 4 weeks. The minimum posting period will end: September 21, 2000. After the minimum posting period, the position will remain open until filled.
Main application materials (resumes, completed applications) to: Mr. Lynn Morrow, Office of the Secretary of State, P.O. Box 1747, Jefferson City, MO 65102.
Phased Conservator
Library of Congress
The Library of Congress is seeking a Conservator to perform conservation work on a wide variety of library collection materials. The selected candidate will examine collection items to determine their condition, develop treatment plans for rehousing structures, and prepare reports for supervisor's review. Applicants must obtain a copy of Vacancy Announcement #000229 in order to apply for this position. Salary is GS - 1001 - 07 (10753) $28,886 - $37,522. For a copy of this vacancy announcement and an application form, please call the Library of Congress Employment Office at (202)707-4315 or (202)707-5627. One can also obtain copies by visiting the Library of Congress Employment Office, Room LM-107, 101 Independence Avenue, SE, Washington, D.C. Mon.-Fri. 8:30 am - 4:30 pm or visit their web site at lcweb.loc.gov/hr/employment. Applications must be received no later than November 24, 2000. The Library of Congress is an Equal Opportunity Employer.
Director of Preservation Programs
National Archives and Records Administration; College Park, MD
The National Archives and Records Administration (NARA) is accepting applications for the position of Director of Preservation Programs, Office of Records Services - Washington, D.C. The Director is responsible for planning and directing NARA's nationwide preservation, conservation, and reproduction programs. This includes developing program objectives, priorities and goals, monitoring accomplishment of goals, managing/allocating the preservation programs budget, and supervising/directing staff. The Director formulates, coordinates, and implements policies relating to preservation and its impact on such fundamental archival, records and information processes as records storage, appraisal, acquisition, arrangement, description, retrieval, and public access; and plans and implements research and development activities and directs programs to assess the application of new technologies to archival preservation, conservation, and reproduction activities.
Candidates should have experience in developing policies and procedures for an archival preservation, conservation, and reproduction program; planning or directing archival preservation, conservation, and reproduction activities; developing and evaluating archival standards, methods and procedures for preservation, conservation, reproduction, and storage of records; applying knowledge of archival and preservation practices to complex archival decisions affecting the long-term preservation of permanently valuable records, etc.
This is an appointment within the federal government with a GS-15 salary range of $84,638 to $110,028. Recruitment bonus and relocation expenses may be paid. Applicants must be U.S. citizens. The closing date is November 21, 2000. For the complete vacancy announcement and instructions how to apply, see: http://www.nara.gov/employ/all/NO1-03B.txt for non-federal applicants and http://www.nara.gov/employ/govonly/NO1-03.txt for federal applicants. For more information and/or forms, contact Pamela Pope at 1-800-827-4898. Hearing impaired applicants should make calls on TDD equipment to 314-538-4799 or 1-800-827-4898.
Assistant (or Associate) Conservator
Yale Center for British Art, New Haven, CT
Full-time permanent position for an Assistant or Associate Conservator specializing in conservation of works of art on paper. The laboratory cares for works of art on paper in the Yale Center for British Art and the Yale University Art Gallery. Responsibilities include: care, examination, treatment, documentation and technical analysis of a wide range of art on paper and related materials, interacting with curators, and assisting in the exhibition and loan programs. The conservator will also participate in departmental activities, such as lecturing, training interns, and general administration of the lab. The Yale Center for British Art has the largest collection of British art outside of England. Some time will be devoted to working on the comprehensive collection of European and American works of art on paper and some Asian materials owned by the Yale University Art Gallery. Applicants should have an advanced degree from a conservation program or equivalent training, the ability to design and carry out skilled treatments to the highest standards, good communication skills and flexibility to meet the needs of the institution. Minimum of two years museum experience is desirable. Yale University offers a competitive salary and fringe benefit program. Starting date is flexible.
Please send resume, referencing source code EAAN 6150 to: Ms. C. Pedevillano, Department of Human Resources, 155 Whitney Avenue, P.O. Box 208256, New Haven, CT 06520-8256. Or fax to (203) 432-9817. For more information about employment at Yale, visit our web site at www.yale.edu. Yale is an Affirmative Action, Equal Opportunity Employer.
U.S. Jobs Announced Elsewhere
| | |
| --- | --- |
| N.Y. City of Municipal Reference and Research Center | Conservation Technician |
| New York Public Library | Chief Librarian for Preservation |
| Northeast Document Conservation Center, MA | Assistant Director |
| McHenry Library at UCSC | Conservator |
| Library of Congress | Collections Care Technician |
| Museum of Modern Art, NY | Paper Conservation, Fellowships |
| UCLA Fowler Museum | Assistant Paper Conservator |
| Folger Shakespeare Library | Senior Paper Conservator |
| New York University Library | Conservation Librarian |
| Natl. Ctr. for Preservation Technology & Training | Preservation Chemist |
| University of Pittsburgh | Faculty position/ Preservation |
| NEH, Washington, D.C. | Humanities Administrator (Preservation Dept.) |
| Princeton University Library | Book Conservation Technician |
| Nishio Conservation Studio, Washington., D.C. | Assistant Conservator/ Intern |