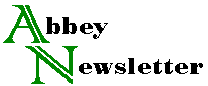 Volume 24, Number 2
2000
News
LBI Finds Home With Printing Industries Association
The Library Binding Institute board has voted to be managed by the Printing Industries of Illinois/Indiana Association (PII), a trade association, so it will have a new address, telephone and executive director. This is a move apparently made necessary by the decreasing number of library binders in the country—half of them have disappeared since 1984, having gone out of business or merged with other firms.
The New Library Scene will continue, however, and the ANSI/NISO/LBI standard for library binding will continue to be maintained. Members will pay less in dues, but the LBI will still be there.
The June issue of New Library Scene includes a selection of historical and informative articles from the past, and gives some details on the changes taking place.
New York Regional Association for Conservation
There are two conservation associations based in New York City: the New York Conservation Association, and (since 1995 or so) the New York Regional Association for Conservation, with an office at 332 Bleecker St., Ste. K-144, NYC 10014 (212/561-0702, nyac@juno.com). Recently the NYRAC was granted tax exempt status by the IRS. It has five program scheduled for 2000-2001, and hopes to organize another on spot-testing of materials, led by Nancy Odegaard and Scott Carroll.
Preservation Digital Reformatting at LC
The Library of Congress has a new policy that makes digital reformatting one of its options for preservation. Last January, Irene Schubert, Chief of the Preservation Reformatting Division, announced the web release of its first digitizing project, the full ten-volume set of the periodical Garden and Forest: A Journal of Horticulture, Landscape Art, and Forestry. It can be viewed at http://lcweb.loc.gov/preserv/prd/gardfor/gfhome.html.
The reason for adding digital options to the list of preservation strategies is explained at http://lcweb.loc.gov/preserv/prd/presdig/presintro.html. There is also an article in the Research Libraries Group's RLG DigiNews that should shed additional light on the topic: "Keeping Memory Alive: Practices for Preserving Digital Content at the National Digital Library Program of the Library of Congress," by Caroline R. Arms. It can be found at http://www.rlg.org/preserv/diginews/
Multilingual Conservation Dictionary Planned
The European Commission is supporting the creation of a multilingual dictionary of conservation terminology in printed and digital format, scheduled for completion in July 2001. Work is being underway at institutions in Greece, UK, Germany, the Netherlands, and Finland, coordinated by the Technological Educational Institution of Athens. By June 29, 5000 terms had been collected, and English definitions are being written for 3000 of them.
The work will be published as a CD and in printed form. In the meantime, the wordlist is being made available upon request for conservation professionals who want to comment on them. For more information, contact Dr. Vasilike Argyropoulos, T.E.I. Athens (e-mail: bessie@teiath.gr).
RMCC Becomes ACC@DU
The Rocky Mountain Conservation Center has changed its name to the Art Conservation Center at the University of Denver (ACC@DU) in order to help clients and the public understand its mission better (i.e., conservation of art objects, not wild plants and animals). (Actually, they work on photographs, documents and maps as well as works of art.)
Just Hope Your Pre-1980 Building Doesn't Burn
Paul Banks warned his students once about the PCBs (polychlorinated biphenyls) in the ballasts of older fluorescent lights. In a major fire, he said, they would be released, contaminating the building and poisoning people who were exposed to them—another hazard to consider in our disaster plans.
Now PCBs are in the news because 13 employees of a community college in New Jersey have sued Armstrong World Industries, the manufacturer of the ceiling tiles that released a Monsanto PCB plasticizer (Arochlor 1254, also used to mount microscope slides) in a 1985 fire. All 13 developed cancer, but did not connect it with the fire at first because they did not know about the PCBs at the time. When they began investigating to find out why so many employees had cancer, they also learned that the carpeting had been replaced in 1988 because it was saturated with PCBs.
This story is from the June 2000 issue of Acts Facts, which goes on to say that PCBs were used in a number of paints and ceiling tiles before 1980, so soot from all fires involving old building materials should be analyzed.
News From the Paper Industry
International Paper is buying (or has bought?) Champion International for about $7.3 billion. These two companies are the world's top producers of uncoated woodfree papers, which are used in office machines, and which are being produced at an increasing rate (6%/year) because of increased use of office printers, faxes, copiers, the internet, and the print-on-demand industry.
Newsprint consumption in North America, however, is seeing "flat to declining demand" and newspaper sales declined over the 1990s.
This information is from the June issue of Paperboard Abstracts, in the "Marketing Information and Statistics" section.
New Addresses
CBBAG (Canadian Bookbinders and Book Artists Guild) has a new fax and e-mail address: 416/581-0153 and <cbbag@web.net>.
ANSI (the American National Standards Institute) opened its new office in Washington, DC, a few months ago: 1819 L St. NW, Sixth Floor, Washington, DC 20036 (202/293-8020; fax 202/293-9287). It will house the organization's president and chief executive officer and staff supporting the institute's conformity assessment, international policy, and public policy initiatives. The New York office at 11 W. 42nd St., NY 10036, will continue to handle domestic and international standards facilitation programs. The NYC telephone and fax are: 212/642-4900 and 212/398-0023.
Light Impressions has a new PO box number. Their address is now: Light Impressions, PO Box 22708, Rochester, NY 14692-2708 (800/828-6216; fax 800/828-5539; website http://www.lightimpressionsdirect.com/).
English Words that Migrated to German
In a single issue of a German-language conservation periodical, the following familiar words were recently spotted:
| | | |
| --- | --- | --- |
| basis | level | team |
| box | management | tip |
| export | online | transfer |
| format | partner | trends |
| generation | situation | website |
| import | surf (as in surf-effect) | |
There was another word that made it across the language barrier, with the help of a modified spelling: akzeptablen (adj.).
Time to Apply for a Kress Publication Fellowship
Samuel H. Kress Conservation Publication Fellowships, are offered through the Foundation of the AIC to encourage conservation professionals to prepare publishable manuscripts. Fifteen fellowships have been awarded in the last four or five years, and new applications are invited by November 1.
$20,000 goes to each successful applicant or pair of applicants, to support them while the book is being written; the basic research must already have been done. For more information, contact Penny Jones, Executive Director of the AIC, at 202/452-9545, fax 202/452-9328; e-mail: info@aic-faic.org.
The Paul N. Banks Endowed Fellowship at UT
An endowment has been created at the University of Texas at Austin to provide support in perpetuity for students at the Preservation and Conservation Studies Program (PCS). It is called the Paul N. Banks Endowed Graduate Fellowship, in memory of the founder of the program.
The goal is to raise a minimum of $50,000, which will give assistance to at least two students each year. Gifts and pledges can be made conveniently by filling in and sending a special form card, available from the Abbey Newsletter office or the PCS, Graduate School of Library & Information Science, University of Texas at Austin, Sanchez Building, Suite 564, Austin, TX 78712-1276 (512/471-8290, gracy@gslis.utexas.edu).
"Umbrella" Department formed at University of Texas
On June 1, three academic units were brought under the new Center for the Cultural Record in the Graduate School of Library and Information Science: Archival and Records Enterprise, Preservation and Conservation Studies, and Museum Studies. David Gracy was appointed Director of the newly created Center. His jobs will be to stimulate research among and between the various units; to raise funds to support students, faculty, and research projects; and to administer the Center and its components.
The PCS Advisory Committee will continue to meet and offer its guidance to the PCS program. Its most recent meeting was held at the school in May.