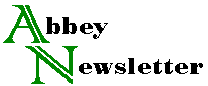 Volume 23, Number 5
1999
Positions
Advanced Book Conservation Internship
New York Academy of Medicine
The NYAM Library is pleased to announce an advanced internship in book conservation for the year 2000. The internship, designed to refine skills in book conservation, will last 2 - 3 months. The commencement of the internship will be after June 1 (the exact dates will be arranged between conservation staff and the successful candidate).
Responsibilities: The intern will work under the supervision of the conservation staff of the library. An appropriate project will be designed to further the intern's knowledge of conservation in a library setting. The internship is open to graduates of, or students in, recognized conservation programs, or people with equivalent training and experience. A personal interview is required, and candidates should present a portfolio of completed bindings or treatments.
Salary: The internship carries a stipend of $4,250.
Applications: To apply, please send the following materials to the address below:
A detailed letter of interest and intent.
An up-to-date Curriculum Vitae, including education and work experience.
Three letters of recommendation from professional contacts.
Proof of student or working visa, if applicant is not a U.S. citizen.
Please note that NYAM cannot provide housing, health insurance or visa support for the intern.
DEADLINE FOR APPLICATION: MAY 1, 2000
Elaine R. Schlefer, Preservation Administrator
Gladys Brooks Book and Paper Conservation Laboratory
New York Academy of Medicine Library
1216 Fifth Avenue, Room 550
New York, NY 10029
Telephone: (212) 822-7363; Fax: (212) 423-0266
E-mail: eschlefer@nyam.org
U.S. Jobs Announced in Other Publications
| | | |
| --- | --- | --- |
| Preservation Fellowship | NY State Archives | Nov. 99 |
| Senior Conservation Scientist | LA County Museum of Art | Nov. 99 |
| Non-print Conservator | Emory University | Nov. 99 |
| Paper/Book Conservator | MN Historical Soc. | Nov. 99 |
| Conservator | MO State Archives | Nov. 99 |
| Preservation Officer | National Archives & Records Admin. | Nov. 99 |
| Adv. Internship in Book Conservation | CCAHA | Jan. 00 |
| Adv. Internship in Paper Conservation | CCAHA | Jan. 00 |