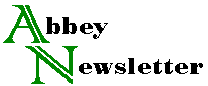 Volume 23, Number 5
1999
People
Sophia Jordan, advocate for preservation of special collections, was appointed Division Chief of Special Collections for the Chicago Public Library in December. She was previously with the library at Notre Dame in South Bend, Indiana, where she began in 1988 as Rare Book Cataloger and Preservation Coordinator. In 1993 she established the Department of Preservation and Conservation, and served as that department's head until she moved to Chicago.
Simon Green is now at 1 Snapgate Cottage, Five Oak Lane, Staplehurst, Kent, UK (tel. 44 1622 692266, fax 44 1622 756381; e-mail haylemill@aol.com or simongreen@ aol.com).
Sarah Wagner is on sabbatical for a year from the National Archives as of Nov. 1, 1999. During this year she is working at the National Gallery of Art, Department of Photo Archives, as the Samuel H. Kress Photograph Conservation Fellow. She can be reached at her home telephone number (301/587-5569), or by e-mail: wagnerpuglia@worldnet.att.net.
Hilary Klein joined the Harvard University Library Preservation Center as Preservation Project Librarian last fall. Her responsibilities include managing and overseeing the preparation of materials for microfiming.
Page Putnam Miller will retire next summer as executive director of the National Coordinating Committee for the Promotion of History (NCC). She plans to move with her husband to her home state of South Carolina and resume her full-time role as a professional historian. She coordinated the NCC's efforts to help the National Archives gain independence from the GSA in the early 1980s.
Jo Anne Martinez moved back home to Albuquerque in December. Her temporary phone number is 505/344-5019. She will be starting a private practice, called Cariño Conservation of Books and Paper.
Mary Wood Lee resigned her position last summer as director of the Campbell Center in Mt. Carroll, Illinois. During her tenure the Center had won an excellent reputation for training in collections care, architectural preservation and advanced conservation.
Eugene Ostroff, former curator of photography at the National Museum of American History, died in August 1999, in the fifth year of his retirement. He is credited with developing a nondestructive method of restoring photographs by neutron activation, and consulted with museums around the world on methods for storing and displaying photographs.
Andrew Robb has been promoted to the position of senior photograph conservator at the Library of Congress.
Victoria Blyth-Hill has been formally appointed as head of the Conservation Center at the Los Angeles County Museum of Art. The Center treats paintings, textiles, paper, and objects, and carries out research. A Laser Conservation Research Facility, which she brought to fruition when she was Acting Head, opened a few months ago.
Hans Rütimann, Director of International Developments at the Council on Library and Information Resources (CLIR), left the staff in December 1999 to continue his international work as an independent consultant on preservation of print-based collections. CLIR is continuing the international work that he began in 1988 with the Commission on Preservation and Access, which is now part of CLIR.
Lisa Biblo left her position as Preservation Information Librarian at the Harvard University Library Preservation Center after 8 years of service. She has now nearly completed the orientation program that precedes her two-year volunteer assignment with the Peace Corps in Zimbabwe. Lisa, who is missed by her colleagues, is available intermittently at biblo@hotmail.com.
Elaine Schlefer has received a Fulbright Visiting Lecturer Grant to teach basic preservation and conservation in Argentina. The program, still tentative, will probably be from June to September.