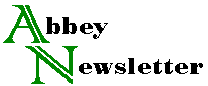 Volume 23, Number 5
1999
News
Vellum Prevails in British Parliament
It did seem as though Britain was ready to start printing its laws on paper instead of vellum, which has been used for this purpose for centuries. The switch was announced in Paper Conservation News and the last issue of this newsletter as a fait accompli. But the December issue of PCN announced that the Labour back benchers and Tories had formed an alliance after debating the question for over an hour, and defeated the move by a vote of 121 to 53.
What was at stake, apparently, was the way the new regulation would have affected the firm of William Cowley Ltd., which provides vellum for conservation purposes as well as printing of laws. The British Library, National Libraries of Wales and of Scotland, and Trinity College Dublin all sent letters of concern about the possible loss of the source of high-quality vellum used to conserve their manuscripts and early bindings. Another consideration was the possible loss of the art of printing on vellum, which only one company in Britain can do.
The entire debate has been mounted in the IPC website http://palimpsest.stanford.edu/ipc/ in the Notices section.
New Addresses and Phone Numbers
The Center for Book Arts has moved to 28 West 27th St., 3rd Floor, New York, NY 10001. Closest cross streets are 6th Ave. and Broadway. Tel.: 212/481-0295; website <http://www.centerforbookarts.org/>.
The Minnesota Center for Book Arts plans to move April 1 to 1011 Washington Ave., Minneapolis, MN 55415. Tel: 612/338-3634; mcba@mnbookarts.org; website http://www.mnbookarts.org/.
Disaster Recovery Services, Inc. has merged with Recovery Solutions International. The new company is called Belfor USA. Its headquarters is at DRS's address, with the same phone, 800 # and fax number:
Belfor USA, 24225 Blue Smoke Court South, Fort Worth, TX 76105 (tel. 800/856-3333, 817/535-6793; fax 817/536-1167). The website is <http://www.belforusa.com/>.
London telephone codes (area codes) have been restructured. Inner London numbers used to begin with (0171); now they will begin with (020) 7, followed by seven digits. Outer London numbers used to begin with (0181); now they will begin with (020) 8. So the final digit has been dropped entirely; the 7 and 8 have migrated outside the parentheses to merge with the telephone number proper; and the "01" has become "020."
NISO Press has moved. Its new address is NISO Press Fulfillment, PO Box 451, Annapolis Junction, MD 20701-0451 (tel: 301/362-6904; fax: 301/206-9789; toll-free: 877-736-6476). Orders may be placed through the website: http://www.niso.org/.
Bark Frameworks has moved. They have a new showroom at 270 Lafayette St. Suite 500, NY, NY 10012, with the same phone and fax as before; their new office, workshop and showrooms are at 21-24 44th Ave., Long Island City, NY 11101, and the phone and fax numbers are 718/752-1919; 718/392-5546. The second address is the one to use for correspondence.
Paper Industry News
Industrial hemp was finally legalized in Canada as an agricultural crop in 1998. This is good news for suppliers of hemp paper in the U.S., where it is forbidden because it has the same species name as marijuana, cannabis sativa. (Actually, you can't get high by smoking industrial hemp.)

Contrary to popular belief, paper was made for a thousand years using hempen and linen rags, not cotton and linen rags. Cotton fiber did not become economical to use in quantity until the late 1700s, after the spinning jenny, cotton gin and other equipment were developed. Cotton fiber cannot be found in early European paper documents ("The Great Cotton-Fiber Myth," Alkaline Paper Advocate, v.5 #5, p. 33-34).

Hawaii recently made American history as the first state to allow the planting of industrial hemp on U.S. soil since the crop was banned in the 1930s.
An experimental pulpwood plantation of poplar trees genetically modified to give them very rapid growth and reduced lignin content, has been destroyed by environmentalists at the Berkshire Research Centre of Zeneca in England. The research that produced these trees is backed by the European Commission and English Nature. It promised to reduce energy costs in pulp mills by 20% by making the pulp easier to refine and bleach.

The environmentalists feared that the modified trees would interbreed with native poplars. However, this would have been impossible because the trees are all female and do not produce pollen.

P.H. Glatfelter, of York, Pennsylvania, recently announced that it would begin cutting tobacco paper capacity at its Ecusta division next year. This could result in a one-third capacity reduction. (The Abbey Newsletter was printed on 40 lb. Ecusta Waylite in the 1980s, because Waylite was alkaline, lightweight, and opaque. It saved postage.)
Minerals Technologies continues incidentally to encourage the switch from acid to alkaline papermaking in paper mills around the world by building and leasing precipitated calcium carbonate (PCC) plants next to existing paper mills. This enables the mills to make a higher quality paper (whiter, more opaque) at a lower cost by using locally produced calcium carbonate as a filler. In 1999, two large PCC satellite plants began operation, one in Dagang, China (Jiangsu Gold East Paper Co.) and the other in the United States (Champion's Courtland mill).

The company also signed a joint venture agreement to construct a satellite PCC plant at Daishowa's Shiraoi paper mill in Hokkaido, Japan. This will be MT's first plant in Japan. The PCC will be used both for filling and coating of fine writing and printing papers.

The company also signed a long-term contract to supply PCC to a new machine at Figueira da Foz, Portugal. The new PCC plant will produce three times as much as a basic satellite PCC unit when it opens by the end of the second quarter of 2000.
Grants
In January 2000, the Andrew W. Mellon Foundation awarded two grants to the Council on Library and Information Resources (CLIR). $2.6 million will support its general program work over the next three years. The second grant ($250,000 over three years) will enable librarians and technology staff from liberal arts colleges to attend the Frye Leadership Institute at Emory University.
The European Union has given fifty-five subsidies to cultural projects as part of its new program "Culture 2000." One of them went to the European Commission on Preservation and Access (ECPA) for its project "Safeguarding European Photographic Images for Access" (SEPIA). The ECPA's partners in this project are seven major cultural institutions in Europe. Activities will include expert meetings and workshops for people working with photographic collections; a survey of preservation and digitization measures in use; an introductory text on preserving photo collections; a section on photo collections in ECPA's website; and an open conference on the management of photographic collections in June 2000, to wind up the project.

For information on Culture 2000, see <http://europa.eu.int/comm/dg10/culture/program-2000_en.html>.

Last November, Barbara Lilley reported funding of eight preservation projects that are part of New York State's 16-year-old Coordinated Preservation Program. The grants provide funds for cooperative activities among 11 comprehensive research libraries.

The funded projects are: 1) preservation microfilming of 30 or 40 years' worth of two brittle business serials that still see frequent use; 2) preservation re-recording of oral histories at five universities, using high-quality analog tape to create new masters, with simultaneous copying onto digital and analog formats for use copies; 3) training of staff from eight libraries in standard preservation techniques, in a six-week course with site visits; 4) preservation microfilming of medical archives from the early 20th century; 5) preservation microfilming of brittle books on agriculture, natural history and natural resources, from the collections of Cornell University, NYPL and the New York State Library; 6) microfilming 685 rare, seriously embrittled pamphlets, published from 1925 to 1965 in the Bashkir, Uzbek and Kazakh languages of former Soviet Central Asia; and 7) microfilming 12 brittle serial titles from six libraries, published between 1850 and 1950. (The 8th project does not seem to have been described in the DistList posting from which this information is taken.)

Chilean, Brazilian and Estonian preservation projects have received funding from institutions outside their borders. The Centro Nacional de Conservacion y Restauracion of the Archivos y Museos de Chile is carrying out a cooperative project for preventive conservation in archives and libraries, funded by the Andrew W. Mellon Foundation. Brazil has a similar project, coordinated by CLIR. At least 80 professional staff will receive training at week-long seminars held at various locations in Chile; a database of collection contents will be prepared, and technical literature will be distributed.

In Estonia, seven major archives and libraries have gun a project focusing on the use and preservation of paper-based archival and library materials, funded by the Open Estonian Foundation and the Open Society Institute. The project will conserve original material, and film and digitize it.
(Information from May/June 1999 Archival Outlook.)
Disasters
In the last half of September, the eastern third of North Carolina experienced the worst flooding in its history, and libraries, even entire towns, were flooded. There was four feet of water in one library, and water came up to shoulder level in another. Equipment, shelving, and all the books but those on the two top shelves were lost in one library. (The report in American Libraries makes no mention of freeze-drying any wet books.)
In Kentucky, at about the same time as the floods in North Carolina, an early-morning fire broke out in the Louisville Free Library's main building, destroying the technical services department in the basement and about 10,000 new books waiting to be processed. Total cost could amount to $1.8 million. The cause of the fire was thought to be the electrical system, although the building had passed a fire safety inspection only a month earlier. The fire department arrived two minutes after the alarm sounded and kept the fire from spreading beyond the basement, but smoke permeated both the original 1908 building and the 1969 addition. All 400,000 books in the library had to be cleaned, the library's 250 computers had to be taken out for cleaning, and the air had to be scrubbed. (The report in American Libraries does not say whether the library had sprinklers.)