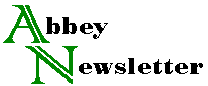 Volume 22, Number 7-8
1998
Positions
Paper Conservation Internship
Princeton University Library
The Princeton University Library Preservation Office is offering a 9-12 month internship in paper conservation. The internship begins in September 1999 and is open to third-year graduate students enrolled in a recognized conservation degree program, or its equivalent, and who are eligible to work in the U.S. The internship will provide a full and practical learning experience conserving art on paper, paper-based artifacts, and other related materials. Under the supervision of the paper conservator, internship activities will be focused on conserving the unique special collections of Princeton University Library. Activities will include executing a variety of conservation treatments; collection condition surveys; various types of collection rehousing; and materials research. The intern will further assist in other aspects of the conservation laboratory's daily duties.
The internship includes a stipend of $1,000/month for the duration of the internship. No benefits will be provided by Princeton University. To ensure full consideration, interested candidates should send by May 28, 1999, a letter of interest; a resume; the names, titles, addresses, and telephone numbers of two references; and copies of two recent conservation treatment reports to: Paper Conservation Internship c/o Human Resources Office, Princeton University Library, One Washington Road, Princeton, NJ 08544-2098 or fax: 609/258-0454. For additional information, contact: Ted Stanley, Head, Special Collections Conservation & Paper Conservator, Princeton University Library, 609/258-4473. AA/EOE
Director of Field Services
Upper Midwest Conservation Association
The Upper Midwest Conservation Association (UMCA) is seeking an individual to head its Field Services Department. This program is funded by the National Endowment for the Humanities through September 2001, and re-funding will be sought. The person in this position will develop and run collections care workshops and training programs in a five state region, continue the publication of the newsletter, provide on-site surveys/assessments of the preservation needs of collecting institutions, act as a resource for preservation information, and provide disaster assistance. The Director of Field Services will supervise the Coordinator of Field Services. Applicants should have a degree from a conservation training program or equivalent experience. He or she should also have experience in education, training, or outreach, have practical knowledge of preventive conservation, and be an effective speaker and practiced writer. Salary is competitive. Full benefits. Please send by May 31 a cover letter, resume, and three references to: Richard Borges, Executive Director, Upper Midwest Conservation Association, at the Minneapolis Institute of Arts, 2400 3rd Ave. S., Minneapolis, MN 55404. E-mail: DbUMCA@aol.com, fax: 612/870-3118.
U.S. Jobs Announced Elsewhere 22/7
| Job | Employer | Date Announced |
| --- | --- | --- |
| Asst Conservator | Getty Research Inst | Feb 99 |
| Sr Consn Technician | Princeton U Lib | Feb 99 |
| Paper Conservator | Provincial Archives of Manitoba | Mar 99 |
| Paper Conservator | Autry Museum of Western Heritage | Mar 99 |
| Conservation/Intern in Asian Scroll/Screen Painting | Nishio Conservation Studio | Mar 99 |
| Paper Conservator | West Lake Conservators, Ltd. | Mar 99 |
| Internship-Book and Paper Conservation | New York Academy of Medicine | Mar 99 |
| Paper Conservation. Tech | Andrea Pitsch Cons. | Mar 99 |
| Conservation Tech | CCAHA | Mar 99 |
| Conservation Tech/ Exhibits Preparator | Princeton U Lib | Mar 99 |
| Asst/Assoc Conservator of Photographs | Metropolitan Museum of Art | Mar 99 |
| Conservator | Univ of Iowa Lib. | Mar 99 |
| Mellon Internship in Conservation | Huntington Lib | Mar 99 |
| Paper Cons Internship | CCAHA | Mar 99 |
| Technical Assistant | Columbia University | Mar 99 |
| Paper Conservation Internship | Princeton U Lib | Apr 99 |