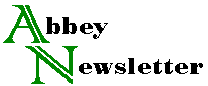 Volume 22, Number 3
1998
Editor's Page
A Thank-You to Supporters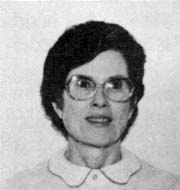 The editor and trustees of Abbey Publications, Inc., a nonprofit corporation, are grateful for the support received from the people and organizations listed below, as well as from those who gave smaller amounts. Without their help, we could not make this Newsletter nearly as useful as it is.
All donations go toward publishing the Abbey Newsletter.
We have begun recording donations in a simpler and more efficient way. Instead of recording the names of people who gave during the previous 12 months, we now record names of donors who gave during the current year. So far this year we have received $3,628. This is 4% of our annual income.
Donors are listed below as Sponsors ($500-$999), Patrons ($100-$499), and Contributors ($25-$99).
Ellen McCrady, Editor
Sponsors
Campbell-Logan Bindery
Terry O. Norris
Patrons
Elizabeth S. Banks
Bark Frameworks
Sally A. Buchanan
Robert L. Feller
Estate of Edwin Porter Garretson (in honor of Susan Swartzburg)
Heritage Preservation, Inc.
Mair and David La Touche
New York Community Trust
Roberta S. Pilette
Powell-Froissard, Lily & Jean
Isamu Sakamoto
Tamara Swora (in memory of Susan Swartzburg)
University Products, Inc.
Contributors
Balloffet, Nelly
Jane Dalrymple-Hollo
Hilary A. Kaplan
William Minter
Deborah J. Wender
Deborah Rohan
Corrections
The name of a mold was misspelled on p. 31 in the last issue as Stachybotris chartarum. It should have been Stachybotrys chartarum, with a y. Two y's.
The telephone number given at the top of p. 28 as the one for placing orders for James Reilly's Storage Guide for Color Photographic Materials is wrong. That is actually a number for the Governor's office. The correct number is 518/486-4863.
Back Issues of Tappi Journal for the Asking
Now that we are no longer publishing the Alkaline Paper Advocate, and are also running out of shelf space, we have to find new homes for the literature we used as information sources. We have the Tappi Journal, 1992 to 1998, and will send it to anybody who can use it, for the price of packing and shipping. Similarly with Pulp and Paper, Pima's Papermaker (formerly The American Papermaker and PIMA Magazine), Pulp & Paper Canada, and Journal of Pulp & Paper Science.
There are also reference books (duplicates, superseded editions and little-used publications). A list can be sent to anyone who expresses an interest. In case more than one party wants a publication, it will be sent where it can be most useful, in the Editor's opinion.
An International Rumor about Abbey Publications
Somehow word has gotten out that Abbey Publications is a paper exporter. We have received a variety of orders from China, India, Cyprus and some country with the abbreviation "mu" in the sender's e-mail address--one order from each country. The first wanted rolls of corrugated medium, the next wanted tissue paper, the next wanted 18 tons of bible paper. They don't ask first whether we export anything; they just place an order. They really ought to buy the current edition of Lockwood-Post's Directory, which now has a section in it on paper exporters in the U.S. and Canada.
Abbey Online
| | Year | Vol. | Nos. |
| --- | --- | --- | --- |
| AN | 1975-78 | 1 | 1-4, 7, 15 |
| | 1987 | 11 | 3-8 |
| | 1988-97 | 12-21 | Complete |
| APA | 1987 | 1 | 1-5 |
| | 1988-96 | 2-9 | Complete |
| | 1997 | 10 | 1-2 |
Updated 10/98
These are the back issues of the Abbey Newsletter and the Alkaline Paper Advocate on our Web page in CoOL (http://palimpsest.stanford.edu/byorg/abbey). The list of "Useful Addresses" for 1998 is there too.
A volume is judged to be "complete" in CoOL when the longer features of each issue (e.g., articles) are posted.
Also posted on our Web page are selected chapters from North American Permanent Papers 1998: "The Nature of Permanence," "Papermaking Facts," and "The ANSI/NISO Z39.48 Standard and Other Standards," and selected listings of permanent papers by type of paper (including a list of watermarked office papers for dissertations).
Authors Please Take Note
Authors of articles and other contributions accepted for publication in the Abbey Newsletter will be assumed (unless they notify the editor otherwise) to be granting permission to publish their work in both print and electronic form, and to archive it and make it retrievable electronically. Authors retain copyright, however, and may republish their work in any way they wish.
Similarly, with previous publishers of material who have given permission for their copyrighted material to be published in the Abbey Newsletter, the permission will be assumed to cover the electronic as well as the printed form.
This policy has been adopted for two reasons: 1) It helps the cause of preservation of library and archive materials, and 2) The recent "Tasini" decision endorses our policy by implication, since existing copyright law considers electronic reprints to be merely extra copies of the original publication, in another format.