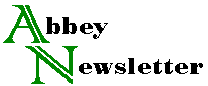 Volume 22, Number 1
1998
Positions
Chief Preservation Officer
The Huntington Library
Chief Preservation Officer: Full-time with benefits. Oversees preservation and conservation activities for a major repository of rare books, manuscripts, and other rare and secondary library material. Supervises Conservation and Photographic Services Department. Reports to the Director of the Library. Substantial knowledge and experience in the preservation and conservation of early printed, manuscript and graphic materials as well as issues and concerns dealing with digital imaging and traditional photography. BA and MLS or MLIS degree from an accredited library school and Graduate degree in preservation or conservation, or equivalent training and experience. Excellent organizational, interpersonal and communication skills. The ability to represent the Huntington in cooperative preservation programs with other agencies and institutions. Significant experience administering a preservation program in an academic or research library is preferred. Management experience supervising at least 3 FTE staff. Letter of application and resume to: The Huntington Library, Personnel Department, 1151 Oxford Road, San Marino, CA 91108.
Senior Conservator
Local Records Preservation Program
Missouri State Archives
Office of Missouri Secretary of State
General Responsibilities: Supervising a staff of three conservators, the Senior Conservator is responsible for the planning and implementation of conservation services for the State of Missouri. This involves a wide range of duties including supervision of personnel; hands-on treatment of paper based materials; preparing and presenting public education programs; and answering inquires from the State Archives, state agencies, local governments, and citizens. The Senior Conservator performs on-site consultations; writes articles for outreach publications; continues staff education; selects technical advice for the agency Web site; and provides long term planning for the State Archives.
Skills: Candidate must present and discuss a portfolio of past treatments during the interview. Must have computer skills.
Minimum Qualifications: Must have a graduate degree from a recognized conservation program or five years experience specializing in the treatment of paper based materials, including solvent work. Two years experience in a supervisory capacity is preferred as well as some experience in photo conservation and disaster planning. As occasional overnight travel is required, candidate must have a valid driver's license. Successful candidate will have excellent communication and interpersonal skills with coworkers and public patrons.
Salary: $36,888 annual, plus state benefits.
Application Procedure: Application materials (resumes, completed applications) may be mailed to: Margaret Hofmann, Office of the Secretary of State, P.O. Box 778, Jefferson City, MO 65102.
Preservation Coordinator (Assistant or Associate
Professor)
The University of Tennessee, Knoxville
The University of Tennessee, Knoxville seeks a dynamic Librarian to develop and lead a preservation program for the Libraries. In collaboration with representatives from all areas of the Libraries, the Preservation Coordinator formulates a preservation vision, develops plans and goals, and implements projects. Reports to the Team Leader for Collection Development & Management; the Team Leader reports to the Dean of Libraries. Thirty subject librarians from across the organization participate in UTK collection development and management activities. The CDM Team, responsible for a $4+ million information resources budget, consists of a Team Leader; Collection Management and Preservation Coordinators; 2 CDM librarians; and 5 support staff. Coordinators for Humanities, Sciences, Social Sciences, and Electronic Services report to both CDM and Reference.
Responsibilities: Provides the leadership to enable the Libraries to successfully preserve its information resources. In a collaborative environment plans, organizes, and coordinates preservation activities and projects for the Libraries. Monitors conformance with Libraries' preservation policies and procedures, and assesses their effectiveness. Supervises one Senior Library Specialist. Chairs the Preservation Matrix, a policy-making and implementation advisory group composed of representatives from several library teams. Initiates and oversees informational and training programs. Provides consultation and assistance to the Libraries and University community in preservation emergencies, including the development and maintenance of an emergency preparedness program. Identifies appropriate external funding sources and prepares grant proposals. Applies digital and reprographic technologies as they relate to preservation. Represents the Libraries on preservation-related groups and programs on the local, regional, and national level.
Opportunities: A new position for the UTK Libraries, the Preservation Coordinator will integrate several ongoing activities into a preservation program. The preservation Matrix receives an annual allocation from the information resources budget; funds have been spent on reformatting, including preservation photocopying and preservation microfilm. A small conservation laboratory is available. Binding and reformatting are outsourced. The Libraries' organizational structure fosters cooperation and offers the potential for preservation advocacy across library teams. The Libraries have participated in national preservation microfilming grants, and are a charter member of the Digital Library Federation. The Preservation Coordinator may serve as a subject librarian.
Qualifications: ALA-accredited MLS degree with several years' professional experience. Substantial preservation experience and/or education. Demonstrated knowledge of current preservation practices, including electronic applications. Excellent organizational, interpersonal and communications skills; ability to make decisions; commitment to fostering a collaborative work environment.
Preferred: Managerial experience. Experience in an academic or research library. Experience with one or more of the following; collection management; faculty liaison; selection of library materials.
Benefits: Librarians at the University of Tennessee, Knoxville have faculty rank and status and are appointed for twelve months. This is a tenure track appointment. Library faculty must meet University requirements for promotion and tenure. Annual leave is accrued at the rate of two days per month and sick leave at the rate of one day per month. Faculty have their choice of a state retirement plan or TIAA/CREF. Non-refundable contributions to either retirement plan are paid for the employee by the University. Group health and life insurance plans are available. Tuition remission is available for all university employees; partial undergraduate tuition remission is available to dependent children and spouses of UT employees.
Environment: The University of Tennessee, Knoxville, a Carnegie Research Level One institution, enrolls approximately 26,000 students from every state in the United States and approximately 100 other countries. As Tennessee's comprehensive campus, UTK offers more doctoral programs than any other institution in the state, and its faculty attract nearly $80 million annually for sponsored research programs. UTK is one of 27 higher education institutions holding the distinction of being both a land-grant institution and state university.
The UTK Libraries, with an annual budget of almost $10 million, holds 2 million volumes and receives approximately 14,000 current serials. The Libraries system includes the John C. Hodges Library and four branches on the Knoxville campus; Agriculture-Veterinary Medicine, Map, Music, and University Archives and Special Collections. A fifth branch, the Social Work Library, is located in Nashville. Over three hundred persons are employed, including 49 librarians, 8 exempt, 123 non-exempt, and 150 students. UTK Libraries is a member of the Association of Research Libraries, SOLINET, and the Center for Research Libraries. The UTK Libraries installed a client-server integrated system in 1997. The Libraries also offers a Web-based information system and access to a variety of electronic information sources. Additional information about this position and the UTK community can be found on the internet at <http://toltec.lib.utk.edu/~lss/search/prescoord.html>.
Salary: Assistant Professor, minimum $35,000. Associate Professor, minimum $42,000.
Application Procedure: Send letter of application, a current resume, and the names, addresses, e-mail addresses, and telephone numbers of three recent references to: Jill Keally, Head, Library Support Services, 1015 Volunteer Blvd., Knoxville, TN 37996-1000, fax 423/974-4696.
Review of applications will begin September 15, 1998, and will continue until the position is filled. The position will be available December 1, 1998.
The University of Tennessee, Knoxville, does not discriminate on the basis of race, sex, color, religion, national origin, age, disability, or veteran status in provision of educational programs and services or employment opportunities and benefits. This policy extends to both employment by and admission to the University. The University does not discriminate on the basis of race, sex, or disability in the education programs and activities pursuant to the requirements of Title VI of the Civil Rights Act of 1964, Title IX of the Education Amendments of 1972, Section 504 of the Rehabilitation Act of 1973, and the Americans with Disabilities Act (ADA) of 1990. Inquiries and charges of violation concerning Title VI, Title IX, Section 504, ADA or the Age Discrimination in Employment Act (ADEA) or any of the other above referenced policies should be directed to the Office of Diversity Resources & Educational Services (DRES), 2110 Terrace Avenue, Knoxville, TN 37996-3560, telephone 423/974-2498 (TTY available). Requests for accommodation of a disability should be directed to the ADA Coordinator at the Office of Human Resources Management, 600 Henley Street, Knoxville, TN 37996-4125.
Jobs Announced Elsewhere
| | | |
| --- | --- | --- |
| Job | Employer | Date Announced |
| Chief Conservator | Autry Museum of Western Heritage | Jul 98 |
| Electronic Archivist | Central. European Univ. | Aug 98 |
| Preservation Specialist | Emory Univ. Lib. | Jul 98 |
| Asst. Paper Conservator | Graphic Conservation Co. | Jul 98 |
| Bookbinder | Handbridge Bindery (Austin, TX) | Jul 98 |
| Conservation Technician | Harvard University Art Museums | Jul 98 |
| Project Conservator | Huntington Library | Jul 98 |
| Museum Technician | National Gallery | Jun 98 |
| Chief Preservation Librarian | NY Public Library | Jun 98 |
| Head of mass-deacidification program | Swiss National Library | Jul 98 |
| Paper Conservator | Tate Gallery (London) | Jul 98 |
| Library Bookmender | Univ. of Calif, SF | Jul 98 |