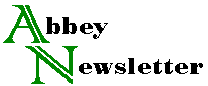 Volume 21, Number 5
1997
Positions
Microfilm Production Coordinator
Northeast Document Conservation Center
The Northeast Document Conservation Center seeks a full time production supervisor for 5 employees in its preservation microfilming department. Proven record of microfilming and supervisory experience required. Good computer and interpersonal skills are also desired. Familiarity with national standards and RLG guidelines a plus. Skills required include ability to set priorities, deal with clients, and produce timely production records.
Please send cover letter, resume and salary requirements to : NEDCC, 100 Brickstone Square, Andover, MA 01810-1494.
Senior Sales Representative - Preservation Services
Preservation Technologies, L.P.
Here is a unique opportunity to make a lasting contribution to preserving our written heritage. Preservation Technologies is a recognized world leader in the development of innovative processes for preserving books, archives, and other paper based materials. Rapid growth and market acceptance of our capabilities have created an opening in our organization for a key person to take the lead as our senior sales representative in expanding the sales of our Bookkeeper mass deacidification services with libraries and archives.
Building on a strong base of current business, your primary responsibility will be to significantly increase sales in the North American market for these services. In this position, you will work directly with key preservation and administrative leaders of major libraries and archival institutions. You will have considerable visibility and must represent the company, technically and commercially, with customers, at trade shows and conferences, and as a general spokesperson as required. An ability to travel is essential.
In addition to excellent communications skills and proven sales ability, you will be required to demonstrate strong initiative and problem solving abilities in resolving a range of technical, commercial, and financial concerns facing customers. You will assist customers as they develop their deacidification programs, including logistics, funding, etc. A prior background in conservation, preservation administration, or other library or archives experience would be a strong benefit.
Salary and benefits are commensurate with your abilities. Our headquarters are located in a vital, growing suburban community just north of Pittsburgh. As a key person in a young, high growth company, you will find significant professional challenges and opportunities for personal growth. If you want to join the team, please contact: James E. Burd, President, at 412-779-2111 or 800-416-BOOK. Preservation Technologies, L.P., 111 Thomson Park Drive, Cranberry Township, PA 16066.
Conservator
University Libraries of Notre Dame
The University Libraries of Notre Dame seek a book and paper Conservator to provide conservation and restoration in accord with the AIC Code of Ethics for a variety of rare and unique materials from the University Libraries' collections, including medieval manuscripts, art on paper, fine bindings, and modern manuscripts. Reporting to the Head of the Department of Preservation and Conservation, the Conservator will manage the operation of the conservation laboratory; participate in analysis of current preservation treatment programs; and assist in assessing collection conservation needs, in disaster preparedness and recovery, in preparing materials for exhibit, and in other programs relating to the Libraries' comprehensive preservation program. The Conservator will supervise, train, and evaluate conservation staff, work in advisory capacity with general collections repair unit, and work closely with other Preservation and Conservation Department units.
Qualifications: Master's degree in Conservation from an accredited library school conservation program or equivalent from an accredited school of conservation. Minimum of one year experience in an academic research library or archive. Demonstrated knowledge of and skill in the practices and techniques employed in the conservation of collections of library research material, including ethical implications, and the chemistry and history of the book. Excellent interpersonal skills, oral and written communications skills, and experience in computer applications. Membership and participation in applicable professional organizations.
Faculty or professional staff appointment. Minimum salary $34,500 with competitive benefits. For assured consideration, send letter of application, resume and the names and addresses of three professional references by March 20, 1998 to: Sharon A. Veith, Human Resource Generalist, 221 Hesburgh Library, Notre Dame, IN 46556.
Notre Dame is an Equal Opportunity/Affirmative Action Employer. Applications from minorities and individuals with disabilities accepted.
Library Conservator
Hagley Museum and Library
The Hagley Museum and Library, an independent research library specializing in business and technological history, is seeking a Library Conservator to develop and carry out a comprehensive preservation and conservation program for its imprint, pictorial, and archival collections. Hagley has a state-of-the-art conservation laboratory which is well equipped for paper repair and book binding. Hagley offers a competitive wage and benefits package and an exceptional work environment. Position requires graduate degree from recognized book and manuscript conservation training program plus minimum 2 years' related experience or equivalent experience in conservation of library materials. Familiarity with preservation issues in research libraries desirable. For more information on Hagley check our website at www.hagley.lib.de.us. Reply to: Human Resources Department, Hagley Museum and Library, PO Box 3630, Wilmington, DE 19807. EOE
Supervisory Conservator (Chief, Conservation Division)
Library of Congress, Madison Building
[Note: The following notice is condensed from the 3-page vacancy announcement that was widely distributed in December and January. The original closing date of January 26 has been extended until March 1, 1998. Copies of the announcement are available at the LC Employment Office (202/707-5627) For more information call Ted Morgan (202/707-6230).]
The vacancy announcement number is 970269. Salary is $70,894 - $92,161, and the job is at GS Level 15. At least one year of specialized experience at the GS-14 level in the Federal Service or at a comparable level of difficulty outside the Federal Service is required, demonstrating skill in supervising others and managing a program, and knowledge of preservation and conservation techniques and practices.
The Chief plans and directs the activities of the Conservation Division of the Library of Congress. Establishes policies and procedures governing the preservation and physical conservation of rare books; manuscripts; maps and atlases; prints and photographs; posters, drawings, and other works of art on paper; and non-book media such as moving image and audio collections. Applies an in-depth knowledge of the full range of library preservation techniques to complex library decisions affecting the long-term preservation of those materials of greatest intrinsic value or historical significance....
Conservation Assistant
The Metropolitan Museum of Art
The Paper Conservation department seeks applicants to fill a three day per week position with opportunity for renewal to fill a two to three year position as a Conservation Assistant or Assistant Conservator depending on experience. Individual will be responsible for conservation treatments, technical examinations, written reports, loan checks, collections care and other Museum activities.
Candidates require an M.A. degree or equivalent from a recognized conservation training program. Good manual and technical skills are required. One to two years professional work experience and a strong background in art history is mandatory. Submit C.V., letter of interest in the position, and three professional references.
Position to begin April 30th.
Please send all documentation to The Metropolitan Museum of Art, H.R. Dept., Box IT, 1000 5th Avenue, New York, NY 10028.
Jobs Announced Elsewhere
| | | |
| --- | --- | --- |
| Job | Employer | Date Ann'd |
| Reformatting Project Archivist | Ohio University Libraries | Nov 97 |
| Research Assistant | Loughborough University, UK | Nov 97 |
| Consn Technician | Harvard Coll. Lib. | Nov 97 |
| Book Conservator | Victoria & Albert Museum, UK | Dec 97 |
| Paper Conservator for 1840 Constitution | California Secretary of State | Dec 97 |
| Assistant Conservator | Peabody Museum - Harvard | Jan 98 |
| Reprographics Unit Head | University of Florida | Jan 98 |
| Project Conservator | Dorset Archives Serv | Jan 98 |
| Mellon Fellowship in Paper and Photo Consn | Museum of Modern Art | Jan 98 |