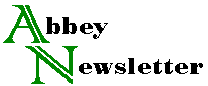 Volume 21, Number 4
Nov 1997
Positions
Head of Preservation Services
Hoover Institution Library and Archives
The Hoover Institution at Stanford University is seeking qualified candidates for the position of Head of Preservation Services. The successful candidate will be responsible for the planning, implementation and supervision of programs and projects that preserve and enhance access to the collections of the library and archives. In addition to the ability to supervise and maintain a well-trained and qualified staff, and manage fiscal resources, the hired candidate must possess the skills to operate with considerable independence and creativity and to remain abreast of developments in the field of library and archival preservation. Qualifications include a bachelor's degree; a minimum of four years administrative experience in a comprehensive preservation program; and a demonstrated ability to manage, train and supervise a diverse staff. Previous experience in an archives or research library is preferred. In-hire salary range: $39,264-$59,484. Please write for additional information, or, to apply, send your resume and cover letter to: Judith Fortson, Hoover Institution, Stanford University, Stanford, CA 94305-6010. Deadline is 12/15/97. EEO/AA.
Project Conservator
The Huntington Library
Position: This three-year position supports a training program sponsored by the Getty Grant Program, the Lampadia Foundation, and the Huntington Library. The purpose of this program is to provide conservation training for conservators from Argentina, Brazil, and Chile. The role of the Project Conservator is to assist with conservation treatments normally handled by senior conservation staff, while they are instructing the visiting conservators. The Project Conservator may also instruct the visiting conservators.
Working under the supervision of the Chief Preservation Officer and collegially with the Head Paper and Head Rare Book Conservators, the Project Conservator examines, documents, and treats manuscripts, photographs, works on paper, and bound materials according to the AIC Code of Ethics. The Project Conservator also stabilizes items for exhibition, documents treatments photographically and on the computer, rehouses items from the collections as needed and actively participates in departmental meetings. Other duties as assigned.
Qualifications: A B.A. or B.S. required, M.A. in conservation from a recognized graduate conservation training program preferred, or comparable experience in paper, manuscript, photograph, and book conservation. Demonstrated knowledge of conservation techniques especially as they pertain to the treatment of manuscripts, letters, bound materials, and library and archives materials. Excellent hand-eye coordination and manual dexterity skills. Ability to work well with other professional and paraprofessional staff. A minimum of 2-3 years working in a museum or library conservation laboratory. Fluency in Spanish desirable.
Salary: $14.75/hour or $28,760/year (minimum of budgeted range) including full benefits.
To apply: Send a letter, resume, and the names, addresses and phone numbers of three references to: Carl Foote, Manager of Personnel and Planning, The Huntington Library, 1151 Oxford Road, San Marino, CA 91108.
Applications received by October 30, 1997 will receive first consideration. Start date is January 2, 1998.
The Huntington Library is a private, non-profit institution dedicated to the study of British and American History and Literature. Special emphasis is placed upon the collection of rare books and manuscripts. The Library uses the Innovative Interfaces online system and is a member of the Research Libraries Group.
Head Conservator
Columbia University Libraries
The Head Conservator has primary responsibility for managing the Columbia University Libraries conservation program, including: administration of the Conservation Laboratory, which consists of a special materials unit and a circulating-collection repair unit; performing sophisticated conservation treatments on all types of rare and valuable ancient, medieval, and modern bound and loose library materials (primarily paper-based) in accordance with current professional conservation ethics and treatment procedures; coordination of the Libraries' disaster recovery program and its environmental monitoring program; assisting with exhibits, fund raising, and other related activities. The Head Conservator reports to the Director of Preservation and participates in system-wide planning for preservation, liaison with other Libraries' divisions, and committee work.
The Head Conservator serves five major collections. 1) The Rare Book and Manuscript Library holdings range from Sumerian tablets and classical papyri through Hebrew, Arabic, and medieval manuscripts, incunables, and the full history of western printing. The Collections include over 600,000 books and 26 million manuscripts, photographs, posters, and art on paper. 2) The Avery Architectural and Fine Arts Library special collections range from incunables to modern artists' books, and over 400,000 drawings, from Serlio's manuscripts through Frank Lloyd Wright to contemporary masters. 3) The Kress Special Collections of the Starr East Asian Library contain genres from oracle bones to early woodblock printing to modern first editions, art on paper, and manuscripts. 4) The Long Health Sciences Library special collections of early and modern books and manuscripts in the history of medicine also include archives and personal papers of prominent figures in medical history. 5) The Columbiana collection documents the history of the University.
Requirements are: graduate degree in conservation of books and/or archival library materials, and/or equivalent training and experience (e.g. formal apprenticeship); minimum 5 years post-internship professional conservation experience with rare and special materials, preferable in a research library or similar institution; knowledge of current conservation theory and ethics, chemistry, environmental monitoring, and history of the book. Demonstrated skill with a wide variety of analytical and treatment techniques required. Supervisory experience and effective written and verbal communications skills essential. Computer skills for documenting treatments desirable; MLS degree desirable.
We welcome applications from qualified women and members of minority groups; international applications are welcome.
Salary minima are: Librarian II: $38,500; Librarian III: $41,500. Excellent benefits include assistance with Uni-versity housing and tuition exemption for self and family.
Send letter of application, resume, and names, addresses and phone numbers of three references, to: Jane Hunt, Employment Representative, Box 35 Butler Library, Columbia University, 535 West 114th Street, New York, NY 10027. Applications will be accepted until position is filled.
An affirmative action/equal opportunity employer.
Program Director 1
Indiana Commission on Public Records
Skills/Experience:
Extensive knowledge of preservation and conservation issues and practices.
Supervising a lab assistant, temporaries, volunteers, and summer students.
Recommending, performing, and documenting conservation treatments.
Conducting preservation survey of archives' collections.
Disaster planning.
Conservation education to state and local government, the public, and libraries.
Budget preparation.
Familiarity with handling and care of archival materials, photographs, film, and other non-books formats.
Experience with the preservation of digital technology is desirable.
Job Requirements:
Extensive knowledge of restoration technology, preservation techniques.
Ability to communicate effectively both orally and in writing.
Ability to function as member of a team.
Education:
Masters in Library Science/Masters in History or Public History.
At least one (1) year of experience working or training in preservation and/or conservation area.
Salary:
$29,484.00 annually ($1,134.00 bi-weekly) plus benefits.
Send responses to: Indiana Commission on Public Records, Rm W472, 402 West Washington Street, Indianapolis, IN 46204, Attn: Judy Clayton. Office: (317) 232-3373. Fax: (317) 233-1713
Conservation Technician
The LuEsther T. Mertz Library
The New York Botanical Garden
The Library's Conservation Department seeks to fill a Conservation Technician position for 18 months, beginning January 5, 1998, to work on a grant-supported project on the Library's Botanical Art and Illustration Collection. Under the supervision of the Conservation Librarian, the Technician will work with the Conservation Staff to clean, stabilize, and rehouse materials in this collection. The project will include designing protective enclosures for oversize and very small materials.
Bachelor's degree required; advanced training in book and/or paper conservation preferred; interest in preservation career desirable.
This full-time position (35 hours/week) offers an annual salary of $22,295.00 with excellent fringe benefits including four weeks vacation. On-site interview. Only U.S. employment eligible need apply. Please send a letter of application, a current resume, and two letters of recommendation to Human Resources Department Coordinator-CT, The New York Botanical Garden, Bronx, NY 10458-5126. AA/EOE/M/F/D/V.
Coordinator, Preservation Initiatives and Services
Emory University Libraries
The Libraries at Emory University seek an individual to initiate the use of new preservation technologies and to coordinate an established range of services for collections in the General Libraries, Health Science Library, Law Library, Oxford Library, and Theology Library.
Key responsibilities will focus on developing applications for digital technology for preservation, developing processes for preservation of magnetic media, writing grants, and coordinating with regional and national programs. Responsibilities will include: developing and implementing preservation plans; providing staff and user education; collection review; replacement and reformatting; conservation treatment, environmental control, and disaster planning; developing and managing budgets; developing and managing contracts for library binding and other services. The individual will coordinate campus preservation services provided by 3.5 staff and several student assistants based in the General Libraries and liaison staff in each of the university libraries.
Qualifications: ALA-accredited MLS with advanced training in preservation administration and 2-5 years relevant experience, or other equivalent combinations of education and experience. The successful candidate will have demonstrated knowledge of the applications and issues involved in digital technology for preservation and the preservation of magnetic media. Experience in grant-writing and evidence of initiative, collaboration, and outreach is important. Knowledge of preservation and collection management practices and issues, involvement with regional and national preservation programs; demonstrated managerial and organizational ability with strong interpersonal skills; excellent oral and written communications skills; and demonstrated interest in professional activities are essential qualifications.
Salary and Benefits: Salary and rank dependent upon qualifications and experience: Librarian II: $33,000-$42,500; Librarian III: $38,000-$56,000. Comprehensive Benefits Package, including TIAA/CREF.
To apply, please send letter of application, resume, and the names, addresses, and telephone numbers of three references to: Dianne M. Smith, Library Human Resources Officer, Robert W. Woodruff Library, Emory University, Atlanta, GA 30322-2870. Application review begins November 10, 1997.
Emory University is an Equal Opportunity/Affirmative Action Employer and encourages women and minority candidates.
Position Sought
Bookbinder and conservator seeks permanent position as technician in hands-on work environment. Work experience: From 1993 to present has worked as bookbinder/ conservator and document mender and conservator for the "Archivio di Stato" (State Archives) of Italy. From 1978 to 1982: archeological assistant for Italian museum system. Training: courses completed with the State Archives in Cosenza, Bari and Florence in Italy. Experience in restoration of library materials, binding, parchment restoration, leather binding restoration and other related activities. Contact Alfonso Castiglione, 3103 Belle Grove Rd., Memphis TN 38115 (901/370-6537).
Jobs Announced Elsewhere
Job
Employer
Date
Ann'd
Paper Conservator
National Library of New Zealand
Sept.
B/P Conservator
Minn. Historical Soc.
Sept.
Cons. Outreach Rep.
Minn. Historical Soc.
Sept.
Asst. Paper Cons./Intern
Andrea Pitsch Cons.
Sept.
Paper Conservator
Univ. of Texas at Austin
Oct.
Certified Conservator, Photographic Materials
Natl. Fotorestauratie Atelier, Netherlands
Oct.
Preservation Specialist
MoMA Library
Oct.
UNESCO & Preservation of Digital Records
Two of the three major themes of the First International Congress on Ethical, Legal and Societal Aspects of Digital Information (Monaco, 10-12 March 1997) concerned preservation of digital information, and the third concerned access. A few of the recommendations that were made are listed below. (A longer report was published in UNISIST Newsletter v.25 #1.)
Under "Accessing Digital Information":
Establish a clear distinction between copyright and moral rights
Reject proposals for taxing cyberspace activities
Encourage the development of security systems which favor the choice of users rather than those of the creators of information.
Under "Preserving Digital Information and Records":
To elaborate … norms and practices and possibly a code for the preservation of digital information and related new training programs.
Under "Legal Requirements and Practices for Long-term Preservation":
To broaden digital literacy … through a greater use of different languages.