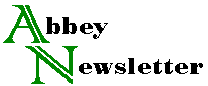 Volume 20, Number 8
Dec 1996
Positions Open
Conservation Assistant
Yale Center for British Art
Yale Center for British Art seeks an experienced Conservation Assistant to work in the Paper Conservation Laboratory. Candidate should be experienced in matting and framing to museum standards and will also have responsibility for coordinating activities in the preparation studio, researching materials and techniques, and monitoring the preparation studio budget. BA in studio art or equivalent required. Museum experience preferred. Please send resume to D.M. Cable, Yale University, Department of Human Resources, P.O. Box 208256, 155 Whitney Avenue, New Haven, CT 06520-8256. Yale University is an Affirmative Action Equal Opportunity Employer.
Assistant or Associate Conservator
Yale Center for British Art
Full time Permanent position for an Assistant or Associate Conservator, specializing in conservation of works of art on paper. The laboratory cares for works of art on paper in the Yale Center for British Art and the Yale University Art Gallery. Responsibilities include care, examination, treatment, documentation and technical analysis of a wide range of art on paper and related materials, interaction with curators, assisting in exhibition and loan program, advising in the acquisition of new works of art, and participating in other departmental activities such as lecturing, the training of interns, and some administrative duties.
Applicants should have an advanced degree from a conservation program or equivalent training; the ability to design and carry out skilled treatments to the highest standards, good communication skills and flexibility to meet needs of institution. Minimum of two years museum experience is desirable. Yale University offers a competitive salary and fringe benefits program. Starting date is flexible. Yale is an affirmative action, equal opportunity employer. Send letters of interest and resumes to: Theresa Fairbanks, Chief Conservator, Yale Center for British Art, P.O. Box 208280, New Haven, CT 06520-8280.
Preservation Officer
Emory University Libraries
Emory University Libraries invites applications for a Preservation Officer to plan and direct a comprehensive preservation program for all Emory University Libraries.
Responsibilities: Develop and implement preservation plans, focused primarily on general collections, covering such elements as staff and user education, collection review, replacement and reformatting, conservation treatment, environmental control, and disaster planning; write and administer grants; develop and manage budgets; develop and manage cooperative preservation projects; and write and monitor contracts for library binding and other services. Coordination with regional and national programs and activities is expected.
Qualifications: ALA-accredited M.L.S. with advanced training in preservation administration and 2-5 years relevant experience, or other equivalent combinations of education and experience; knowledge of preservation and collection management practices and issues, including regional and national preservation programs; evidence of initiative and promotional ability; demonstrated managerial and organizational ability with strong interpersonal skills; excellent oral and written communication skills; and demonstrated interest in professional activities. Preferred: experience in developing or delivering staff and user training; in the application of digital technology for preservation; and in issues relating to the preservation of magnetic media.
Emory Libraries: The Libraries of Emory University include the General Libraries and libraries for health sciences, law, theology, and Oxford College. Total holdings are 2.3 million volumes with total staff of 263 FTE. The Emory libraries are members of the Association of Research Libraries, OCLC, the Research Libraries Group, the Center for Research Libraries, the Coalition for Networked Information, the National Digital Library Federation, and the University Center in Georgia.
Salary and Benefits: Salary and rank dependent upon qualifications and experience: Librarian II: $32,000-$41,000; Librarian III: $36,500-$54,000. Comprehensive Benefits Package, including TIAA/CREF.
Application: Send letter of application, resume, and the names, addresses, and telephone numbers of three references to: Dianne M. Smith, Library Human Resources Officer, Robert W. Woodruff Library, Emory University, Atlanta, GA 30322-2870. Applications received by March 21, 1997 will receive first consideration.
Emory University is an Equal Opportunity/Affirmative Action Employer and encourages women and minority candidates.
Bookbinder/Paper Conservator
Handbridge Bindery
The Handbridge Bindery in Austin, Texas is seeking an experienced bookbinder/paper conservator to perform a variety of duties.
Please send resumes to the Handbridge Bindery, 1720 S. Congress Ave., Austin, TX 78704
Book and Paper Conservator
Atelier für Buch- und Papierrestaurierung
Swiss workshop seeks a full-time book and paper conservator, to start as soon as possible.
Qualifications: apprenticeship in hand bookbinding; experience in the field of book and paper conservation; basic knowledge of German.
We are offering agreeable working conditions in a small team, with interesting work in the field of book and paper conservation for archives, libraries and museums in Switzerland.
If interested, please write to Martin Strebel, Atelier für Buch- und Papierrestaurierung, Bahnhofstrasse 15, CH - 5502 Hunzenschwil, Switzerland.
Librarian II, Head of Preservation Department
University of Maryland at College Park Libraries
The University of Maryland at College Park (UMCP) Libraries is accepting applications to fill the position of Librarian II, Head of Preservation Department, Technical Services Division.
Responsibilities: Responsible for the administration of a comprehensive preservation department in the Technical Services Division of the UMCP Libraries. The department consists of four major units: Bindery, End Processing, Repair and Conservation, and Brittle Books. The Preservation Head is responsible for planning, developing and implementing programs for all aspects of material treatment for the UMCP Libraries.
Qualifications: Required: ALA-accredited master's degree in library science and advanced training in book conservation/preservation; or equivalent professional degree and experience in the preservation field required.
Experience: At least five years of progressively responsible experience in an academic or research library, at least two of which must have been at the managerial level. In depth knowledge of preservation technologies and treatments and comprehensive knowledge of preservation issues. Demonstrated ability to plan and carry out a preservation program, working with both faculty and library staff in the accomplishment thereof.
Salary: Commensurate with experience. Benefits available.
Applications: For full consideration, submit resume and names/addresses of three references by March 31, 1997. Applications accepted until the position is filled. Send resume to: Ray Foster, Library Personnel Services, McKeldin Library, University of Maryland, College Park, MD 20742-7011. Fax: (310) 314-9960. Libraries Web Address: http://www.itd.umd.edu/UMS/UMCP/PUB/umcp_home.html The University of Maryland is an affirmative action, equal opportunity employer. Minorities are encouraged to apply.
Jobs Announced Elsewhere
Job
Employer
Date

Ann'd

Asst. Conservator
Missouri Office, Secretary of State
1 Jan.
Manager, Electronic Information Service
Getty Conservation Institute
1 Jan.
Archivist III (Conservator)
Maryland State Archives
1 Jan.
Conservation Coordinator
Archives Association of British Columbia
1 Jan.
Asst. Conservator
Texas Tech Univ.
2 Feb.
Paper/Photo Materials Conservator
Holocaust Memorial Museum
2 Feb.
Summer intern
Harvard Univ., Houghton Library
2 Feb.
Asst. Conservator
Etherington Conservation Center
2Feb.