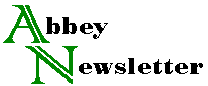 Volume 20, Number 4-5
Sep 1996
People
Ginny Wisniewski retired as Book Conservator and Head of Conservation & Bindery at the University of Cincinnati on January 1, 1996.
Rolland Aubey, retired Research and Development Manager of product development for Nekoosa Papers, Inc., has joined the newly formed FACTS Mat & Mounting Board Committee as a technical advisor. He is an active participant on several TAPPI, ASTM and ISO standards committees.
Luis Nadeau, whose Encyclopedia of Printing, Photographic and Photomechanical Processes was announced on p. 27a in the June issue, prefers to be contacted at the follow-ing address, rather than the one that was given in that announcement: P.O. Box 221, Station A, Fredericton, NB, Canada E3B 4Y9 (nadeaul@nbnet.nb.ca).
Edgar Mansfield, the great designer bookbinder, died August 10, 1996, at the age of 89, in England.