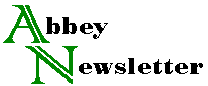 Volume 20, Number 4-5
Sep 1996
News
Universal Preservation Format for Digital Formats
The WGBH Media Archive & Preservation Center has submitted a grant request to the National Historical Publications and Records Commission (NHPRC) to support the development of an advocacy for a Universal Preservation Format (UPF). The UPF is for use with digital technologies to ensure the accessibility of a wide range of data types, especially video formats, to the indefinite future. An advocacy component to the project entails working with standards organizations and professional groups, including AMIA (Association of Moving Image Archivists), to raise awareness of the need for the UPF Recommended Practice. (From AMIA Newsletter #33, Summer 1996. This issue, by the way, is full of interesting and important preservation news.)
New Book Repair Training Program in the West
The Mountain Plains Regional Library Collections Conservation Training Program, directed by Randy Silverman and funded by NEH, has enabled book repair staff from 16 institutions in the West and Southwest to train at the University of Utah in three sessions, each lasting one week. Sessions scheduled every 6 to 8 weeks allowed participants time to practice the repair techniques learned in class before learning more complex techniques offered in later sessions.
British Library Research & Innovation Centre
The British Library changed the name of its Research & Development Department to the Research & Innovation Centre, as part of a reorganization that will place most of its emphasis on reporting research results and pointing to innovation and good practice. One of the seven programs during 1996-97 is Preservation of Library and Archive Materials, particularly research contributing to the development of a national preservation strategy, studies concerned with electronic archiving and innovative preservation techniques. This program will be undertaken in close cooperation with the National Preservation Office and the Joint Information Systems Committee of the Higher Education Funding Councils. The new Grants and Awards Plan for 1996/97 is described in the Centre's Research Bulletin, Summer 1996, Issue 14 (ISSN 0952-2832). Copies are free on request from the Support Unit, The British Library Research and Innovation Centre, 2 Sheraton St., London W1V 4BH UK (44 171-412 715053). There may be a charge for overseas requests.
Preservation Science Council Forms New Agenda
The 19-member Preservation Science Council, the impetus for which came from the Preservation Administrators Discussion Group in the American Library Association, is convened by the Commission on Preservation and Access. The Council met July 31 to August 2 at Belmont Conference Center in Maryland, and agreed unanimously on six projects that will make up its research agenda:
Methods for providing an optimum storage environment at the lowest possible cost using existing HVAC equipment
The longevity of adhesives used currently in library binding and those under development
Creation of a management tool to allow preservation managers to understand how rapidly or slowly books, tapes, and films equilibrate to changes in temperature and RH, including the ability to estimate how common enclosures (book stacks, phase boxes, and compact shelving systems) slow down the rate of equilibration
The applicability of a life cycle cost analysis tool developed for digital tape storage systems for use in managing the costs of continuing access to existing collections of paper, film, and magnetic media
The magnitude of the effects of repeated recycling of paper on the strength and color of papers that will find their way into collections in the future
Creation of software and computer infrastructure for EMIS (Environmental Management Information System), a lower-cost, more comprehensive system for delivering environmental data and interpretive assessments to preservation managers than currently exists.
Work groups composed of at least one scientist and several preservation administrations will be developing full project descriptions over the next several weeks. PSC work is supported by the William and Flora Hewlett Foundation and the Andrew W. Mellon Foundation. The Preservation Science Research initiative began in 1989, and a first research agenda was announced in 1993. Information about its work is available on the Web site of the Commission on Preservation and Access, http://clir.stanford.edu/cpa/.
Preservation Standards in Preparation
ISO/DIS (Draft International Standard) 11108, Archival paper requirements for permanence and durability. The requirements for this standard are higher than those for ISO 9706.
ISO/WD 11798, Permanence of writing, printing and copying media on paper documents-Requirements and testing methods.
ISO/CD 11799, Document storage requirements. Consensus has not yet been reached on this document.
ISO/WD 14416, Requirements for binding of books, periodicals, serials and other paper documents for library and archival use-Methods and materials.
These standards are all being prepared in Technical committee 46, Subcommittee 10, which meets next in London, May 11-16, 1997. Sally Grauer, of the Library Binding Institute, attends the meeting and is on a newly appointed drafting committee.
The following standards, lited by the committee developing them, are being prepared within NISO (National Information Standards Organization):
SCMM, Environmental Conditions for the Exhibition of Library... Materials
SCSS, Preservation Product Information
SCZZ, Library Binding