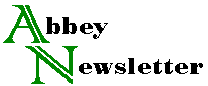 Volume 20, Number 3
Aug 1996
People
Paul Banks, who originally founded the Preservation and Conservation Studies program at Columbia University, and moved with it five years ago to the University of Texas at Austin, has resigned from his position as Senior Lecturer (effective June 1) and moved back to New York. He can be reached there by phone (212/865-1304) and e-mail (pbanks@columbia.edu).
Poul Aagaard Christiansen, founder and for many years editor of the international conservation journal Restaurator, died May 11, 1996. He was an avid bibliophile. After he retired in November 1993, he continued working from his study room at the Danish National Library of Science and Medicine in the Copenhagen University Library, editing its series in history of science, building up a special collection and editing other books.
Bill Huebsch resigned his position as executive director of the Upper Midwest Conservation Association as of April 2, after four years of leadership during which the Association benefitted from his administrative and grant-writing skills. He will be working on several books that must be finished by contract deadline.
Rolf Kat has been promoted to Senior Conservator at the Conservation Center for Art and Historic Artifacts in Philadelphia. He received his degree in conservation in 1982 in Amsterdam. In 1994, after working in Rotterdam, Haarlem, Los Angeles, and Philadelphia, Kat joined the CCAHA staff as Book Conservator.
Maria Grandinette was appointed Head of Conservation of the Stanford University Libraries as of March 11 this year. She was formerly Preservation Officer at the Hoover Library.
Tamara Swora, formerly the Preservation Microfilming Officer in the Library of Congress Preservation Directorate, has moved to the position of Digital Conversion Projects Coordinator in the National Digital Library Program, Office of the Librarian of Congress. Her new address is: National Digital Library Program, Office of the Librarian, LIBN/NDL/ AM, Washington, DC 20540-1310 (ph: 202/707-6293, fax: 707-3764, e-mail: tswo@loc.gov).
Walter T. Cybulski, former Preservation Coordinator, New York State Newspaper Project, is now Head, Quality Assurance Unit, Preservation and Collection Management Section, National Library of Medicine.
Ursula Wille married Nilo Mitra on December 31, 1995, and will now be using the name Ursula Mitra. She is Associate Conservator at the Frick Art Reference Library in New York and the co-chair of the New York group of the Guild of Book Workers. Her new address is 9 Pomander Walk, #2, New York, NY 10025, 212/663-3271.