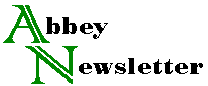 Volume 19, Number 1
Mar 1996
Supplies and Services
Vacudyne Inc. can retrofit their old ethylene oxide fumigation chambers for about $8000, so that they can work as nitrogen anoxia chambers, with RH controls included. They are in Chicago Heights, IL (phone 708/757-5200, fax 757-7180).
"Timepreservers" are boxes and other storage products sold by the G.M. Wylie Co. in Pennsylvania (1-800/747-1249, fax 412/225-0741). They also sell the Dust Bunny, tissue paper for storing fabrics, pH pens, genealogy forms, watermarked lignin-free bond paper ($11.45/ream), phase boxes ($15) and a number of other products. The catalog costs $1.00 and has eight pages.
The Pacific Cutter Company (3690 Santa Fe Ave., Los Angeles,CA 90058, 213/588-9138) announced in the CBBAG Newsletter that they sold all sizes of Jacques board shears.
Preservation Products Unlimited has a colorful 33-page catalog of supplies for document, microform and textile storage, matting, UV filters, and conservation. Chemically treated sponges for removing smoke stains and mold are $1.75; 1" gummed linen tape is $8.90 for a 10' roll. Anne P. Diffendal chairs the advisory board. They have an 800 number: 800/648-7329.
Zeutschel Germany has just introduced a microfilm camera (Zeutschel model OK 301 P) with a 60° prism, which makes it possible to film tightly bound books that can only be opened to 60°. It is distributed in the U.S. by Crowley Micrographics. Contact Chris Crowley at 301/330-0555, fax 301/330-6392 or Zeutschel Germany at fax (+49) 7071-970644.
Emergency Supplies for Collections (PO Box 3902, Seattle, WA 98124-3902, 800/929-6886, 206/322-4181, fax 206/323-4153, e-mail abconser@halcyon.com) is a new company serving the museum, archive and library market. The supplies come in packs of four different sizes and complexities (with 16 to 40 kinds of tools, equipment and supplies), costing $2961 to $10,265. They also sell Magnum fixed-wall pallet containers that can be moved with a forklift or pallet jack. Alice Bear is Chief of Services/Conservator.
Vacuum cleaners: Monona Rossol comments in a letter on the technical note on "Vacuums and Dust" that was on p. 81 in the November issue, saying that if one is buying a mass market vacuum cleaner, it should be selected on the basis of retention; but that vacuums with HEPA (high efficiency particulate air) filters are really what is needed whenever there is the likelihood of pesticide dusts or toxic treatment chemical residues. Nilfisk, Hako, Euroclean, and many other brands of these are available, she says. Nilfisk sent a flier to the Abbey office, which says that their Variable Speed Control Vacuum has a four-stage filtration system culminating in a HEPA filter capable of retaining 99.97% of all particles down to 0.3 microns in size. It is used for asbestos removal, among other things. Increasing the motor speed increases the power of the vacuum. Nilfisk of America, Inc., is at 300 Technology Drive, Malvern, PA 19355 (215/647-6420).
NEDCC announced in November that it had started offering continuous tone microfilm for filming photographs and black and white illustrations with text. The new process is less expensive than conventional photoduplication. It can produce a wide range of gray tones, capturing detail from highlight and shadow areas. It can be duplicated or converted to digital formats, and it can be used as a preservation master. For information call Susan Wrynn, Director of Reprographic Services, Northeast Document Center, 100 Brickstone Square, Andover, MA 01810 (508/470-1010, e-mail nedccrep@world.std.com).