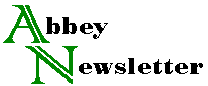 Volume 19, Number 8
Dec 1995
ICI Names Three Prize Winners
Information Conservation, Inc. (ICI) holds an annual contest for the best plan for a preservation or conservation project. The prizes are in the form of services offered by ICI, to help the winners carry out their plan.
The three judges for the 1995 contest were John F. Dean, Director, Department of Preservation and Conservation, Cornell University; Eleanore Stewart, Head of Conservation Treatments, Stanford University Libraries; and Don Etherington, President of the Conservation Division of ICI. The first place prize of $3000 worth of ICI Conservation services went to the Special Collections Division at the University of Texas at Arlington, to preserve the maps and a journal of Henry Washington Benham. The other two prizes ($1500 and $750 worth of services, respectively) went to Illinois State University to repair, deacidify, and encapsulate the posters in a circus history collection, and to the Kinsey Institute for Research in Sex, Gender, and Reproduction at Indiana University to conserve notebooks of clippings.
This yearly contest exemplifies a trend toward public involvement of conservation and preservation professionals in the activities of suppliers, a practice that benefits both the supplier and the customers it serves. Although people with preservation expertise often go to work for suppliers, the visible involvement of the professional probably makes the company more aware of the needs of the preservation market, and it certainly facilitates communication between preservation customers and the supplier.