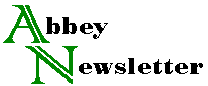 Volume 19, Number 6-7
Dec 1995
Positions
Conservator of Library and Archival Materials
Nebraska State Historical Society
The Gerald R. Ford Conservation Center of the Nebraska State Historical Society seeks a conservator of library and archival materials to conserve objects from the Historical Society, museums, libraries, county and local historical societies, and other public and private clients across Nebraska and the Midwest. The Ford Conservation Center is a state-of-the-art laboratory facility recently constructed in Omaha, Nebraska, supported by significant endowments and fees. The conservator will be required to equipment and operate the paper conservation lab, advise on preservation issues, perform conservation treatments, participate in training activities relating to the conservation of collections and provide input into grant proposals relating to conservation projects. Qualified applicants must have a bachelor's degree and be a graduate of a recognized conservation program or have equivalent apprenticeship training. Applicants are required to have at least five years of experience. Salary range is $25,688-$35,963 depending on experience and qualifications, plus a generous state benefits package. Send cover letter, resume, and State of Nebraska Application for Employment form to Nebraska State Personnel, PO Box 94905, Lincoln, NE 68509. Closes 16 February 1996. For more information contact Tony Schmitz at 402/471-47801, Fax 402/471-3100 or Julie Reilly at 402/595-1180, Fax 402/595-1178. AA/EOE/TDD
Positions Announced Elsewhere:
The Rocky Mountain Conservation Center (2420 S. University Blvd., Denver, CO 80208) needs a conservator of photographic materials and paper; and the Ohio Historical Society (1982 Velma Ave., Columbus, OH 43211) needs a preservation micrographics section supervisor.
Another Position Announced Elsewhere
Yale University is looking for a preservation librarian to assist the Head of the Preservation Department. Contact Diane Y. Turner, Yale University Library, PO Box 208240, New Haven, CT 06520-8240.