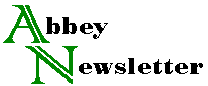 Volume 19, Number 5
Nov 1995
Positions
Preservation Intern
Columbia University Libraries
This is a temporary eight-month internship funded by a grant from the Mellon Foundation to support research-library preservation programs nationally. The intern will report to the Director for Preservation and will spend time in each Preservation Division unit. Responsibilities will include surveying the condition of a branch library collection, assessing current preservation procedures and needs, monitoring of environmental conditions, assisting in the preparation of a grant proposal, and other related special projects. The intern will have the opportunity to participate in planning sessions, policy discussions, and other library-wide preservation activities.
In addition to an accredited MLA, requirements are knowledge of preservation and conservation practices and techniques, as demonstrated through previous relevant experience and/or successful completion of a formal program in the preservation of research library materials.
Minimum eight-months salary is $22,000. Excellent benefits include tuition exemption for self and family and assistance with University housing.
Send resume, listing names, addresses and phone numbers of three references, to: Kathleen M. Mechanic, Asst. Vice President for Human Resources, Box 35 Butler Library, Columbia University, 535 W. 114th St., New York, NY 10027. Internship begins 6/1/96; applications received by 1/31/96 will receive priority consideration.
AN AFFIRMATIVE ACTION/EQUAL OPPORTUNITY EMPLOYER
Associate Chief Librarian, Preservation Treatment
New York Public Library
An excellent opportunity is available in The Preservation Division. Manages all physical treatment, commercial binding and educational and training activities. Directs operations of conservation treatment facilities, including work flow, work assignments, budgets, supplies and equipment orders. Supervises, trains and evaluates professional and technical staff.
ALA-accredited MLS degree and certification or training in conservation treatment with minimum 5 years of experience administering a conservation/preservation program in a library or archive required. Experience establishing and managing a preservation treatment program. Broad knowledge of conservation and preservation technologies, cost factors and productivity issues. Excellent interpersonal, verbal and written communication skills essential.
We offer a competitive salary, a dynamic environment and excellent comprehensive benefits including 4 weeks vacation.
The NYPL will be at the Placement Center at the ALA Midwinter Conference in San Antonio.
Send resume to: Human Resources Dept. JQ-ACL, New York Public Library, 188 Madison Ave., New York, NY 10016.
An Equal Opportunity Employer
E-mail (ASCII please): hrc1@nypl.org
Jobs Recently Advertised Elsewhere
Advertised in September:
| Job Title | Where? | To get announcement, contact |
| --- | --- | --- |
| Archives Conservation Intern | MD State Historical Arch | Hanna Szczepanowska, 410/974-3914 |
| Conservation Assistant | Georgetown Univ Law Center | Georgetown Univ, Human Resources 960231, 37th & O Sts. NW, Washington DC 20057 |
| Preservation Assistant | GA Dept. of Arch & Hist | Hilary Kaplan, 404/656-2374 |
| Conservation Technician | NY Univ., Bobst Library | Kate Murray, 212/998-2562 |
October:
| Member Services Officer | Research Libraries Group | Linda West, <bl.lgw@rlg.stanford.edu> |
| --- | --- | --- |
| Book Restorer | Metropolitan Museum of Art | Mindell Dubansky, c/o Floyd Sweeting, <metart1@metgate.metro.org> |
| Conservation Fellow | Metropolitan Museum of Art | Mindell Dubansky, 212/879-5500, w-3220 |
| Technician | NEDCC | Beth Patkus <nedcc@world.std.com> |