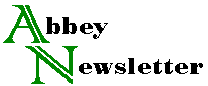 Volume 19, Number 4
Sep 1995
Electronic Lists, Web Sites & Resource Guides
Compiled by Walter Henry
LISTSERV lists
To subscribe, send mail to LISTSERV@LISTSERV.NET with the following command in the text (not the subject) of your message:
SUBSCRIBE listname FirstName Lastname
Replace "listname" with the name in the first column of the table.
AAT-L

AAT-L@UICVM.UIC.EDU
Art & Architecture Discussion List

AMIA-L

AMIA-L@UKCC.UKY.EDU
Association of Moving Image Archivists

BIBSOCAN

BIBSOCAN@UTORONTO.BITNET
Bibliographical Society of Canada

BOOK_ARTS-L

BOOK_ARTS-L@LISTSERV.SYR.EDU
The Book Arts: binding, typography, collecting

CIDOC-L

CIDOC-L@FREESIDE.NRM.SE
CIDOC Distribution List

ERECS-L

ERECS-L@UACSC2.ALBANY.EDU
Management and Preservation of Electronic Records

EXLIBRIS

EXLIBRIS@RUTVM1.RUTGERS.EDU
Rare Books & Special Collections Forum

MUSEUM-L

MUSEUM-L@UNMVMA.UNM.EDU
Museum discussion list

ICOM-ANNOUN

CE ICOM-ANNOUNCE@FREESIDE.NRM.SE
ICOM Announcements Distribution List

ICOM-SWEDEN

ICOM-SWEDEN@FREESIDE.NRM.SE
ICOM Sweden Distribution List

IMAGELIB

IMAGELIB@LISTSERV.ARIZONA.EDU
IMAGELIB

PRESED-L

PRESED-L@UICVM.UIC.EDU
ALCTS Preservation Course & Workshop Instructors Discussion

ROCK-ART

ROCK-ART@ASUVM.INRE.ASU.EDU
Rock Art Discussion and Information

TEXTILES

TEXTILES@VM3090.EGE.EDU.TR
Textiles & Clothing Studies Discussion List
In addition, Photohst (History and Criticism of Photography), a particularly fine list, seems not to turn up in a global listserv search, so to subscribe you may have to send your message to listserv@asuvm.inre.asu.edu instead of listserv@listserv.net, e.g.,
subscribe photohst FirstName Lastname
Non-Listserv Lists
Send one-line message (subscribe consdist FirstName Lastname) to request@cool.stanford.edu. You will then be sent a questionnaire, a requirement for participation in the list.

alt-photo-process@vast.unsw.edu.au

Send one-line message (subscribe alt-photo-process FirstName Lastname) to listproc@vast.unsw.edu.au

ICOM-Announce on mailserv@nrm.se

subscribe icom-announce Firstname Lastname
Web Sites
Conservation OnLine http://palimpsest.stanford.edu
Organizations, etc.
American Library Association

Ancient Monuments Laboratory

Antiquarian Booksellers' Association of America

ArchNet (Archaeology)

ARL, Cause, CNI, Educom

British Library

Canadian Hetitage Information Network

Center for Book Arts

Columbia's Oversized Images Project

Getty Art History Information Project

ICOM

ICOMOS

IFLA

ISO

Library of Congress

NCPTT

NEH

NIST

Preservation Education Exchange

Scholarly Societies Project

Society of American Archivists

The Bibliographical Society of America

http://aultnis.rutgers.edu/bsastuff/bsahome.html [No longer online]


Univ. of Ariz. Imaging Databases (& IMAGELIB archives)
Resource Guides
Archival and Conservation Resources

Library Oriented Lists & Electronic Serials

Museum Online Review

Peter Stott's Internet Resources for Heritage Conservation