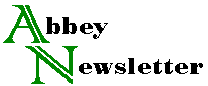 Volume 19, Number 3
Aug 1995
People
Mary Wood Lee is the newly elected chair of the AIC Book and Paper Group. Walter Henry is the new assistant chair.
Larry J. Hackman has been appointed director of the Harry S. Truman Presidential Library and Museum in Independence, Missouri, as of July 1995. He served as State Archivist of New York beginning in 1981, just two years after the Archives opened. During his tenure, the holdings doubled and public use increased by more than 1,000%. It is now known as a model of excellence and innovation.
Richard F. Young, former Director of the Office of Conservation and Preservation of the U.S. Senate, has recently been named as the Archivist of the Cape Cod Museum of Fine Arts, in Dennis, MA. One of his immediate tasks will be compiling and updating information on all Cape Cod artists from 1900 to the present. He is currently setting up an inhouse book repair facility for the Harwich town library.
Ann Craddock joined the CCAHA staff in June as Preservation Services Representative. She received her MA and Certificate in Art Conservation from the Institute of Fine Arts, New York University, and has worked for the Museum of Modern Art and the National Museum of American History.
Marie Kelzer left her position as Conservation Technician at U.C. Berkeley to become Head of Preservation at San Francisco Public Library in April 1995, where she can be reached at 415/557-4302 (email: mkelzer@sfpl.lib.ca.us). She is still selling her paste paper designs and paper products through her business, Paper Arts (415/285-9127).
Peter Verheyen has been appointed to the position of Conservation Librarian in the Syracuse University Library, as of July 1. He will be setting up a book conservation lab, training staff and working on outreach programs in addition to completing his MLS there. His new address is 202 Berkeley Dr., Syracuse, NY 13210 (315/475-0012).
Vinod Daniel, the new scientific officer at the Australian Museum in New South Wales, started work there in April. He was previously at the Getty Conservation Institute.
Paul Fasana announced his retirement from the New York Public Library effective March 31.
Donald Koepp retired from his position as Director of Research Libraries at Princeton in April.
Diana Nikolova, conservation scientist in Sofia, Bulgaria, received her Ph.D. degree February 13. Her dissertation was on protein inhibitors of proteinases.
Evelyn Frangakis was appointed Head of the Preservation Department in the Libraries at the University of Maryland, College Park, effective June 12, 1995. She can be reached by phone (301/405-9343), fax (301/314-9971) and email (ef34@umail.umd.p.du).