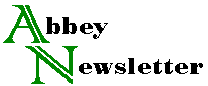 Volume 19, Number 1
Apr 1995
Queries
Mail to the following subscribers has been returned to the Abbey Newsletter office. We would appreciate it if anyone who knows their whereabouts could help us get in touch with them.

Sarah E. Talley - Last address was in Albany, NY.
Elfreda Abbe - Was in Manchester Village, VT.
Agata Sulkiewicz - Was in Toronto.

From time to time, people call the Abbey office, asking which states now have permanent paper laws. We knew five years ago (see the October 1990 issue, p. 108, which published excerpts from laws of six states), and last year the Second Report to Congress on the Implementation of PL 101-423 listed 13: AZ, CO, CT, IN, MT, MA, NE, NY, NC, RI, SD, VT and VA. (Actually, New York did not have a law at the time this was written, but it may have one soon.) Are there any more? Are any of the above states listed erroneously? Please give us a call at 512/929-3992 or send an e-mail message at Abbeypub@aol.com.

URL: http://
Timestamp:
Retrieved: