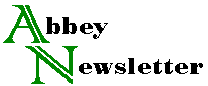 Volume 18, Number 7
Nov 1994
Friends of Dard Hunter Meet in Chillicothe, Dard's Home Town
by Marcia Watt, Emory University

The 1994 annual meeting of the Friends of Dard Hunter took place in Chillicothe, Ohio, October 20-23, 1994. There were a variety of presentations on wide ranging subjects related to papermaking, including: correct posture when working at the vat (Peter Thomas); separate reports on teaching papermaking in Alabama (Sally Wood Johnson), England (Gillian Spires), Australia (Jean Kropper), Argentina (Vicki and Pablo Sigwald), Tibet (Tom Leech) and the Yucatan (Mark Callahan); videos "Paper and Gold" on papermaking in Burma (Rona Richter, video by Aaron Berman) and "The Last Papermakers on the Silk Road" (Sidney and Elaine Koretsky); the importance of gelatin size in the longevity of paper (Timothy Barrett); and a vacuum couching process (Chuck Stahl).

A trade fair provided attendees the opportunity to purchase handmade paper from several different mills, a variety of decorated papers, books (both letterpress and commercially published), and papermaking supplies.

Highlights of the meeting included tours of the Mead Paper Mill and an afternoon at Mountain House, Dard Hunter's home. After a brief introduction in a classroom, everyone touring the Mead Mill was issued a hardhat, safety goggles and ear plugs. The tour followed the papermaking process from the removal of logs from trucks to the seven acre warehouse where packaged paper is stored prior to shipment for sale. The huge Valmet papermaking machine was an awesome machine to behold. The visit to Mountain House offered an extreme contrast to the paper mill tour, as attendees had opportunities to make paper using Dard Hunter's mould with the Hunter family crest (Kathryn and Howard Clark of Twinrocker); to make paper in the traditional Japanese manner, including the preliminary steps of scraping the dark fibers from kozo and beating the cooked fibers (Lynn Amlie, Kate Martinson and Scott Snyder); and to design and make paste paper (Bonnie Stahlecker). There were also demonstrations on making type (Stan Nelson), marbling paper (Tom Leech), making moulds (Timothy Moore) and making paper from flax (Helmut Becker). Throughout the afternoon a string quartet played music on the terrace overlooking Chillicothe.

The Friends of Dard Hunter was founded in 1981 to encourage preservation of the artifacts in the Dard Hunter Paper Museum in Appleton, Wisconsin. The Institute of Paper Science and Technology, which owns the Museum, has since moved it to modern quarters in Atlanta and given it a professional curator, so the group has reoriented itself around Hunter's central interests, which were the crafts involved in making paper and books.

Next year's annual meeting will take place in Austin, Texas. Tentative dates are October 12-15, 1995. For membership or other information regarding the Friends of Dard Hunter, please contact: Ms. Pat Ullom, N8279 Island View Rd., Fish Creek, Wisconsin 54212-9734.