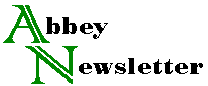 Volume 18, Number 6
Oct 1994
Bookbinding Manuals Evaluated
Jim Dorsey, Corresponding Secretary of the Binders' Guild and Editor of the Binders' Guild Newsletter, agreed to let the Abbey Newsletter reprint their table summarizing reviews of binding manuals that have appeared in their newsletter over the years. He provided the following background information:
The Binders' Guild is a group of hand bookbinders. Its mission is to disseminate information on tools and supplies, and to keep members up to date on bookbinding techniques and news.
Some of our members are beginners, and many live in relatively isolated areas. For some time we have been reviewing bookbinding texts, and rating them, primarily for their usefulness in situations where the person learning has no ready access to a teacher. We recognize that it is unwise to attempt achieving bookbinding skills without a teacher or teachers; still, rating books for use with a teacher is essentially an impossible task.
Many of the books shown in the table are out of print. In most such cases, used copies are regularly available from "books-about-books" specialty companies, usually at fairly reasonable prices.
As one might expect, no single text is ideal in all areas. Several of our members agree that for what it does cover, Palmer's book is outstanding. Of the books in print, Richmond's and the Johnson book (Thames and Hudson Manual on Bookbinding) are worth considering. Possible reference texts for use by more skilled binders are shown as "No" under "Beginners." If an "amateur" binder gets far enough advanced to do hand finishing, a copy of the Faheys' book would be most advantageous.
Reviews such as these are very subjective, of course. Our purpose is simply to assist our members. Often it is helpful just to know that certain techniques are "not covered." A full review of each book listed was given in the Binders' Guild Newsletter issue shown in the column at far right.
(nc=Not Covered in the Text)
AUTHOR AND BOOK

D
R
A
W
I
N
G
S

C
A
S
E

B
I
N
D.

S
T
D
.

B
I
N
D

E
Q
U
I
P
M
E
N
T

T
I
T
L
I
N
G

R
E
P
A
I
R

S
I
D
E

S
E
W

A
D
H
.

B
I
N
D

L
E
A
T
H
E
R

D
E
C
O
R
A
T
I
O
N

H
E
A
D
B
A
N
D
S

O
V
E
R
A
L
L

B
E
G
I
N
N
E
R
S

I
S
S
U
E

O
F

R
E
V
I
E
W

Watson
HAND BOOKBINDING

9

3

6

3

1

nc

4

4

nc

2

8

3

y

IX
3

Gross
SIMPLIFIED BOOKBINDING

9

4

6

1

2

7

nc

4

4

6

nc

5

y

IX
4

Bannister
BOOKBINDING AS A HANDCRAFT

9

8

7

8

5

5

6

4

5

1

1

6

y

IX
7

Darley
INTRODUCTION TO BOOKBINDING

7

8

7

7

8

nc

nc

nc

4

6

1

5

y

X
1

Lewis
BASIC BOOKBINDING

9

6

7

7

7

4

5

nc

8

9

nc

6

y

x
2

Kafka
HOW TO CLOTHBIND A PAPERBACK BOOK

7

4

nc

5

5

nc

5

1

nc

3

nc

1

y

X
4

Riberholt
BOOKBINDING AT HOME

5

3

4

5

3

4

nc

6

4

2

nc

3

y

X
5

Johnson, P.
CREATIVE BOOKBINDING

3

3

5

2

2

2

5

nc

2

6

6

3

y

X
6

Klinefelter
BOOKBINDING MADE EASY

7

6

7

4

7

8

nc

5

nc

7

nc

6

y

XII
7

Johnson
PRACTICAL GUIDE TO CRAFT BOOKBINDING

9

7

9

8

9

7

5

nc

6

8

7

7

y

XII
2

Perry
BINDING OF BOOKS

7

7

9

9

6

4

6

nc

6

9+

2

7+

y

XII
4

Palmer
A COURSE IN BOOKBINDING

9

8

nc

10

2

nc

7

nc

6

nc

nc

7

y

XII
8

Johnson
THAMES & HUDSON MANUAL ON BOOKBINDING

9

6

7

8

9

5

5

5

8

9

7

8

no

XIII
3

Young
BOOKBINDING AND CONSERVATION BY HAND

5

9

8

8

9

5

6

nc

9

9+

4

7+

no

XIII
4/5

Nicholson
MANUAL OF THE ART OF BOOKBINDING

0

nc

6

3

8

3

nc

2

8

9

3

6+

no

XIII
8

Parry
THE WHOLE ART OF BOOKBINDING

0

2

3

0

3

nc

nc

nc

4

3

4

2

no

XIII
1

Collins
BOOK CRAFTS FOR SENIORS

7

nc

2

0

2

nc

nc

1

1

1

nc

1

no

XIV
5

Fayey
FINISHING IN HAND BOOKBINDING

9

nc

nc

9

10

nc

nc

nc

5

10

nc

(8)

no

XVI
5

Richmond
BOOKBINDING (A MANUAL...)

8

7

5

9

8

7

9

nc

nc

5

nc

8

y

XVI
8

Burdett
THE CRAFT OF BOOKBINDING

7

4

8

9

8

7

(8)

9

8

8

5

8

no

XVII
5