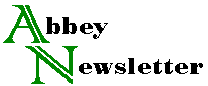 Volume 18, Number 3
Jul 1994
Supplies & Services
Clasps and fittings for reconstructing historic bookbindings can be ordered from

    Die Buchbinderei Müller

    Kirchstr. 49

    D-76829 Landau
    Germany.

According to the January-February 1994 Restauro, they are in stock and a price list is available.
Museum Services Corp. moved October 1 to 1107 East Cliff Rd., Burnsville, MN 55337 (south of Minneapolis-St. Paul). In addition to selling their art conservation equipment, they distribute for Archivart, Paper Technologies, Inc., University Products, and BookMakers International. The telephone numbers are 800/672-1107 and 612/895-5199, and the fax is the same as the last number, 612/895-5199. See October issue for correction
TALAS is under new management: Jacob and Marjorie Salik bought the business March 24. One change they have made will be noticed by customers: they keep the shop open over the noon hour. The 102-page 1993 catalog is available for $5.00 postpaid. Contact TALAS, 213 West 35th St., New York, NY 10001-1996 (212/736-7744, fax 465-8722).
More on Skum-X: Although the manufacturer said recently that both the old and the new formulas are available again (AN, Nov. 1993), a spokesman from Dietzgen, the distributor, said in May 1994 that "the newest formula of Skum-X is much improved and closer to the original formula, but is not yet completely equal to the original formula. Dietzgen is still working on improving this latest formula to match more closely with the old." That was Jim Oberman (708/635-5200, fax 635-5210). Andrea DeLong has left the company.
In the meantime, it is possible to grate your own eraser (AN, April 1994, p. 3).
pH indicator papers are sold not only by Micro Essential Laboratory, Inc. in Brooklyn (AN, Oct. 1993, p. 76) but by Gallard-Schlesinger Industries, Inc., at 584 Mineola Av., Carle Place, NY 11514 (516/333-5600, fax 333-5628). The catalog has 21 pages and is in its 26th edition. It includes not only pH indicator papers but test papers for 50 or 60 separate applications running from Ag+ to "Water in gasoline and fuel tanks."