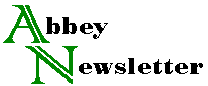 Volume 18, Number 1
Apr 1994
ALA Midwinter Highlights
A Report by Tom Clareson

Two meetings which were more "programmatic" in nature than most at the American Library Association Midwinter Meeting in Los Angeles proved to be the highlights of the Conference.

The afternoon session of the Preservation Administrator's Discussion Group (PADG) began with tributes to Carolyn Harris by Lorraine Olley of Indiana University and Margaret Byrnes of the National Library of Medicine. Both speakers evoked the warmth and determination which were the hallmarks of Carolyn's career and made her a mentor to so many in the library profession.

The afternoon program was a showcase for the members and work of the Los Angeles Preservation Network (LAPNet). Gretchen Karl of the Getty Center Resource Collections and current LAPNet chair discussed the forces which originally shaped the group--namely the 1986 Los Angeles Public Library fire, the Loma Prieta earthquake, and two workshops (on disaster planning and earthquake preparedness) which were held close to the times of those disasters. As the afternoon unfolded, speakers representing the Huntington Library, and the libraries of the University of Southern California, the Southwest Museum, the Academy of Motion Picture Arts and Sciences, Walt Disney, and the University of California<Los Angeles profiled their libraries and explained how they interacted with LAPNet. Many rely on the organization for disaster assistance and education/professional development. The most exciting presentations were from Victoria Steele, Head of Special Collections at USC, and Kay Saos of Walt Disney, who spoke of their respective institution's image database projects.

Another interesting session was the Library-Vendor Relations Discussion Group "Information Fair," which focused on entrepreneurship and small business in preservation and conservation. A combination of speakers, small exhibits, and a wide range of handout material, the session provided attendees an opportunity to meet preservation and conservation consultants, small businesses with archival products, and one- and two-people companies which offer preservation services.

Speakers included Larry Gates of Metal Edge West, Jim Fleener of BookLab, Linda Nainis of ProText, and preservation consultants Lisa Fox and Sally Buchanan.

An added attraction of the session was that numerous research organizations and facilities which develop information for preservation and conservation provided literature on their work.

This Discussion Group hopes to continue in a similar "interactive" vein in the future, and is considering a meeting featuring commercial conservation binding services for ALA Annual 1994.