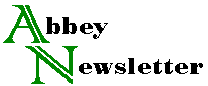 Volume 18, Number 1
Apr 1994
People
Errol Somay, formerly with the New York Public Library, started work September 20 as Coordinator of the Virginia Newspaper Project. His address is: Virginia State Library and Archives, 11th St. at Capitol Square, Richmond, VA 23219-2303 (804/786-8041; Fax 804/225-4035).
Alan Postlethwaite retired from the Smithsonian's Conservation Analytical Lab on February 21. He will not be consulting on a professional basis, he says, but if anyone has a question, he will try to answer it, if it has to do with any of the things he has been involved with. His telephone number is 202/554-3606. He will be in town during May but will spend most of the summer away.
Brian Mikesell, formerly with the Lilly Library In Indiana, has joined the conservation staff at NYU's Bobst Library.
Zbigniew T. Niebieszczanski has opened a hand bindery in Fort Gibson, Oklahoma, and named it after his son: Artur Bookbinding International (1117 E. Poplar, PO Box 1300, Ft. Gibson, OK 74434, 918/478-4888). He says business is very good. (He was first mentioned in this Newsletter in the February 1986 issue, when he had arrived in Houston, as a refugee from Poland, and could not find work in his specialty. He did subsequently find a job, and worked eight years at Motter Bookbinding.)
Ken Macleod, Director of Conservation Research Services at the Canadian Conservation Institute for 16 years, died on December 4, 1993, after a long battle with cancer. There is a tribute to him in the CCI Newsletter for March 1994.
Congressman Sidney Yates and Senator Claiborne Pell were awarded the AIC's highest award, the Forbes Medal, on March 3 for their many years of distinguished service to the conservation of cultural property. Lage Carlson, Conservation Division, Library of Congress, made the leather presentation boxes for the medals.
Frank Preusser, former Program Director for Scientific Research and Associate Director for Programs at the Getty Conservation Institute, is now president of Frank Preusser & Associates, Inc., which provides consulting services for the preservation of movable and immovable cultural heritage, including rare books and special collections. He is at 6434 Pat Ave., West Hills, CA 91307 (818/348-0481; Fax 348-1764).
Pat Battin, President of the Commission on Preservation and Access, announced last October that she would retire July 1, 1994. A search committee for her successor has been appointed, and nominations are invited.
Peter Waters went to St. Petersburg, Russia, for a week to assess the condition of the Radziwill Chronicle, copied in the 15th century from an earlier original, and to plan for its reproduction on CD-ROM and in a facsimile hard-copy edition. This was in connection with the Memory of the World Program of UNESCO.
Paul Spehr, Assistant Chief of the Motion Picture, Broadcasting and Recorded Sound Division at the Library of Congress, announced his retirement on October 14, 1993, ending 35 years of public service to the field of film and television preservation.
Meg Bellinger, formerly with Research Publications, has been appointed president of Preservation Resources, the new name for MAPS (MicrogrAphic Preservation Services).
Susan E. Fox of Harvard University has been selected as the new executive director of the Society of American Archivists, as of April 1.
Karl J. Niederer has been appointed acting director of the New Jersey Division of Archives and Records Management in the Department of State. In the last six years at the New Jersey State Archives, he has been active in preservation, co-directing the New Jersey Newspaper Project, and writing and lecturing on disaster preparedness and recovery.
Eugene B. Power, founder of University Microfilms International (UMI), died December 6 at the age of 88.
Pamela Q.J. Andre has been appointed acting director of the National Agricultural Library, replacing Joseph H. Howard, who retired February 3.
Carol Henderson has been appointed director of the ALA's Washington Office, succeeding Eileen Cooke, who retired December 31.