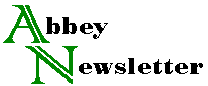 Volume 17, Number 7
Dec 1993
Positions
Library Conservation Internship
Winterthur Museum, Garden and Library
The Winterthur Museum Conservation Division has a library/archival conservation internship opportunity which has been made possible through a grant from the Pew Charitable Trusts. The intern will assist the library conservator in collection surveys, exhibit preparation and treatment of books and documents from all areas of the collection. Treatment projects may be tailored to the specific interest and skills of the intern.
This internship has a variable stipend and a starting date of mid-April 1994 (flexible) with a duration of three to six months (applicants with additional sources of funding may stay longer).
The Winterthur Library collections include approximately 80,000 bound volumes and one million historic archival documents pertaining to American decorative arts and material culture. A fully equipped conservation lab has recently been completed for the preservation of these collections.
Previous experience in traditional hand bookbinding and/or previous experience at the conservation technician level working with library/archival materials is required. To apply, contact Human Resources Division, Winterthur Museum, Winterthur, DE 19735, by April 1, 1994. EOE.
Collections Conservator
Northwestern University Library
Manages the Conservation Treatments section of the Preservation Department as an integral part of a Library-wide preservation program. Plans, organizes, and manages conservation laboratory. Performs complex conservation treatments on materials from Library collections. Develops collection treatment and maintenance programs. Participates actively in collection surveys, as well as disaster recovery activities. Reviews commercial binding and mass deacidification specifications, and participates actively in quality control programs. Ratio of managerial activities to bench work will be approximately 70/30. Reports to the Head of the Preservation Department; supervises two Conservation Technicians and 20 student assistants.
Experience and qualifications: Broad knowledge of and experience in bookbinding, book conservation, conservation principles and practices, including a knowledge of the historical development of book structure and materials. Understanding of the nature and use of library collections. Ability to design and implement collection-based approaches to conservation treatment. Strong managerial abilities in planning, evaluation, supervision, work-flow design, and budget management. Flexibility and willingness to adapt to changing environment. Ability to communicate effectively both orally and in writing. Excellent interpersonal skills. Ability to work successfully and take initiave both as leader and team member. Ability to design and lead various training and educational activities. Also desirable: Knowledge of and experience in paper, map, document, and photograph conservation. Knowledge of commercial library binding. Experience or interest in computing and information technology as applicable to collections conservation. Bachelors degree. Masters degree in library science.
Compensation: Minimum salary $28,080, plus excellent benefits.
To apply: Send letter and three references to Peter Devlin, Personnel Librarian, Northwestern University Library, 1935 Sheridan Road, Evanston, IL 60208. Applications received by March 31, 1994 will be assured of consideration. Northwestern University is an Equal Opportunity/Affirmative Action Employer. Hiring is contingent upon eligibility to work in the United States.
Project Conservator--Rare Books
Huntington Library
The Huntington Library seeks an experienced rare book conservator to stabilize a unique collection of English pamphlet volumes as part of a two-year, grant-funded project for cataloging and preservation. Working in the Huntington's Book Conservation Laboratory under the general supervision of the Conservator of Rare Books, the Project Conservator will document and carry out treatments including, but not limited to, board reattachment, resewing, and recovering in cloth and leather. The Project Conservator is responsible for maintaining statistics on all treatments performed, and for submitting progress reports to the Chief Preservation Officer.
Experience and qualifications: Two years full-time book conservation experience working with pre-1800 English and European books in a special collections or research library preferred. Demonstrated knowledge of current book conservation materials and techniques and evidence of well-developed bench skills. Advanced training in rare book conservation through a graduate degree program, formal apprenticeship or internships. Ability to work well with others, good organizational skills essential.
Compensation: $31,500 (annual wages budgeted); benefits package including medical insurance, vacation and sick leave.
Application deadline: Applications will be accepted until position is filled; preference will be given to applications received by March 7, 1994.
Start date: April 1994
To apply: Send letter, resume and the names of three references to Carl Foote, Manager of Personnel, Huntington Library, 1151 Oxford Road, San Marino, CA 91108 (Fax 818/405-0225).
Library Conservator
Minnesota Historical Society
The Minnesota Historical Society has reopened the search for a permanent, full-time library conservator, to begin July 1, 1994, following the release of funds. Working in conjunction with the archives conservator, the library conservator manages the book conservation lab in its new and expanded facility. Responsibilities include: recommending, performing, and documenting conservation treatments; supervising a lab assistant, volunteers, temporary staff, and interns; working with staff librarians, archivists, curators, and exhibits design and production personnel in selecting appropriate treatments, housings, and mounts; assisting in formulation and implementation of priorities, standards and policies; sharing responsibilities in monitoring storage, maintaining the disaster preparedness plan, and providing conservation education to staff and advice to the public.
Requirements include graduation from an accredited conservation program and significant work experience or an equivalent combination of training/experience along with significant work experience. Preference will be given to applicants who apply by April 1, however, screening will continue until the position is filled. Interested individuals should send letter of interest and resume to Robert Herskovitz, Head, Conservation Department, Minnesota Historical Society, 345 Kellogg Blvd. West, St. Paul, MN 55102-1906. The Minnesota Historical Society is an Affirmative Action Employer.
Preservation Officer
Maryland State Archives
The Maryland State Archives is seeking qualified candidates for the position of Preservation Officer. This is a permanent Merit System appointment at the Archivist III level. The Preservation Officer is responsible for the supervision of programs devoted to physical conservation and the reformatting of information to more permanent media. The Maryland State Archives maintains a conservation laboratory as well as an in-house digital imaging and micrographics capacity.
Minimum education requirements for the position are a B.A. with graduate-level training or equivalent experience in archival administration, conservation techniques, and the management of preservation programs. At least two years relevant experience is required. To apply, contact Maryland State Archives, Preservation Department, 350 Rowe Boulevard, Annapolis, MD 21401.