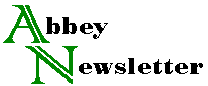 Volume 16, Number 7-8
Dec 1992
Products & Services
The best label paper for bottled specimens. Last May Fred E. Lohrer, librarian at the Archbold Biological Station in Lake Placid, Florida, sent to the Abbey Publications office one copy of every article on the subject of paper published between 1980 and 1990 in the Curation Newsletter of the American Society of Ichthyologists and Herpetologists. It appears that the zoologists have been having problems like the rest of us had during the 1980s. The old standby, L.L. Brown Resistall Linen Ledger, became unavailable in 1974, when the mill was sold; the best replacement, Byron Weston's Resistall Linen Ledger, was found to vary in quality, so members were warned to test every shipment for resistance to alcohol and formalin; then the Weston paper was discontinued due to lack of sales. Two likely-looking substitutes (Domtar's Laundry Tag and Suture Label) were then tested in three preservative fluids and with pen and pencil marking, and an effort was made to organize members for bulk purchasing. In 1990, a headline announced, "Wet Label Paper is Again Available!!!" University Products had responded to the need and was carrying the Weston paper, having talked the mill into making it again.
The Curation Newsletter is prepared by the Committee on Curatorial Supplies and Practices of the American Society of Ichthyologists and Herpetologists. For more information, contact Susan Jewett, Div. Fishes, NHB, WG-12, Smithsonian Institution, Washington, DC 20560 (202/357-3300).
Ultraviolet absorbing films. David Saunders, of the Scientific Department at the National Gallery in London, reviews the characteristics of 11 self-adhesive UV-absorbing films for museum glazing in the March 1992 Conservation News (UKIC). All but two films, which carried the label Solar-X (manufacturer unknown), passed the standard tests recommended by Garry Thomson in The Museum Environment. One of the major problems with all these films, he says, is their relatively short life: five to 15 years, according to the manufacturers. Saunders says some of the samples are now being subjected to light aging, and results will be reported in due course.
"Bookkeeper" deacidification process now available. Five years ago, Richard Spatz bought the patent for the old Koppers process, which deposits suspended microparticles of magnesium oxide into the paper, and which had been tried out for a year or two at UC-Berkeley before that, then dropped. The process was not one of those tested by the Library of Congress in 1991 because the company (Preservation Technologies, Inc., or PTI) was not ready yet for the big time. Now it has a pilot plant, technical staff, and a CFC substitute that will not harm the ozone layer. It is offering a do-it-yourself spray as well as free treatment of test quantities of books in the pilot plant, free of charge, and treatment of larger quantities "at a mutually agreeable cost per book." PTI says there are few if any drawbacks to the method. They have information that they will send if you write PTI, 1114 William Flinn Highway, Glenshaw, PA 15116-2657 (800/486-1113, Fax 487-3313). The patent was published in the December 1986 Abbey Newsletter. The Bookkeeper process was one of a number of deacidification processes evaluated very recently in Belgium by Anne Lienardy and Philippe Van Damme, and judged to be one of the top two processes tested. The report was published as La desacidification de masse des livres et documents, Institut Royal du Patrimoine Artistique, Bruxelles, 1992.
Virtis freeze-dryer available for Baltimore-area emergencies. Up and running: Virtis Freeze-Dryer with a chamber 24" x 48". Bought for processing wet archaeological materials, but will also run water-damaged books/papers in reasonable quantities. Call Kate Singley in Baltimore, 410/321-8852.
Disaster aid products. Linda Nainis, author of "Description of Cooperative Preservation Photocopying Project" in the April 1991 issue of Abbey Newsletter, has a new corporation called ProText, which is selling two products related to disaster aid. One, the "RESCUBE," is a high-density polyethylene box for carrying wet books and papers to the freezer. It folds for storage and can be reused. The other, the "REACT-PAK," is a compact disaster kit containing supplies for cleanup, protection of the recovery team (dust masks, etc.), surveying the damage, illumination, deflecting water (plastic sheeting, etc.), and wrapping and packing wet books. For information, write or call ProText, 3515 Leland St., Bethesda, MD 20815 (301/718-1659, Fax 301/654-6153).
Rubber sponges used by commercial fire clean-up companies to remove soot and smoke were analyzed at the Canadian Conservation Institute and compared with eraser products used in conservation. The polymers of which the sponges were made, the fillers and additives, and trace elements in the sponges were identified and shown to be similar to products already used in conservation, but their suitability for use on any given object would still have to be evaluated. New sponges should be used and residue carefully brushed off, since rubber oxidizes fairly quickly, and particles would undoubtedly be left in porous materials. Products reported or tested were:
Wallmaster Chemical Sponge
Quality Rubber Sponge
Smoke-Off
Rosco Sponge
Skum-X
Groomstick
Opaline
Magic-Rub
The report is in the IIC-CG Bulletin for September, p. 8-9.
Products for natural history collections. University Products has a number of new archival materials for use in natural history collections, including the PACVAC described in this column in November 1991 by Frank Mowery; the Xpander Pak, which also provides gentle secure support for shipping artifacts; insect detector traps; pH pens; Dust Bunnies, the "magnetic" dust cloths; Jade 403 adhesive; Pigma pens (non-fading, waterproof) with extra fine tips or red ink; and the Airspray mister, which works like the "Airmist" sprayer described in last April's issue. University Products is at 517 Main St., PO Box 101, Holyoke, MA 01041-0101 (1-800-628-1912).
Acid-free matboard sighted in Kmart. Acid-free materials are starting to be marketed to the general public. A couple of months ago, a group of picture frames were being offered for sale in an Austin Kmart store, with their mats conspicuously labeled "acid-free." They may not have been acid-free, but the important thing is that they were being promoted as such.
Elvace. This widely used ethylene vinyl acetate copolymer adhesive has been the topic of both rumor and factual report among bookbinders and book conservators for the last couple of years. Most recently, discussions have appeared in the AIC Newsletter, the Cons DistList (Email, described in the August issue), the WAAC Newsletter, and the Guild of Book Workers Newsletter.
The AIC Newsletter reported in September that Elvace 1875 was available from Reichhold Chemicals as Elvace 40705; then in November the newsletter reversed itself and said the adhesive had been discontinued. But in February 1993 Reichhold confirmed by telephone that it was still available, and that it was the same as the old favorite 1874, except for viscosity. 1874 (also known as 40704) has been discontinued by Reichold. This is also what Bobbie Pilette, conservator at the New-York Historical Society, found out a year ago from the application scientist in the Reichhold Chemicals Emulsion Polymers Division, and reported in the Cons DistList. The February Guild of Book Workers Newsletter devotes almost a half page to the topic, with contributions from Elaine Haas at TALAS and from Nelly Balloffet. Elaine Haas says that another manufacturer is producing the equivalent of the discontinued (and more viscous) 40704, which is available from TALAS in smaller quantities under the name of Elvace 675 CX. This was confirmed in the November AIC Newsletter. Nelly Balloffet says that Swift's adhesive #45675 CX is based on Elvace 40705 purchased from Reichhold, and Elizabeth Welsh, who has been in direct touch with Dick Boyd at Swifts (800-323-9051), disagrees slightly, saying that small quantities of Swift Adhesive 45675 CX, a substitute for 40704, can be obtained from Swift.
Swift has been a division of Reichhold since 1985. It is using Elvace in the way the manufacturer intends it, as a component of other adhesives. The people at Swift do not see themselves as selling a Reichold adhesive; it is a Swift adhesive, they say.
Reichhold says that if you order "Elvace 1875" because you can't remember the new number 40705, they promise to respond appropriately. The company is Reichhold Chemicals, Inc., PO Box 153852, Research Triangle Park, NC 27709-3582 (919/990-7500). Contact Russ Frank or Kevin Conway for technical information; to order, call 800/523-5035. They will supply Elvace in quantities as small as five gallons.
To sum up all of the above, Elvace is apparently immortal, but it has many names; and to keep it all straight, it helps to know how the adhesives industry is organized.
Boards and papers that neutralize gases. In 1992 Conservation Resources introduced its "MicroChamber boards and papers" that contain not only calcium carbonate but activated carbon in one of their layers. According to aging tests done by or for the supplier, this makes the materials more effective than ordinary buffered paper at absorbing airborne pollutants evolved within the containers or originating in the air outside them. Details of the testing are not reported, and so far no one has replicated these tests, so the reported benefits must be regarded as unconfirmed. Still, a protective effect of some sort could be expected, on the basis of what is known about activated carbon. (Along the same line, a polymer film that absorbs gases and seems to be an ideal storage material for artifacts was reported May 16 in Science News, and subsequently in the June Abbey Newsletter.) For more information contact Conservation Resources International, Inc., 8000-H Forbes Place, Springfield, VA 22151 (800/634-6932, Fax 703/321-0629).
Stainless steel staples, pendant files, etc. The Archival Products catalog (2134 East Grand, PO Box 1413, Des Moines, IA 50305, 800/526-5640) offers not only archival binders and folders for pamphlets and other small things, but acid-free pendant (hanging) folders and stainless steel staples. The pendant folders were developed for a collection of artist's books. There are two staplers (one floor model and one desk model) to use with the stainless steel staples.
Stiff encapsulations with an argon atmosphere. Everseal Preservation Labs, Inc. (Advanced Technology Park, 910 Technology Blvd., Suite D, Bozeman, MT 59715, 800/262-9269, Fax 406/586-6205) has developed a way to seal thick polyester (PET) with an argon atmosphere inside, which provides an inert environment for the documents within. The company is concentrating first on encapsulations for sportscards, which like comic books are full of groundwood, but nevertheless must be kept for a long time because of their growing value on the market. Each card is held in a mat that shows the corners and both the front and back sides. Set into the mat is a little packet of oxygen absorber, an oxygen detector and an acid detector. The whole assembly is encapsulated, and imprinted with a customer support number and the date the document was sealed inside.
Essentially, it is a little time capsule that can be handled, displayed, transported and sold. The information sent from the company in August did not quote any prices, but the accompanying letter (from Creed Evans) said that the process was inexpensive. (He may have meant comparatively inexpensive: some baseball cards are worth $10,000 apiece, and owners would probably not mind paying a premium for an enclosure.) Even books, motion picture films, microfilm, clothing and photographs can be enclosed this way, he says. Accelerated aging tests have been done but at the time he wrote, no details of the testing had been published.
The VideoVault. A freestanding ministorage unit that can store 24 VHS or Beta videotapes at a constant 50°F and 30% RH is offered by a company of the same name at 21730 Marylee St. #27, Woodland Hills, CA 91367 (818/703-8249, Fax 818/346-3322). It runs on 120-volt current, and is designed to allow the inside to slowly warm up to prevent condensation on tapes removed for playing.
Gaylord's preservation catalog. Gaylord Brothers (Box 4901, Syracuse, NY 13221-4901 or Box 60659, Los Angeles, CA 90060-0659, 800/448-6160) now has a catalog of "ar-chival preservation & conservation supplies & equipment" 96 pages long, with an index and glossary. It lists acid-free boxes and other materials for archival storage; bookplates; barcode labels; instruments for measuring humidity; and so on. Informative notes called "technical tips" are placed at the start of new sections. They help make this the closest thing in this country to the Museum & Archival Supplies Handbook published by the Ontario Museum Association and the Toronto Area Archivists Group (3rd edition 1985), which tells you not only what is on the market but how to use it.