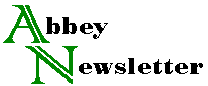 Volume 19, Number 6
Nov 1992
People
Yulia P. Nyuksha retired from her position as Head of the Department of Conservation at the Saltykov-Shchedrin State Public Library in Leningrad in 1990, after a distinguished career in preservation and biodeterioration research
Robert Wedgeworth, former head of the School of Library Service at Columbia University, began a two-year term as Interim University Librarian at Illinois in September.
Eric Randle, whose conservation service was mentioned in the April 1991 issue, has a new permanent mailing address: P.O. Box 1364, Comox, BC, Canada, V9N 7Z9 (tel/fas: 604/3396800).
Debra McKern began work September 8 as Assistant Binding Officer at the Library of Congress.
Vicky Adamitis has come back to library preservation work after a four-year hiatus. She started working October 12 as Preservation Officer for the University of Maryland Libraries in College Park.
Robert L. Feller was given the 1992 CAA/NIC Joint Award for Distinction in Scholarship and Conservation. (CM is the College Art Association and NIC is the National Institute for Conservation. For more information see NIC Council Update, Summer 1992.)
Susan Sayre Batton has moved to Honolulu to accept a position as Paper Conservator at the Honolulu Academy of Arts, focusing on the James Michener Collection of Japanese Prints.
Joe N'Krumah of Ghana, a paper conservator who responded to the call for volunteers after the Florence Flood in 1966, has been elected as one of the two vice chairmen of ICCROM.
Marcus A. McCorison retired in October from his position as president of the American Antiquarian Society. Ellen S. Dunlap has been selected as his successor.
David Clements, formerly head of the British Library Preservation Service, is now Director of Operational Planning for St. Pancras.
Gail Harriman became the Conservator of Bound Records at the National Archives September 21.
Lisa Hall Isbell has relocated her paper conservation practice and can now be reached at 9929 Capperton Dr., Oakton, Va. 22124, 703/2428169.