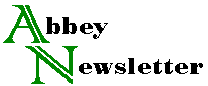 Volume 16, Number 4
Aug 1992
People
Susan Herion moved last spring from Germany to Switzerland, to take a position as Head of the Preservation Department of the Swiss National Library, Hallwylstrasse 15, 3003 Bern, Switzerland. She formerly worked as conservator and teacher at the Bavarian National Library in Munich. Her new address is Breitenrainplatz 36, 3014 Bern.
Paul Banks received an honorary membership in AIC at the Annual Meeting in Buffalo.
Nancy Nitzberg opened a new book conservation facility on June 1, BOOK-CARE, located 30 minutes from center city Philadelphia, at 101 Washington Lane, Suite 116-A, Jenkintown, PA 19046 (215/886-3460).
Paul Conway is the new head of the Preservation Department at Yale University. He started work there June 1.
John Hyltoft, Head of Conservation at the Smithsonian Institution Libraries for nearly 16 years, retired July 1 and looks forward to doing artistic binding and making paste and marbled papers once more. He will also be available for workshops and consultation; he can be reached at 703/7915770.
Dianne Stalker has been appointed Preservation Librarian at SUNY at Stony Brook.
Randy Silverman did not take the position at the Huntington Library after all, but will remain at Brigham Young University Library as Preservation Librarian.
Karen Garlick became head of the paper conservation lab at the Museum of American History in Washington, DC, June 1.
Janice Stagnitto began work as a book conservator at Smithsonian Institution Libraries on July 1.
Julie Arnott has been named Preservation Education Officer at SOLINET, where she will design and conduct workshops, provide consulting services, and provide reference and referral services.