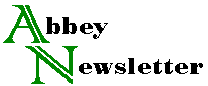 Volume 16, Number 3
Jun 1992
People
William Murphy, Chief of the Motion Picture, Sound and Video Branch of the National Archives and President of AMIA, received the International Documentary Association's 1991 "Preservation and Scholarship Award."
Randy Silverman has been appointed Chief Preservation Officer at the Huntington Library, effective July 1.
Robert W. Butler, head of preservation at the National Agricultural Library, retired in the fall of 1991. His past accomplishments and future plans are described in the January/February 1992 ALIN.
Charlotte Brown, formerly at Franklin & Marshall College, has been appointed Assistant Head of Special Collections and University Archivist at UCLA.
Maria Grandinette, who heads the Book Conservation Lab at the University of Michigan, began her year as Mellon Intern in Preservation Administration at Stanford University in May.
Larissa B. Smith (formerly Larissa B. Shapkina) is the USA representative of the Foundation for Revival of St. Petersburg (a special city for all Russians). This organization is supported by donations and by local and national Russian governments, for the purpose of restoring and improving the city's buildings, natural environment and cultural institutions. Cultural and educational exchanges can be arranged; library and archival preservation and conservation are among its priorities. For information contact her at 224 Early St., Park Forest, IL 60466 (708/481-9165, Fax 7476639).
Doris Freitag retired in December from her position as Conservator of the Harvard University Libraries in Cambridge, Massachusetts.
Faye Padgett, Assistant Staff Director of the Joint Committee on Printing and Chairwoman of the Committee on Paper Specifications, retired at the end of 1991 after 25 years of employment on Capitol Hill. She will be available for consulting work on paper-related issues and can be reached at either 301/894-9050 (home) or 202/546-8987 (office).
Terry Belanger's address after June 1, 1992, is: University of Virginia, 114 Alderman Library, Charlottesville, VA 22903 (804/924-3025; books@virginia.edu).