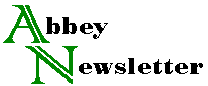 Volume 16, Number 1
Feb 1992
People
Nancy Carlson Schrock is serving as Conservation Consultant to the Harvard College Library during 199192 to assess conservation needs of general and special collections. She is also consultant to Wellesley Free Library's LSCA grant to survey four public libraries as a basis for statewide preservation planning in Massachusetts.
Pam Rups will give a workshop on "The Construction of a Medieval Binding" at the 27th International Congress on Medieval Studies in Kalamazoo, May 7-10. It will feature link stitch and long stitch bindings.
Cathy Baker will be at 1219 Nelson Dr., Chillicothe, OH 45601, until next August, when she will return to Buffalo. She is doing research for her biography of Dard Hunter.
Deborah Austin is now Preservation Officer for the Heritage Center of the Fort Worth Public Library.
Miriam Kahn, former Preservation Consultant at the State Library of Ohio, is currently a part-time independent consultant to libraries, archives and other cultural institutions. One of her projects is a marketing and education program for disaster preparedness and recovery.
Brian J. Baird has joined Princeton University Libraries' Preservation Office as the General Collections Conservator. He began work in November 1991. He can be reached at: Princeton University, Firestone Library, One Washington Rd., Princeton, NJ 08544 (609/2588-2451).