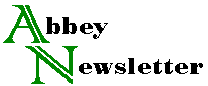 Volume 15, Number 7
Nov 1991
People
George M. Cunha will be visiting St. Petersburg (Leningrad) and Moscow from December 5 to January 20, to present a series of lectures on the conservation of library and archival materials. The first lectures will be at the Saltykov Shchedrin State Public Library, Dec. 9-14. His way is being paid by the Renaissance Foundation of St. Petersburg.

Josef Hanus, Head of Conservation and Research at the Slovak National Archives in Bratislava, Czechoslovakia, paid a working visit to the Conservation Treatment Division of the National Archives of Canada for three months, June-September 1991.

Mary-Lou Florian retired at the end of September. She had been head of conservation at the Royal British Columbia Museum.

Linda Stiber has joined the Library of Congress Conservation Office staff as paper conservator.

Amparo Tortes is the new Assistant to the Conservation Officer at the LC Conservation Office.

Julius Grant, forensic scientist and paper specialist, died in London July 5, at the age of 89 (not 94, as one might believe from a mistaken report of his age in the AN July issue, p. 70).

Peter Mustardo went back into private practice in photograph conservation with Nora Kennedy, October 4.

Debra McKern went to Egypt on a six-month fellowship in October, as part of the ALA Library Book Fellows Program, jointly sponsored by the U.S. Information Agency (USIA). She will be conducting a preservation needs assessment for the National Library of Egypt.

Leonard Schlosser, bibliophile, paper historian and former chairman and CEO of Lindenmeyr Paper Corp., died June 25at the age of 66, of lung cancer.

Mary Lynn Ritzenthaler was named a Fellow of the Society of American Archivists at this year's SAA meeting, for her outstanding contribution to the archival profession. This is the highest individual honor bestowed by the Society.

Jane Pairo, Manager of SOLINET's Preservation Program, died October 5 in Philadelphia. She had been hospitalized there while attending the Society of American Archivists conference.

John Boral and Jean Oppedisano have started a new marketing and advertising agency for the library and archival marketplaces. It is called Business 2 Business Direct, and the address is 241 East Main St., Suite 161, PO Box 1633, Westfield, MA 01085 (phone or fax: 413/562-2587).

Carol Sue Whitehouse has taken the position of Administrative Conservator at the Newberry Library, 60 W. Walton St., Chicago, IL 60610. Her new E-Mail address is: 70740.2647@compuserve.com.